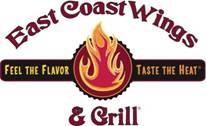 East Coast Wings & Grill Unveils New Limited Time Menu Offerings
WINSTON-SALEM, N.C. (July 25, 2016) —East Coast Wings & Grill, a North Carolina based casual family dining restaurant with an emphasis on buffalo wings, has introduced a new mouth-watering limited time offer— flatbread pizzas.
On July 13th, the franchise introduced four flatbread selections for a limited time only. Hand- selected and taste approved, the flatbreads are sure to become instant favorites amongst the established East Coast Wings & Grill fan base. Offered system-wide, the following variations will be available:
Buffalo Chicken Flatbread $8.99 — The perfect blend for Buffalo Chicken fans, this flatbread is topped with a mixture of marinara sauce, cheddar and mozzarella cheeses sprinkled with chicken, carrots, celery and onions basted in the East Coast Wings & Grill's award winning wing sauce of choice (mild, medium, hot or x-hot) and garnished with a wing sauce drizzle.
Pub Kitchen Flatbread $7:49 — A gourmet twist to a bar-food classic, this option is topped with Sam Adams craft beer cheese sauce, fresh garlic and Italian herbs and spices. It's then finished off with mozzarella and Parmesan cheeses.
Veggie Garden Flatbread $7.49 — This yummy combination consists of marinara sauce, green peppers, onions, tomatoes, mushrooms, banana peppers, fresh kale, carrots, red cabbage and a blend of cheddar and mozzarella cheese.
Philly Cheesesteak Flatbread $7.99— Poised to be a new favorite, this is a variation to East Coast Wings & Grill's Traditional Steak Philly. The flatbread is coated with cheese sauce, topped with a blend of mushrooms, fresh green peppers and onions sautéed to perfection and mixed with delicious shaved sirloin and finished with a blend of mozzarella and cheddar cheeses.
"We've taken fresh and bold flavors that are seen on our menu to craft these new and delicious flatbreads," stated Sam Ballas, CEO of East Coast Wings & Grill. "We recognize our guests are always looking for something new to excite taste buds and enjoy providing more options to switch things up."
Known for its wide variety of buffalo wings, East Coast Wings & Grill offers nationally award-winning wing sauces that are mixed to order with the freshest ingredients. Inspired by different cultures—The Islands, Tex Mex, Classic American, Asian, Southern BBQ, European, Bayou and more—at East Coast Wings & Grill, community members can enjoy dozens of flavors of chicken wings and choose from nine heat intensities, resulting in hundreds of possible combinations that can be added to most entrees and of course, wings. While wings remain a staple, the restaurant's six-page menu includes burgers, salads, sandwiches and more.
For more information on East Coast Wings & Grill or to find the nearest location, visit www.eastcoastwings.com.
About East Coast Wings & Grill
East Coast Wings & Grill is a fast-growing, casual, family dining franchise that puts the spotlight on buffalo wings. With more than 70 locations nationwide currently operating or in various stages of development, the burgeoning franchise recently secured itself a top spot for the second consecutive year on Restaurant Business Magazine's "Future 50" list of the fastest-growing U.S. mid-size restaurant chains. Entrepreneur magazine also named East Coast Wings & Grill one of the nation's top franchise investments, and Franchise Times magazine ranked the company No. 395 on its "Top 200+" list of top revenue-producing U.S. franchises. The concept has also been recognized by The Franchise Grade and Franchise Business Review for transparency during the franchise sales process, franchisee support and overall franchisee satisfaction. Based in North Carolina, East Coast Wings & Grill caters to chicken wing lovers by offering dozens of varying chicken wing flavors that can be paired with nine heat intensities—resulting in hundreds of delicious choices. The extensive menu also includes salads, wraps, sandwiches, burgers and more – all using fresh ingredients. For more information about East Coast Wings & Grill or its franchise opportunities, visit www.eastcoastwings.com or www.eastcoastwingsfranchise.com.