Maui Wowi Hosts a Pau Hana Open House
International coffee and smoothie retailer, Maui Wowi Hawaiian, is hosting a "pau hana" (after work) Open House for those interested in learning more about the flexible and versatile franchise concept.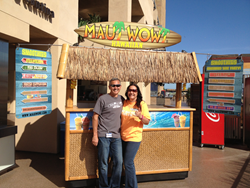 This event appeals to those who are interested in leaving their suits behind and opting for flip flops and a Hawaiian shirt. It's as simple as that.
Oceanside, Calif. (PRWEB) May 07, 2015
Maui Wowi Hawaiian, global retailer of Hawaiian coffee and fresh made smoothies, invites the public to an Open House on May 14, 2015 in Oceanside, California to learn more about the company's franchise opportunities and find out why so many people have left their old careers behind and said Aloha to Maui Wowi.
Hosted by the company's Directors of Regional Support Barb and Ron Putman and held at the Maui Wowi store location owned by local franchisee, Doreen Mejias, the Open House offers individuals an up close and personal look at business ownership.
"Dreaming about a new career or starting a new business is one thing but actually doing it is another," says Mike Weinberger, Chief Executive Officer of Maui Wowi. "This event appeals to those who are interested in leaving their suits behind and opting for flip flops and a Hawaiian shirt. It's as simple as that."
Weinberger will also be on-site for the event, along with Barb and Ron Putman, and Mejias; all there to offer first-hand knowledge about what it's like to be your own boss. Franchising has a proven track record of success and Maui Wowi hopes those interested will stop by to try the products for themselves and see why Maui Wowi has been in business for more than three decades.
The Maui Wowi Open House will feature product sampling of its refreshing fruit smoothies and premium brewed coffees, as well as entertainment, prizes, and information regarding franchise opportunities at a variety of investment levels. The event is Thursday, May 14 from 3 p.m.-7 p.m. PST at 409 Mission Ave. #C120, Oceanside, CA.
For more information about opportunities available in Southern California and to RSVP for the upcoming Open House, please visit http://www.mauiwowifranchise.com/pauhana/.
About Maui Wowi Hawaiian
Since 1982, Maui Wowi Hawaiian has embraced the Hawaiian culture and has been serving paradise in a cup since the day it began, over 30 years ago. From event carts, mall kiosks and stand-alone retail locations, Maui Wowi Hawaiian offers premium, all-natural, gluten-free, fresh-fruit smoothies, as well as gourmet Hawaiian coffees and espresso beverages. The company maintains strong community involvement through fundraising efforts by its franchisees, in addition to Team Karma; an initiative that promotes corporate responsibility and giving back to the community. The brand has more than 450 operating units in seven countries and an online store, shop.mauiwowi.com. To learn more information about Maui Wowi Hawaiian's products, locations or flexible, low-cost franchising opportunities, visit http://www.mauiwowifranchise.com.