WHAT WE OFFER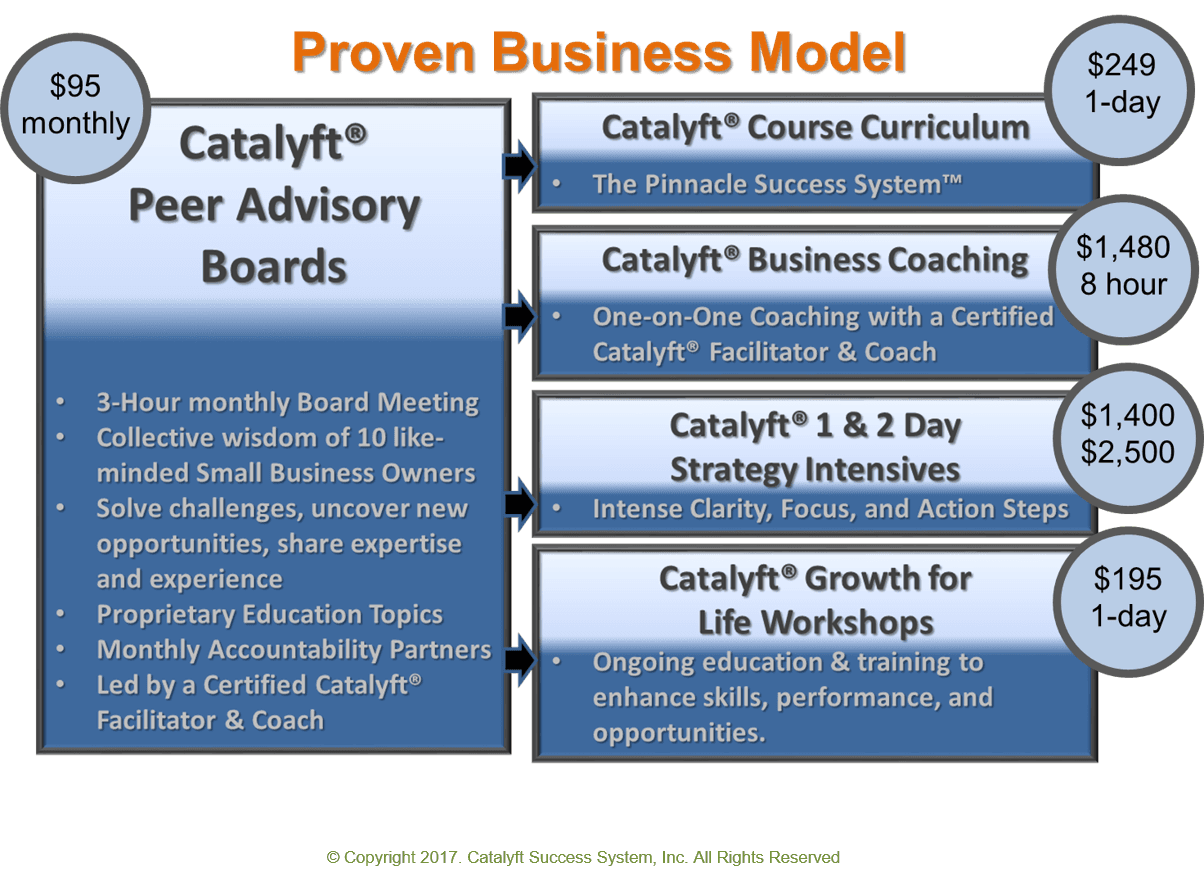 Become a Certified Catalyft® Coach:
Facilitate monthly Peer Advisory Boards & Next Level Boards - Peer Advisory Boards offer entrepreneurs a mastermind group with the powerful, proprietary, Pinnacle Success System™ as its foundation. Each board is comprised of a carefully selected group of entrepreneurs offering their wisdom and counsel in a facilitated conversation. Education, new concepts, and tools are introduced each month. The board meeting's primary focus is for each entrepreneur to present current challenges that are holding them back and/or new opportunities and possibilities for growth. Advisory boards offer counsel and accountability with the goal of assisting each board member to expand and accelerate their growth and success.
Lead Courses & Seminars - The Pinnacle Success System™ provides a proven, sustainable, and upwardly iterative model that entrepreneurs can reliably implement to earn more, work less, and to enjoy the journey. The courses provide entrepreneurs with Growth for Life and a Process to Sustain It™.
Create transformation with Coaching & Strategy - Catalyft® Success Coaching offers participants a business coaching process with the powerful, proprietary, Pinnacle Success System™ serving as the foundation. We believe that the coaching relationship is an insideout process that accomplishes two primary objectives:
Coaching increases business and personal performance and provides a significant return on investment

It continuously and iteratively expands future capacity. Thrive coaching addresses the current situation to make an immediate impact and, at the same time, prepares coachees for continuously increasing success by growing their capabilities.
Catalyft Coaching is offered in 3 formats:
Catalyft® Coaching for Success, Catalyft Strategy Intensives™ and Catalyft Success Accelerator™.
OUR MISSION
Catalyft's mission is to serve as a powerful catalyst for entrepreneurs to experience extraordinary success in business and life.
OUR VISION
To engage 1,000+ Certified Catalyft® Coaches across the U.S. – Teaching the Pinnacle Success System™ to hundreds of thousands of Entrepreneurs in a vibrant community of like-minded Catalyft® Success Partners.
OUR VALUES
1. We value people, and the individual and collective gifts we share
2. We value connecting, through open, honest, and transparent communication
3. We value authenticity, acknowledging our personal and professional realities
4. We value hope, and the possibilities that emerge from new insights and awareness
5. We value acceptance, of ourselves and others without judgement or limitations
6. We value community, the collective energy of our existence
7. We value integrity, a steadfast adherence to truth
WHAT ARE THE CHARACTERISTICS OF A GREAT CATALYFT SUCCESS PARTNER?
Coaches – who love what they do, but haven't yet been fully successful monetizing it; they are looking for a proven platform for growth.

Prospective Business Coaches - those who are interested in becoming a business coach and recognize the power of a proven proprietary business model
Successful Entrepreneurs – who have done it, and have a passion for helping others through coaching, mentoring, and team building.

Career Change – people in transition or starting over and want to find something that they are truly passionate about.
THE PINNACLE SUCCESS SYSTEM® - UNIQUE PROPRIETARY INTELLECTUAL PROPERTY: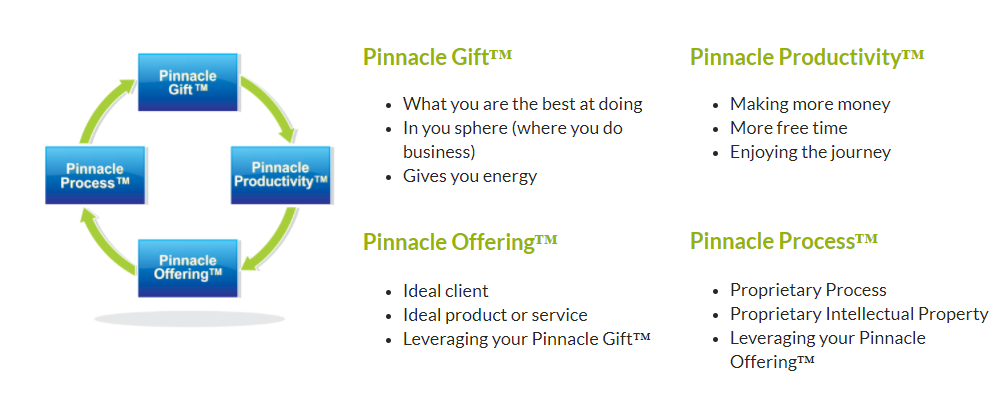 OUR COMMITMENT:
Our commitment to each and every person in the Catalyft Community is to provide a supportive, powerful, and transformative environment in which to achieve extraordinary outcomes that would not have been predictable or possible prior to working together.