Cleantastic is a Fantastic Opportunity!
Owning your own business is everyone's dream. The hardest part is deciding which business is right for you and having the confidence to make that decision. We believe our Cleantastic commercial cleaning business brings together the right industry with the right system to give you a unique and special opportunity.
We understand that looking at businesses can be complicated, confusing and sometimes intimidating, but for over 15 years now we have helped hundreds of people just like you get started in business. Our success – and theirs - is because we have made the Cleantastic system simple to follow and easy to run. And best of all, with our low upfront and ongoing fees, you keep more of the revenue.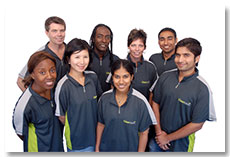 You see, we are interested in you and helping you succeed for the long haul. We will not only supply you with cleaning contracts to get you started - because getting started is always the hardest thing - but we will also keep things simple, so that your business is a breeze to run.
Here are six good reasons to find out more:
Low start up fees
Low on-going fees
Financing available
Start up customer base provided
Training included
Recession resilient industry
We're confident you'll be impressed by the many lifestyle benefits and financial opportunities offered to Cleantastic franchise owners - benefits that you can enjoy too! Contact us today to find out more.