Expense Reduction Analysts
For 27+ years our franchise Consulting opportunity appeals to professionals who want to engage with executive-level decision makers, build professional relationships and generate significant cost-savings results for their clients. ERA Consultants help companies significantly reduce the costs of Overhead Expenses in their business. This results in large increases in Profit Improvement for our Clients.
Franchise Costs
Cash Investment: $100,000 (Total Initial Investment is $59,900)
Investment Range: $59,900 - $74,500
Franchise Fees: $59,900
Franchise Benefits
Training & Support: Yes
Financing Available: Yes
Industry Information
Industry: Business Services Franchises
Franchise Units: USA 140+/ International 800+
Expense Reduction Analysts offers one of the best recession-resistant businesses available.
Your Future Awaits! Are You Ready to Take Control?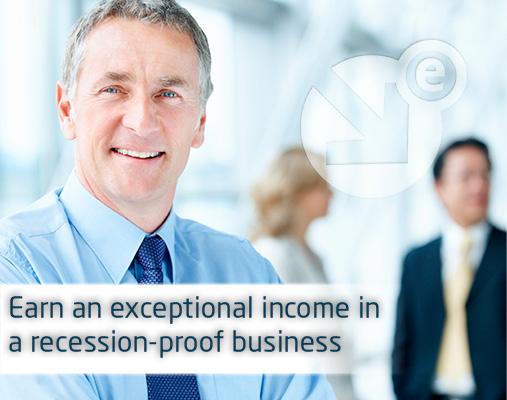 At Expense Reduction Analysts our ideal candidate is smart, motivated, and has the willingness to follow a 27-year proven process, comfortable communicating with the Senior and C-Suite Executives, and is able to collaborate with other ERA Consulting Partners.
If that sounds like you, you should be taking a very close look at Expense Reduction Analysts (ERA). We believe that our business is the best proposition you'll find anywhere.
ERA Consultants help companies significantly reduce expenses by showing them how to save money on everyday overhead costs such as telecommunications, printing, office supplies, insurance, shipping & freight, etc. We have world class skill and knowledge to significantly reduce over 40 different overhead of expenses that every industry has! The higher the savings are for a client, the higher fee you will earn (the average savings across the dozens of expense categories we have reviewed is an amazing 19.7%!) This elegant and unique business model is the ultimate "win-win", something you can feel excited about doing for a living. Our Clients LOVE our Value Proposition….We don't charge them ANYTHING, unless we first implement actual Savings……We take on ALL the risk….They take on NONE!
If you're looking for something a step above ordinary business offerings, consider this:
As an ERA Consultant, you will leverage your past professional experience and build a successful Consutling Practice around your personal strengths.
You will become part of a collaborative global network of Consultants with deep Expense Category Expertise and the passion to succeed.
ERA's "No Savings, No Fee" proposition is attractive to any company, small or large, private or public, for-profit or nonprofit.
This low overhead, high margin business is recession-resistant
You can work from the comfort of your home – you are an independent business owner.
There is no large investment in inventory, no long-term leases or leasehold improvements, no employee costs…..NONE of that!
ERA provides proven proprietary systems, thorough training, continuous follow-up, networking opportunities and support that is next to none.
Here's what a few of our ERA consultants have to say:
"We're so confident that we can save our clients money that we work based on a 'no savings, no fee 'motto. The client pays nothing up front but, if we manage the reduce costs by, say $50,000 for their annual printing, then we get paid half of the savings over, say, a 24-month period. That's $25,000 the first year and $25,000 for the second year." This is just ONE project for a Client. We typically do multiple projects with each of our Clients!
- Art Buckman, Director for Connecticut, Rhode Island, Upstate New York and Massachusetts
**************************************************************************************
"It's been tremendously rewarding to apply my 25+ years of professional knowledge and experience to guide clients as well as other consultants. My procurement and supply management expertise is valued by others in the Expense Reduction Analysts network."
"Working with ERA, I am able to do more than fulfill my professional goals – I have the added satisfaction of leading others to success."
- Brad Davidson, Director for Georgia
**************************************************************************************
"ERA gave us the opportunity to live where we wanted to live. We have the same opportunity as consultants in larger cities."
"Our focus is to have fun and to enjoy our client relationships. Money flows from there."
"ERA offers a tremendous value proposition. We win when our clients win. If we follow the business model, our fees are significant!"
- Jim Schmitt, Managing Director for Iowa, Minnesota, Nebraska, Wisconsin, North Dakota, South Dakota, and Upper Peninsula of Michigan
**************************************************************************************
"I wanted to build a business from scratch. I viewed it as a personal and professional challenge."
"I am not a consultant; I am a RESULTANT! I get paid on results."
"My clients like to do business with me because of the great value I bring to the table.
"Unlike most consultants who bill by the hour or by the day, my earnings are unlimited."
- Joe Stephan, Managing Director for South Florida

Is ERA right for you? Are you right for ERA?