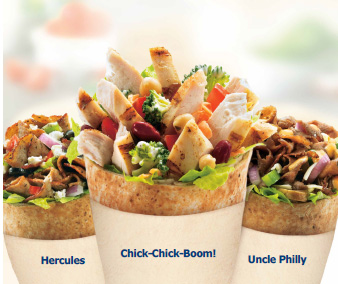 A Simply Sizzling Opportunity
Extreme Pita ® was founded in December 1996, in Waterloo, Ontario. Despite what may seem obvious, our goal at the time was not to simply create the greatest tasting pita sandwich imaginable. Instead, we set out to accomplish was to also provide our customers the choice of something dierent; the choice to eat at an establishment that truly understands active lifestyles and healthy concerns. This remains our guiding principle to this day.
"Inspiring Healthier Living ® " is more than a simple marketing cliché to us - these words, and the values they represent, are the foundation of our oering. These remain unchanged from the day we first opened our doors to you.
The fact we "succeeded" in creating one of the greatest tasting pita sandwiches imaginable is merely one more benet! So go ahead, try it once, we know you'll be back!
Extreme Pita: The Right Concept
Today more than ever, people are turning away from traditional fast foods and discovering the benets of fresh and healthy food. Research shows all age groups are concerned about the food they eat.
Extreme Pita strives to meet and exceed all of the expectations of today's consumers who are looking for a quality, healthy alternative to traditional fast food. The best part about Extreme Pita is not the reduced fat and reduced calories, but that we will not sacrice taste. As of 2010, Extreme Pita has more than 220 locations throughout Canada, the USA and various parts of the Middle East and is growing rapidly. This is the perfect time to own an Extreme Pita franchise.
So you want to be a Purveyor of the Pita?
Well, you've come to the right place. You can rest easy knowing this is a business with staying power.
It's all about the bread! We roll it, we eat it, we earn it. And we're successful at it. We've got over 220 locations throughout the U.S. and Canada with continuous strong growth.

Why Extreme Pita?

Many restaurants out there offer items that are fried within an inch of their lives. Extreme Pita has the right concept at the right time, because more and more consumers are looking for a fresh, fast and healthy alternative, something we have been doing since we opened our doors.
The Extreme Pita Brand Promise

Extreme Pita offers a fantastic range of healthy, great tasting food for busy, active individuals and families who want to live life to the fullest (extreme) from a company that doesn't believe healthy has to taste bad or be boring.

We're dedicated to our product, to our franchisees and to our guests - making Extreme Pita an extremely reliable company to do business with.
Here is what others are saying about us
"Extreme Pita on the Cusp of Something Very Big" – Arizona Republic
Extreme Pita – "The ones to watch" – QSR Magazine 2005
#60 Top 100 Movers and Shakers – Fast Casual Magazine Jan 07
2007 Entrepreneurs of The Year – Food Service and Hospitality Magazine
Three young go getters take Extreme Pita from 1 store to 200 in less than a decade – Food Service and Hospitality Magazine 2007
Dallas Fort Worth – 2007 City's Best Award "Winner Best Sandwich Category" – AOL City Guide
"The Food Stands On Its Own – Its Healthy, Tasty and Affordable"

– June 14, 2006, San Diego on San Diego

"Not Just Another Burger Joint, Taco Stand or Sub Shop" – Arizona Republic 2005
Extreme Pita rated in the top 200 Global Franchises – Entrepreneur.com 2007
Extreme Pita rated in the Top Franchise Trends - Entrepreneur.com 2011

Opening

at a rate of one restaurant per week" -

Internal number based on opening 52+ restaurants in 2007
Extreme Pita won Foodservice and Hospitality Magazine's 2011 Company of the Year Pinnacle Award
Extreme Pita Fun Facts
We Use:
> One side of the grill for meat and the other side of the grill for veggies
> Water instead of oil to grill our fresh fillings
We Have:

> 25 Pitas with less than 450 calories

> 10 Pitas with less than 3 grams of fat!

> Lower sodium offerings.

> High nutritional values.
Extreme Pita has 42 University locations across North America
Extreme Pita is the first Canadian fast-food chain to offer select products that have gained the Health Check Approval.
Extreme Assistance
Marketing and Advertising Support

We'll see to it that you have every tool available to make your store a success. Promoting and developing our brand is crucial. You'll get extensive marketing training, a user-friendly marketing manual and promotions & merchandising support. We also assist in developing and executing an opening advertising strategy and seasonal campaigns.
Real Estate and Construction Support

Location, Location, Location!!! Everyone knows the importance of a good location in the retail business. Our support team will help you analyze potential sites to ensure the best possibility for success of your business. We will help you negotiate your lease and provide you with customized architectural and engineering drawings to ensure your standards are met.
Hands on Training and Support

We provide an extensive training program for all franchisees to ensure that when your store opens you are comfortable and experienced in all aspects of running a successful business. The training program involves both classroom and in-store training from experienced corporate trainers that have previously operated successful Extreme Pita franchises. The support doesn't end there, each restaurant is assigned a business development consultant to provide on-going continuous support in every facet of your business
PurBlendz

Add a PurBlendz to your Extreme Pita Franchise!

At PurBlendz, we believe the more natural the smoothie the better. While other smoothie brands offer additives, boosters or formulated supplements to enhance the health benefits of their smoothies, we believe the right combinations of all natural fruits and vegetables will offer you a risk free way to a healthy body.
Enough said, let's just keep it PUR!