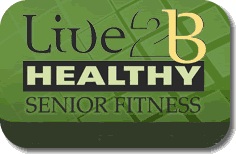 Own Your Own Live 2 B Healthy™ Franchise
Why Live 2 B Healthy™ Senior Fitness Is Your Right Choice:
You are joining Live 2 B Healthy™ Senior Fitness at just the right time. We're growing quickly because now, more than ever, senior citizens need our help maintaining their mobility and strength.
Live 2 B Healthy™ Senior Fitness offers on-site fitness to senior residents. But more than that, we offer seniors the freedom, independence and dignity that accompanies reclaimed health. And being a Live 2 B Healthy™ Senior Fitness franchisee is not only personally satisfying; it also makes good business sense.

An Emerging Market
Seniors are not only living longer. They want to live better. With more vitality and enjoyment. What does that mean for you? An emerging market that's ready for a proven, affordable solution.
Live 2 B Healthy™ Senior Fitness franchisees are at the forefront of a growing industry – helping today's seniors remain fit. Applying our proven, step-by-step system each franchisee's income is limited only by their own time and energy.

The Live 2 B Healthy™ Difference

Live 2 B Healthy™ Senior Fitness is the nation's only franchise offering a proven fitness program to senior residential communities. Here's what makes a Live 2 B Healthy™ senior fitness franchise different than other franchises:



A truly unique business. There's no one else like us, offering fitness to residential communities.

A proven business system. We've been around for years, and we're here to stay.

An affordable franchise, without the huge overhead of a facility lease with heavy fitness equipment.

Strong operational support, both during start-up training and once you're up and running.
The Live 2 B Healthy™ Experience
We're proud of our system, which delivers proven physical results to seniors and financial results to residential facilities. Our franchisees come from a variety of backgrounds. They bring their energy, enthusiasm and passion for senior health. We offer proven templates, scripts, fitness programs, sales materials and the support you need to successfully launch, run and grow your region.
We also offer exclusivity: there's currently nothing like our program available on the market. And, as a franchisee you'll work with exclusive regions within a particular geographic area. This means less competition, and more teamwork among all of our franchisees.

Live 2 B Healthy™ franchisees get:

Team and one-on-one classroom and field training in business operations, fitness training, sales and marketing

An exclusive geographic region, which means less competition and more teamwork among our franchisees

A directory of all senior residential communities within their exclusive franchise territory

Marketing and sales materials including presentation templates, video, brochures, press releases, ads and an entire database of testimonies from seniors and residential community owners

Certified personal trainer lesson plan development tool, sample exercise plans, and an entire web site with hundreds of exercises from which to download custom fitness plans

A business system for keeping franchise operations organized and efficient

Ongoing support, including an online franchisee community, training webinars, team conference calls and "ride-along" assistance as franchisees build sales-call confidence



Live 2 B Healthy™ Franchisee Testimonials
Buying a Live 2 B Healthy™ Senior Fitness franchise is the best investment we have ever made. And we are looking forward to expanding in the near future! - Matthew L. Fahey, North Metro & West Minnesota
Live 2 B Healthy™ Senior Fitness is a great opportunity to help seniors live longer, healthier lives. It is extremely rewarding. - John Johnson, North Iowa
For further information about becoming a Live 2 B Healthy™ Senior Fitness franchise owner, please fill out the form to the right.