Mr. Payroll Corporation - General Information:

Mr. Payroll Corporation ("Mr. Payroll") consists of a nationwide network of company-owned and franchised check-cashing facilities located inside convenience stores, neighborhood service centers, or in stand-alone facilities. In as little as 48 square feet of operating space, a Mr. Payroll check-cashing franchise provides fast check cashing, money orders, bill paying, money transfers and other financial services in one convenient location-and at a minimal cost.

Mr. Payroll Services:

Check Cashing

Money Orders

Wire Transfers

Bill Pay

Tax Filing

Prepaid Phone Service

Prepaid Debit Cards
History/Locations
Mr. Payroll is a leader in the check cashing industry with more than 20 years experience. Our business strategy is to competitively offer uniquely-suited, financial services to working class customers. Founded in 1988 and offering franchises since 1990, Mr. Payroll is an industry leader in franchised check cashing services. It is also a subsidiary of Cash America International, Inc. (listed on NYSE under the symbol "CSH"), the world's largest operator of pawnshops and specialty financial services. As of December 31, 2010, we have 116 franchised and company-owned facilities in 16 states.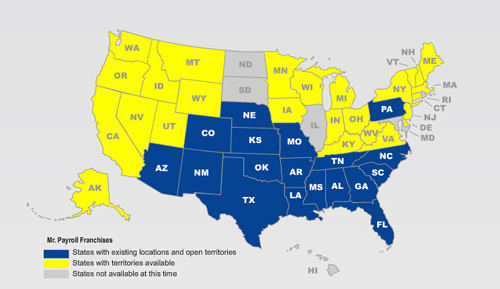 Market
Mr. Payroll provides valuable non-bank, financial services to hard-working individuals every day. A study conducted in 2008 by the Center for Financial Services Innovation reported that 40 million households (106 million individuals) in the U.S. were under banked. One of the most pressing needs of the "underbanked" is converting their hard earned paychecks into cash. A recent Federal Reserve Bulletin estimated that 28% of all working-class households have the need for check cashing services.*
(*Reference: The Center for Financial Services Innovation. (2008) The Center for Financial Services Innovation's 2008 Underbanked Consumer Study [Fact Sheet]. Chicago, IL)
Franchisee Package
Our franchisees are provided with all the necessary tools and continued support to help them get their financial services business started and running successfully.
Site Analysis & Demographics

Cashier Training Academy

New Store Opening Support

Soft & Grand Opening Week

Market Your New Location

On-site Training

Check Cashing Software

Turnkey Installation
Business Day
A typical business operation for a Mr. Payroll franchise consists of having one employee on duty serving customers six days a week. The business model makes it easy to operate. The average annual check cashing fee revenue per Mr. Payroll location in 2010 was $122,261.84.*
(*Reference: Mr. Payroll Corporation's 2011 Franchise Disclosure Document, Item 19, for facilities operating between December 31, 2010 and for at least the full 18 months immediately prior thereto.)
Criteria for Franchise Candidate
Are you a people person that can manage and control all aspects of the business? A franchise owner must take direction from the Mr. Payroll team, operate within Mr. Payroll's established guidelines, and adhere to the performance standards and practices set forth in Mr. Payroll's licensed system as described in Mr. Payroll Corporation's 2011 Franchise Disclosure Document.
If you are driven to succeed, are able to motivate employees through day-to-day operations, know how to market and generate sales and have the financial resources needed to operate a franchise, then Mr. Payroll is ready to work with you. Our franchisees come from many different backgrounds, but all understand the fundamentals of business and have a strong desire to create a successful and profitable Mr. Payroll franchise.
Remember, the value of buying a franchised business is that you are permitted to utilize the franchisor's business experience. . . a proven, turnkey business model that offers a recognized brand name, training and ongoing support, as well as established products and services, and marketing strategies including continuing research and development for new products and practices.
Testimonial

David Hudson of Toot'n Totum Food Stores, where several Mr. Payroll check cashing franchised facilities are situated, discusses his company's experience as a Mr. Payroll franchisee:

"Toot'n Totum has a long history with Mr. Payroll as its birthplace over 20 years ago. The first 17 years we operated as a landlord for Mr. Payroll experiencing customer growth inside our convenience stores from customers who were getting their checks cashed and, in turn, purchasing miscellaneous items inside and fuel outside.
Toot'n Totum Food Stores purchased the eight existing Mr. Payroll locations inside our stores 3½ years ago. We added two additional locations outside Amarillo after operating the original eight locations. Check cashing is our core business income although we have added money orders, wire transfers, utility payments and pre-paid services to our financial service platform. As the opportunity arises we will continue to look for additional sites to add to our current 10 locations."
- David Hudson
Toot'n Totum Food Stores
Awards
Mr. Payroll was named the #1 Check Cashing Franchise by Entrepreneur Magazine the last 3 years running and was ranked #1, Best of the Best, in the Check Cashing category, in Entrepreneur's 2011 Franchise 500.
THE INFORMATION CONTAINED ABOVE DOES NOT CONSTITUTE AN OFFER TO SELL OR AWARD A FRANCHISE. SUCH AN OFFER MAY BE MADE ONLY IN COMPLIANCE WITH APPLICABLE DISCLOSURE LAWS. FRANCHISES ARE NOT AVAILABLE IN ALL STATES. PLEASE CONTACT MR. PAYROLL FOR THE AVAILABLE STATES.