A CHICAGO SIZED SLICE OF A $40 BILLION PIE.
The pizza industry in America is feeding a lot more than hungry families. It's a booming business that is gathering steam as Americans everywhere reset their out-of-home dining preferences to a new economy.
Chew on some of these pizza industry facts:
97% of Americans say they like pizza*
93% of Americans say they eat pizza at least once a month*
Pizza is the #1 dinner choice in the U.S.*
Out-of-home pizza sales in the U.S. have topped $40 billion**
Average Unit Revenue of pizza restaurants in the U.S. is over $500,000***
Pizza segment revenue is expected to double its annual growth rate over the next three years****

During the recent recession, pizza emerged as one of the only affordable destination dining occasions on the map. Rosati's, by virtue of our 50-year history of successful franchising and multi-generational brand appeal, stands poised to capitalize on this trend with incredible growth. We offer a quick ramp-up, high-margin opportunity with multiple revenue streams:
Dining Room & Bar (Sports Pub Concept)
Carry-Out & Delivery
Business to Business
Catering & Events
*Packaged Facts, "The Pizza Market in the U.S.: Foodservice and Retail"
**CHD Expert Report, 2012
***PMQ Pizza Magazine: December, 2012
****IBISWorld
IS ROSATI'S RIGHT FOR YOU?

In case you haven't noticed by now, at Rosati's we're not just a business, we're a family—a family of people with big dreams and big hearts. After over 50 years of experience building this family, we have noticed a few things that help make us a good "fit" for potential new family members:

Past Business Experience

You don't need to have restaurant experience or franchise experience to fit in around here, but you will need business savvy and acumen. Bring your past business experience, your winning communication skills and your ability to work within proven systems. We'll do the rest!




Midwestern Work Ethic
This is not a business for absentee ownership. You'll have to have that roll-up-your-sleeves attitude and an old-school Chicago work ethic, focus and attention to detail. We'll teach you everything you need to know to make legendary Chicago pizza.
Family-Oriented Folks
Sure, it's our family name, but this will be YOUR family business. Many of our most successful franchises are multi-generational for a reason. There's just something about the Rosati's family culture that works for other families as well.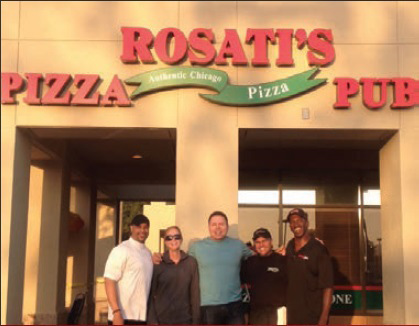 BEHIND YOU EVERY SLICE OF THE WAY
If you don't know a deep dish from a dishwasher, don't worry; we've got you covered. From day one you'll have the support of proven systems and passionate, supportive Rosati family members right there with you.
Despite what you may think, you won't be slaving in a kitchen all day on the food. We make that part so easy it's a no-brainer, so you can focus on growing your business. If you're willing to work hard and able to stay focused, all of the resources are here for your success.
Training: It's The Rosati Family Way

Support: Family Every Day
Direct access to operations specialists
Ongoing newsletters and communication from corporate
Access to dedicated Area Manager to help with any issues that may arise