The SERVPRO® Story
Since 1967, SERVPRO® has helped individuals realize their dreams of business ownership. Our founders, Ted and Doris Isaacson, passionately pursued a vision to "help entrepreneurs succeed." Even today, SERVPRO's second-generation owners have woven together that vision and our rich history with a forward-thinking approach. From our humble beginnings to a nationwide company with a dominant Brand in the marketplace, the possibilities for the future of SERVPRO® seem endless.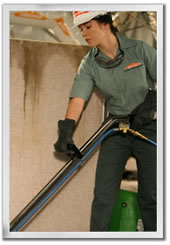 The SERVPRO® System
Trusted by insurance companies nationwide, SERVPRO® System's core business focuses on the multi-billion dollar insurance disaster restoration market. SERVPRO® markets directly to the insurance industry through its team of sales professionals in the National Accounts Division. SERVPRO's National Accounts team also helps centralize insurance claims through our National Call Center.
With a variety of services to offer the insurance, commercial and residential markets, it is easy to see why the SERVPRO® Brand is nationally recognized as a leader in fire and water cleanup and restoration.
A Mutual Evaluation Process
Growing a dynamic Franchising Systems depends on bringing the right candidate together with the right opportunity. SERVPRO® takes a great deal of care to determine a candidate's qualifications and compatibility with the SERVPRO® System. Our mutual evaluation process helps us learn more about you while sharing details about our business so you can make an informed decision. During the process, you will work closely with a member of our management team to uncover the unique opportunity awaiting you with SERVPRO®.
Success Stories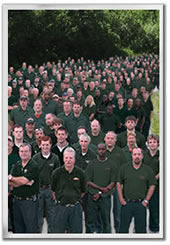 "After working for another restoration company for ten years, I knew it was time to work for myself. SERVPRO® has the best package of resources, products and training to allow you to get your business up and running fast. SERVPRO® has the best program for an entrepreneur. I can honestly say my worst day in SERVPRO® is still better than my best day with another company."
Mark Belew, West Amarillo, Texas
"The ongoing support and vision of SERVPRO® Corporate is invaluable to my success as a Franchisee. The SERVPRO® Brand has become recognized as the industry leader. As the Brand continues to get stronger, our future looks brighter than ever before.
Danny Brown, Henry and Spalding Counties, Georgia
"SERVPRO® has done several things for us. The support is great. The diversification of service from the Franchisor is unbeatable, the knowledge of professional cleaning products and equipment is always up-to-date. Best of all though, is the strong bond among the Franchisees."
Bob Heid, Columbus, Ohio
Join Our Team Of Heroes Today
As a SERVPRO® Franchisee, you can become a hero to the customer by helping commercial clients and homeowners regain control and peace of mind when fire or water damage strip them away. With knowledgeable technicians, professionalism and constant communication and reassurance, SERVPRO® rises above the competition in the eyes of the customer. Make a difference in the lives of others. Start with SERVPRO®.
Contact us today to learn about what it takes to become part of our extraordinary team!