Overview
The opportunities to succeed with HomeTeam Inspection Service franchise are better today then ever before. When buying a home, it has become standard practice to have a home inspection before the sale closes. In fact, the number of real estate home inspections performed each year is on the rise; almost 90 percent of all homes sold are inspected. Also, many mortgage companies now require a home inspection as a financing requirement.

HomeTeam Inspection Service has set the standard of professionalism in the industry. Throughout the growth of the HomeTeam franchise network, our primary focus has remained the same: to offer top-quality home inspections, while running an effective and efficient operation to help control costs. This high-value, low-cost combination is the bedrock of our operating philosophy.

The HomeTeam has become a household name among homebuyers, lenders and Real Estate Professionals. This is a direct result of the HomeTeam's standard of excellence, consistently reliable service, and our dynamic franchise growth.
Products & Services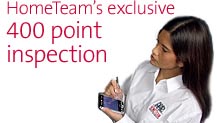 When you need to find a home inspector, trust The HomeTeam Inspection Service, the professional leader in residential home inspections. Whether you are a homebuyer, a home seller or a real estate professional, arranging for a real estate inspection through The HomeTeam Inspection Service is simple. With one call, our team of qualified home inspectors will arrive at your property and conduct a thorough inspection in about half the time of a regular inspection. One call. One team. That's the HomeTeam difference.

For home buyers, for home sellers, for home owners, for real estate professionals.

Training & Support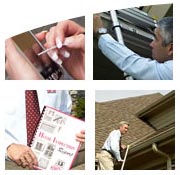 The HomeTeam Inspection Service training program has rightfully earned a stellar reputation in the industry. During our comprehensive two-week training course, you will be taught to successfully operate a home inspection business.

In addition to extensive classroom training, you will gain actual hands-on experience. During your training, you will perform home inspections, first as an observer, then as a home inspector.

We will also teach you how to use our entire marketing system, including how to make compelling presentations to referral sources in addition to powerful programs designed for the real estate professional and homebuyer.

Additionally, we will train you to use our TeamWorks© proprietary computer and pocket PC software used during the home inspection to aid in gathering information used in completing professional home inspection reports.

Regional and international meetings will help you stay on top of your inspection business. These meetings allow great networking opportunities with other HomeTeam Inspection Service franchise owners.
Why The HomeTeam Inspection Service?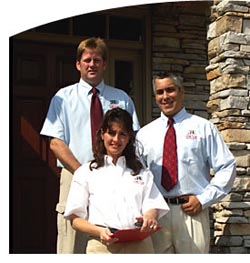 While a major advantage of investing in a franchise is potentially faster growth from the outset, there are distinct benefits to investing in The HomeTeam Inspection Service franchise. We offer one of the most powerful marketing systems in the real estate inspection industry.

This complete marketing system will give you the competitive edge you need to dominate your market.

Brochure
Publicity releases
Newspaper ads
Magazine ads
Pre-opening campaigns
Mailing campaigns
Incentive programs
Comprehensive insurance programs including Realtor® provisions
Realtor® presentations
Exhibits at trade shows
Realtor® newsletters
International and local affiliations
Highly engaging Web site
Brand recognition

Our team approach to home inspections allows for higher productivity than our competition.

Reduced inspection time. The ability to perform a residential home inspection in about half the time of the competition is a very important part of our powerful marketing system.

Increased productivity and revenue. Performing inspections faster allows time to perform more home inspections in one day. Our marketing system will help you fill those extra spots in your schedule. More inspections per day equal more revenue.

Improved inspection quality. With a team of expert home inspectors working together at every home inspection, your client will receive - and perceive - the best quality inspection in the market.
Are You a Good Fit for The HomeTeam Inspection Service?
At The HomeTeam, many of our most successful franchisees are not the inspectors in their businesses but the managers and marketers. They are people from all walks of life who had a dream of controlling their own destiny and realized what a fantastic opportunity HomeTeam has for them.

You bring to us the people and management skills. You also must bring a driving desire to be successful and a commitment to executing our industry-leading marketing program. We give you the tools and support you need to utilize your strengths. That's the HomeTeam difference!