READY? AIM. PLAY!

MISSION-BASED LASER TAG, NERF-STYLE TAG, AXE THROWING, ARCADE, EAT & DRINK!
Our Story
David Dimberio was born and raised in Fort Wayne, Indiana and is a graduate of the University of Notre Dame. He spent the first two decades of his career in sales. With a fascination of the entertainment business, and a love of competitive sports, David founded Combat Ops Entertainment and opened its first location in Fort Wayne in November of 2016. David wanted to create a style of entertainment that was truly different, something more engaging, not only for kids but for adults as well. It is also the perfect venue for family parties and corporate team-building events.
As the official "Chief Entertainment Officer" of COE, David's goal is to continually improve the Combat Ops Entertainment brand and to provide a new and unique experience for every customer. Much of Combat Ops was actually designed by David, from the large-scale arenas, down to smaller details like the use of "dog tags" as your admission ticket to some of the attractions.
SOMETHING FOR WARRIORS OF ALL AGES
The Business Model
David has tied all this together to create an venue unlike any other family focused entertainment center, uniquely catering to all age groups. In fact, it's the fun COE environment that attracts employees, even better than fast food. New franchisees work directly with David to learn all aspects of the business to ensure a streamlined and successful COE launch.
Owner-operator can transition to semi-absentee, "Manage the Manager"
Proven traffic building marketing strategies
Strong sales and earnings potential (see Item 19)
Technology investment/upgrades to increase operational efficiencies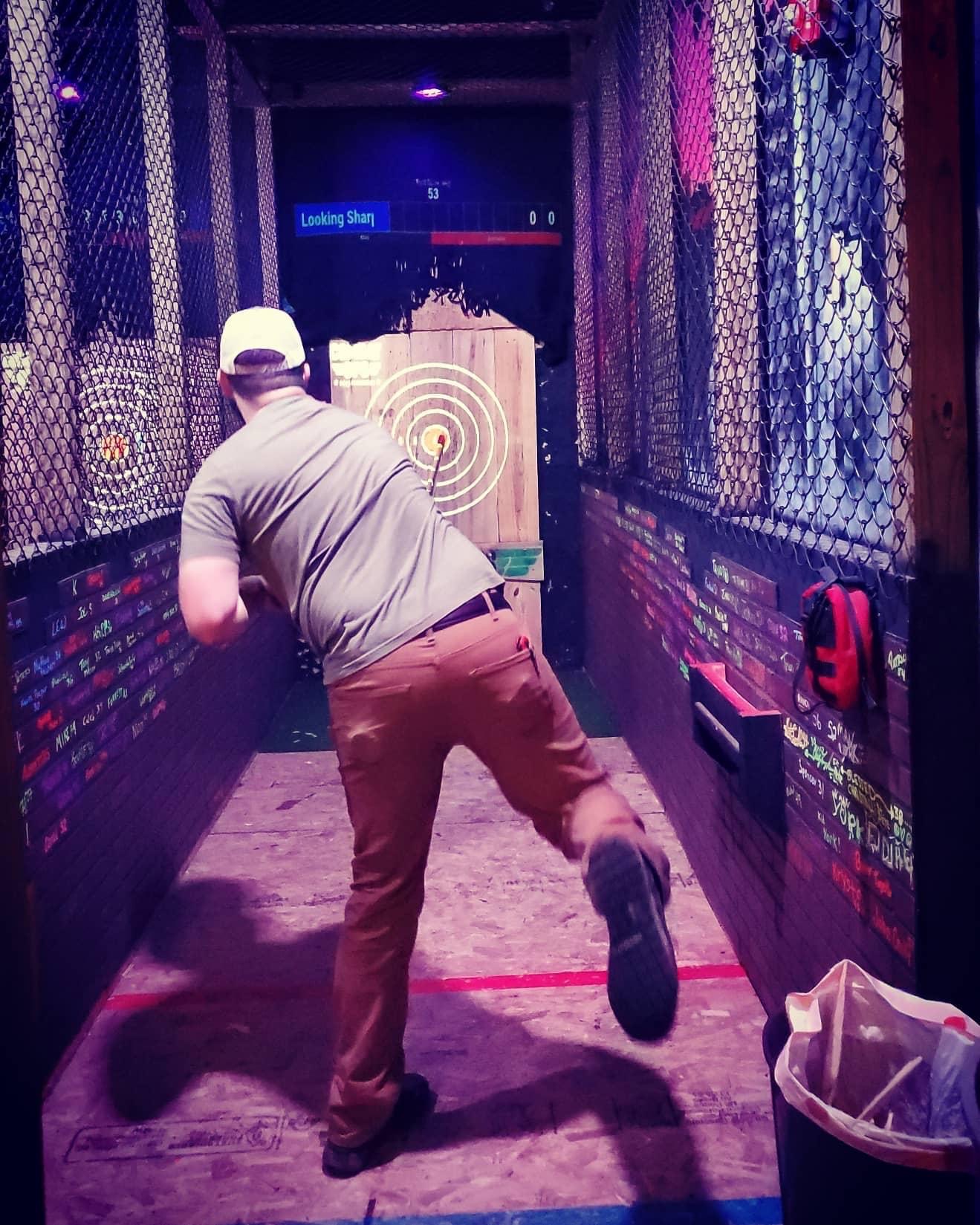 What We Do
Combat Ops Entertainment (COE) is a unique, multi-attraction destination for families to enjoy a remarkable, multi-sensory entertainment experience in a safe and secure environment. COE offers many different games and attractions including: mission-based laser tag, Nerf-style tag, axe throwing, Omni VR, mini bowling, mini golf, laser maze, and arcade games featuring battle themes. Our arena attractions are what the COE brand is known for.
The laser tag arena features multiple levels in a post-apocolyptic cityscape environment and vehicles that guests can climb & go inside including: a tank, full-size bus, and a dump truck. The laser tag equipment and missions are tactical which allows the creation of multiple game modes, choices of weapons, and the use of boxes or targets. The missions are constantly being updated and are created for all skill levels, from the beginner visiting for the first time, to the advanced tactical laser tag guest who holds a membership. COE aims to give guests of all ages exciting new adventures with each return visit.
A second arena is dedicated to NERF-style tag, archery tag, and dodgeball. This arena has a complete Nerf blaster armory, inflatable bunkers, soft flooring, and battle-themed props. These mind-blowing missions are also constantly updated to generate repeat visits and play.
The popular axe throwing arenas also offer COE guests a one of a kind thrill. Gamemasters teach guests the proper techniques of axe throwing at targets and how to compete with their friends for bragging rights until the next visit.
COE family entertainment centers also include our Caliber Café featuring adult beverages, a soda fountain, a quick serve food menu, and a variety of sealed snacks. The cafe offers menu items that appeal to all ages, are easy to prepare, and carry high margins.
Technology
COE uses the latest POS technology to streamline overall center operations, simplify reservation management, drive guest loyalty, and encourage return visits. Our state-of-the-art arcade features the newest games on the market including: virtual reality units, coin pushers, multi-player first-person shooters, competition games, and pinball machines. All arcade games are played using a "COE Player Card" where guests can store tickets won and redeem for redemption prizes, become members, buy COE swag, and more.
The Culture
We firmly believe in teamwork, active franchisee relations, and proactive public relations to maintain efficient operations and promote our highly visible COE brand and a positive public image. COE franchisees are encouraged to support local activities and participate in charitable events in their community.
Although the COE brand is focused on fun, our goal is to ensure every guest has a remarkable experience every time they visit. Each guest is immediately greeted by a friendly, enthusiastic, smiling COE team member who has been thoroughly trained to:
• Answer guest questions about any game or adventure
• Dress in a clean, branded uniform, including a shirt & baseball hat with COE logo
• Display a warm, welcoming, fun attitude and eagerness to connect