GREAT INVESTMENT!
OPEN YOUR OWN $20 CHIROPRACTIC CLINIC!
Recession-Proof Investment
Great Return on Investment (146%)
Monthly Payout Absentee Ownership
We Do All The Work
$20 Chiropractic Clinics is more than just a profitable business venture, our mission is to contribute to the health of the community by providing quality Chiropractic services at the most affordable price of $20.
This unique concept, whose time has come, will benefit the chiropractic patient, the profession, and innovative investors.
The combination of low cost ($20 per visit), high-quality, and fast service will give the patient exactly what they are looking for when seeking Chiropractic care.
The power of the $20 Chiropractic Clinic concept is in the numbers. Although each clinic will generate an attractive return on investment, the more clinics opened, the more effective will be the overall $20 Chiropractic Clinic approach.
Eventually, $20 Chiropractic Clinic will become a household name for Chiropractic. Similar to McDonalds, Walmart, Apple, etc., $20 Chiropractic Clinic's time has come to capitalize on the Chiropractic aspect of healthcare. Can you imagine being invited to become a partner in McDonald's back in 1960? That's what this business is offering you.
We currently have twenty successful $20 Chiropractic Clinics in the Atlanta area. Our ten year Strategic Plan is to open thirteen hundred $20 Chiropractic Clinics nationwide. The fastest way to do this is by bringing on investment partners.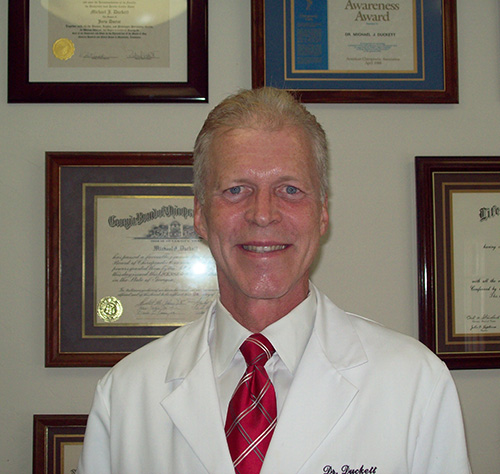 I'm looking for multiple business partners who are interested in opening one or more $20 Chiropractic Clinics by investing $125,000 each, for start-up capital in the proposed expansion of the $20 Chiropractic Clinic concept. In exchange for the $125,000 investment per clinic, the invested partner will receive 49% of the net proceeds on a monthly basis, and ultimately, within four years, 49% of the selling price for the involved clinic. The ROI is approximately 146%.
Please take your time reading this unique and timely Business Proposal and allow me to answer any questions you might have.
Sincerely Yours,
Dr. Michael J. Duckett
Founder and Chief Executive Officer
$20 Chiropractic Clinics is unique within the profession for many reasons:
Low price—the $20 price for chiropractic care is the lowest in the profession.
Expedient service— The average treatment time is approximately five minutes or less.
High-quality chiropractic care—By rendering this high quality "six-point system" to each patient every visit, the patient will be happy they came in for an adjustment and will gladly refer family and friends.
Clean, and highly visible establishment—The overall clinic design will be contemporary and bright. The physical location of the clinic will front one of the main traffic arteries in the area producing a large number of passing cars each day.
Healthy Choice Plan (HCP)— Patients can enroll for as little as $54 per month, and receive one adjustment per week.
Funding:
Besides the start-up expenses, including the initial five months of overhead (partial), the projected time for the clinic to be in positive cash flow is five months from opening
Marketing:
Our pre-opening marketing effort has produced an average of 50-100 new patients upon opening. The estimated time for the clinic to produce a positive cash flow is minimal because of the aggressive pre-opening and ongoing marketing efforts. The premarketing procedure involves our Marketing Director to perform specific tasks in the community that will increase clinic exposure and generate a steady stream of new patients to the office.
Surveying people in the Community- This is a unique way to establish awareness and relationships with people in the community
Coupons- One of the most powerful ways to increase exposure to the community is with the
Referrals- Internal marketing inside the clinic by requesting information of friends and family members who might be interested in chiropractic care.
Internet Marketing - This campaign will consist of highly targeted social media advertising, Google AdWords and website search engine optimization.
Health Education- Each new patient is required to watch a 15-Minute Chiropractic Educational Video to become informed.
With a $20 Chiropractic Partnership we provide it all for you!
We find the location for you and introduce you to the landlord.
Hire and completely train a great doctor and staff.
Do all internal and external marketing for office utilizing our company's trade secrets.
Generate all new patients.
We provide all the information needed for you to stay abreast on your investment.
Join our Unique Chiropractic Franchise Today!