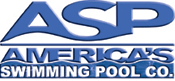 ASP is the number #1 pool company franchise in the US. We have been named by Entrepreneur magazine as "Most Affordable Franchise" list, and among the "Top 100 Franchises for Veterans" by Franchise Business Review. We offer a proven return on investment with a steady monthly income in a fun, growing industry with steady demand. Our exclusive territories include marketing data on every residential and commercial pool located in the territory and comprehensive training for both pool experts and newcomers to the industry. Currently, we have 254 territories in 21 states across the country.
Becoming a franchisee allows you to be your own boss without having to sacrifice solid support!

Individuals looking to make waves in their community with a trusted pool service franchise benefit from our world class support and reputation. Even those with little to no prior experience in the pool industry can thrive using our proven system and successful business model! Our reputation, training, technology, marketing, and support equips our franchisees to jump ahead of the competition in their community.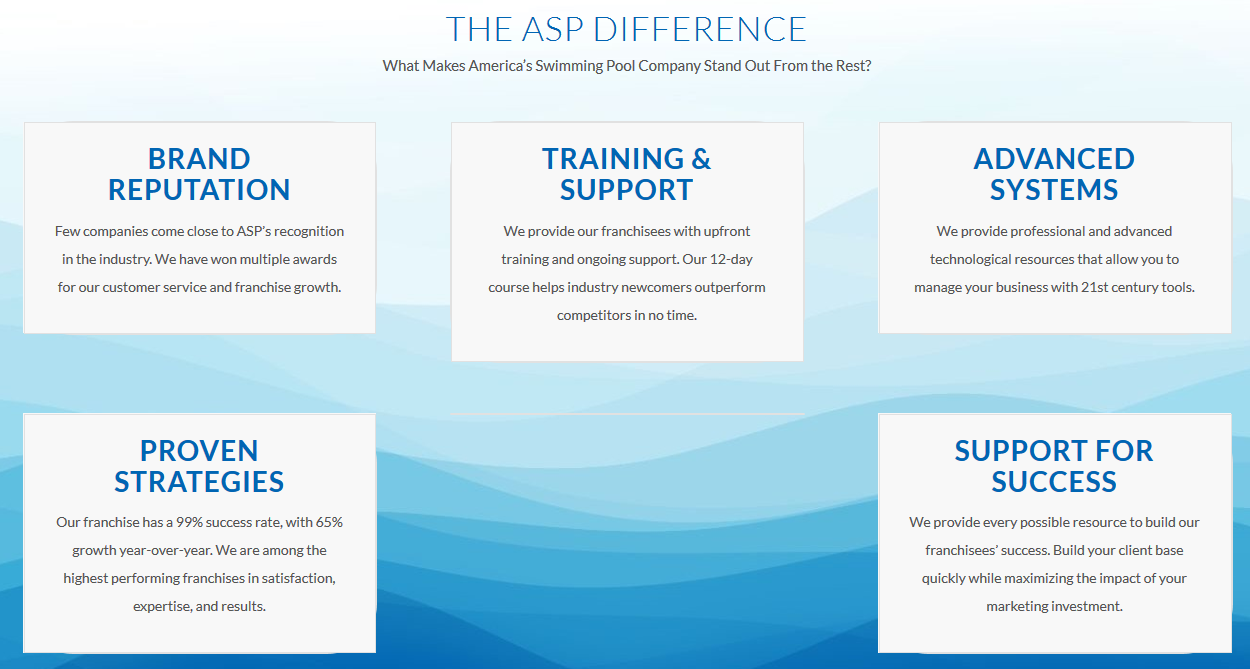 Support for Success
Looking for the right opportunity when transitioning out of the military? Consider owning a franchise.
Veterans make excellent candidates as franchise business owners because of their commitment, trustworthiness, and unmatched determination to succeed. Owning a franchise is an appealing business opportunity for veterans because experts are there to help along each step, and don't have to go at self-employment alone.
ASP – America's Swimming Pool Company is the nation's leading pool cleaning franchise, and is honored to have veterans among the ranks of our franchisees. We are committed to showing our appreciation and admiration for our nation's veterans and the sacrifices they have made for our country.
Benefits to owning an ASP franchise:
Work by the poolside.

No storefront or retail space is needed.

Qualified military veterans receive 15% OFF the franchise fee

Plan your business launch date to fit your needs.

Meet the ASP Franchising team at headquarters to talk one-on-one about training and support. No prior experience in the pool industry is required!

Over 10.4 million residential & commercial pools need service. The demand for a reliable pool service franchise continues to grow steadily.

Opportunities for key employees and future partners/managers to attend Pool School (the most comprehensive swimming pool service training facility in the world).

Exclusive ASP service territories with the potential to expand.

Awarded Top Franchisee Satisfaction and Top Franchise for Veterans by Franchise Business Review.

Ranked #1 Best Pool Maintenance Business by Entrepreneur 500.
Meet an ASP Veteran Franchise Owner
James C. King is the owner and operator of the America's Swimming Pool Company located in Springfield, Virginia. He was enlisted in the United States Air Force for four years and served as an officer in the U.S. Marine Corps for 26 years.
"I began looking for franchise opportunities while I was still on active duty in the Marine Corps and looked at every option out there. I wanted an opportunity where I can own my own business while still applying my mechanical skills from being a KC-130 pilot. ASP seemed like the perfect opportunity where I can utilize my skills in the swimming pool industry."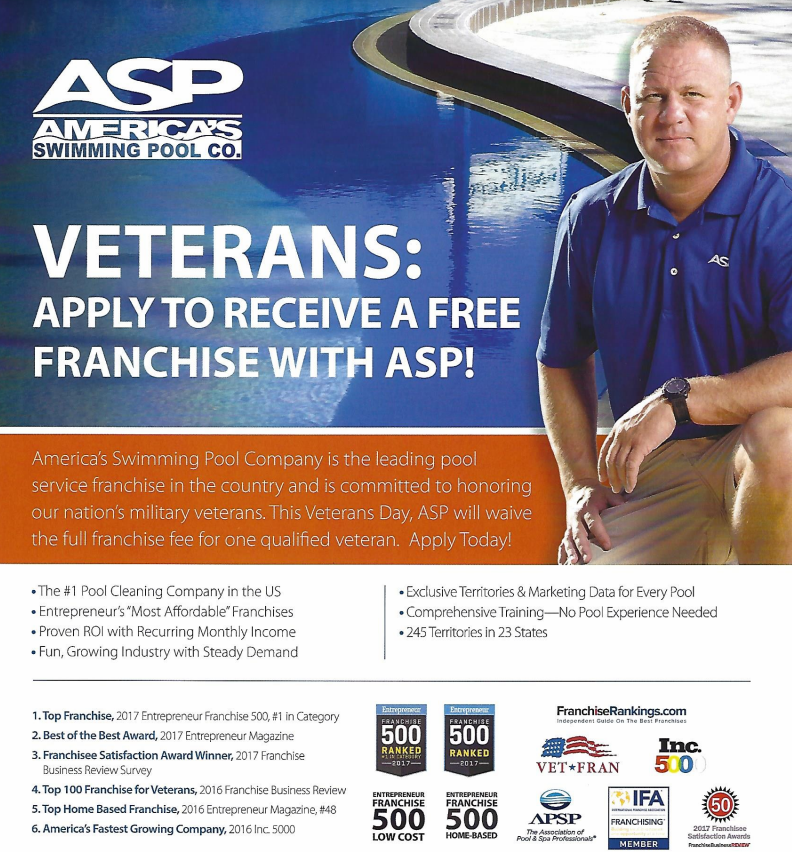 Become a Part of Our Successful Swimming Pool
Franchise!