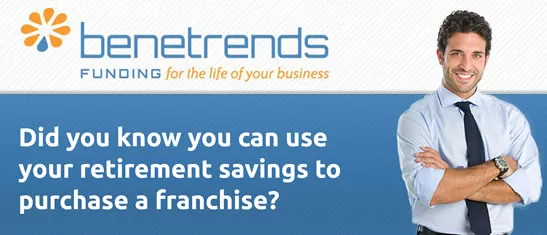 Benetrends offers a safe, secure and proven approach to access your 401(k)/IRA or other type of retirement plan to purchase a franchise – without incurring taxes, penalties or unnecessary debt.
The benefits are powerful, yet easy to understand
Invest your retirement funds in your business—without taxes or penalties
Use pre-tax dollars to fund your business with a safe, proven plan
Gain business equity and an improved cash flow position from the start
Accelerate business profitability by eliminating or reducing interest and debt
Secure funding fast—typically in three weeks or less
Pay yourself a salary during startup
Build for the future – without using the roof over your head
NO debt, No loan payments, your credit score has no bearing on this process
Just as franchises come in all shapes and sizes, so do the options for funding them. Benetrends is the ideal partner to help you navigate through the many available options. We feature a wide range of funding programs covering nearly every type of business situation. This allows us to structure the most attractive financing option for you to purchase your franchise.
Contact us today to schedule your FREE funding consultation!
Testimonials