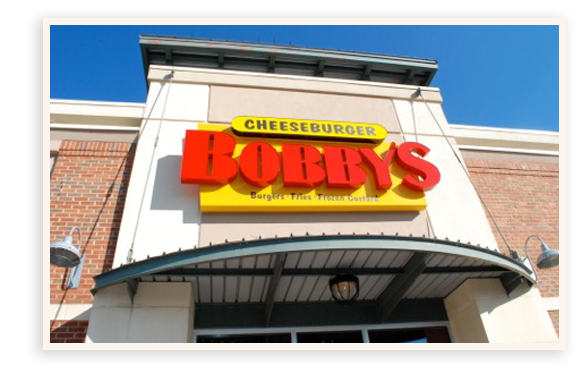 Why Us?
There are lots of franchise opportunities out there. Why choose Cheeseburger Bobby's?
Two words – simple, and delicious.
We keep things simple for our franchisees, with superior systems that help them operate with ease and efficiency. We prepare you well for running your Cheeseburger Bobby's business – whether you're a restaurant industry veteran or just entering the business. From site location and construction through comprehensive training, ongoing consultation and marketing strategies and materials, we've got you covered.




Our franchisees appreciate our well thought-out systems. Our small, carefully crafted menu enables us to promise our guests that the food will always be fresh – and limits the inventory that franchisees need to stock.

Using the best quality ingredients, prepared with care and respect for our guests, means that our food is always delicious.
Our mission is to be brilliant at the basics.
Here's what we mean. We prepare terrific meals from scratch, using the best ingredients, to give you and all our guests first class meals at a fair price.
Cheeseburger Bobby's uses fresh, never frozen, top quality ground beef. Cooked just the way you want it – just when you order it. The best ingredients make our specialty burgers truly special – you can choose toppings like premium cheddar, Swiss and bleu cheeses; thick, crispy bacon; spicy chili, sautéed mushrooms or smoky barbecue sauce, in any combination you like.
We know that no two guests are alike, so we want to be sure that you always get exactly the burger you're craving. Our Build Your Own Burger Bar offers everything you need to put together the best burger you've ever eaten. In fact, there are more than a million ways to dress your burger, thanks to creative combinations of our fresh, plentiful toppings.
Lots of companies throw around the word "fresh" even when they're using vegetables that have been bagged, treated with preservatives, or ripened with chemicals rather than allowed to grow naturally in the fields. At Cheeseburger Bobby's, fresh means FRESH. One visit to our Build Your Own Burger Bar and you will see and taste the Cheeseburger Bobby's difference.
Start with crisp, cool California lettuce, available in leaf form or shredded for you right in our kitchen – no soggy bagged lettuce for our guests. Add a slice or two of plump, juicy tomatoes for outstanding flavor. Just-sliced or -diced red and white onions and banana peppers are the perfect finishing touch. Whenever possible, we buy our produce from local farmers so we can give our guests the freshest, best toppings for their burgers.




And we don't skimp on the condiments. We could use generic ketchup, mustard and mayonnaise – but our guests deserve better. Frankly, so do our burgers. That's why you'll find top of the line brand-name ketchup, mustard and relish in our restaurants.
Not in the mood for a burger? We also offer sizzling hot dogs, delectable chicken sandwiches made with all white breast meat and a menu for the little ones that includes grilled burgers and hot dogs along with grilled cheese and chicken tenders.
All our buns are baked fresh every day. You won't believe what a difference that makes.
And wait until you taste our French fries! We cut them fresh in our kitchen twice every day, because it would be a crime to freeze these quality potatoes. Bobby chooses Idaho russets because they make the crispest, most golden-delicious French fries you'll ever taste.
Finally, you can top off any meal with a delightful blast from the past – real frozen custard, the kind your great-grandparents enjoyed. If you've never tried frozen custard, think about the best ice cream you've ever had, and take it up a notch – imagine it with a richer, creamier texture and a smoother consistency. Bobby serves his fine frozen custard in cups or cones, or blended with toppings like Oreo® cookies, fudge brownies, cookie dough, strawberries, M & Ms®, Reese's Peanut Butter Cups®, Heath® Bars and other favorite candies for a vibrant, one of a kind dessert experience.
Franchise Support
Cheeseburger Bobby's Franchise Support includes:
Brand Name Recognition
Use of Cheeseburger Bobby's trademark, trade secrets, business systems and designs.

Marketing support, including retail ads, point-of-sale promotions and our "Partners in Education" program.
Location Analysis

Assistance with site selection, which is a key element in a successful Cheeseburger Bobby's restaurant.
Construction, Equipment & Design
Assistance in the design process of your restaurant, including a contractor and the construction or renovation of your restaurant.
Training
Four weeks of hands-on experience in operating a Cheeseburger Bobby's restaurant at BURGER U in Atlanta, Georgia.
Securing the Lease
Cheeseburger Bobby's will assist in negotiating your lease.