So, you want to own your own business. Are you tired of the every day grind? Looking for a place you can be your authentic self and make a good living? Franchising may be a great option. But in the world of franchise offerings why Chop?
Because we have a history of customer care that flows from our staff to our franchisees. We did not just decide to franchise on a whim. We have thought this out from every angle. We have spent countless hours determining the processes that work from shop operation to furniture creation to building a Chop culture. With Chop, you get the whole package including: a fully outfitted store (Yes, you do nothing unless you want to jump in and help!); a uniquely designed, easy to use E-hub which houses inventory systems, document templates, budget and profit analytics, etc.; education from veteran barbers and stylists; a video training library; and more! All the tools you need to succeed are provided to you with 24/7 support. So what do you get when you sign on to open a Chop franchise? The question should be what don't you get!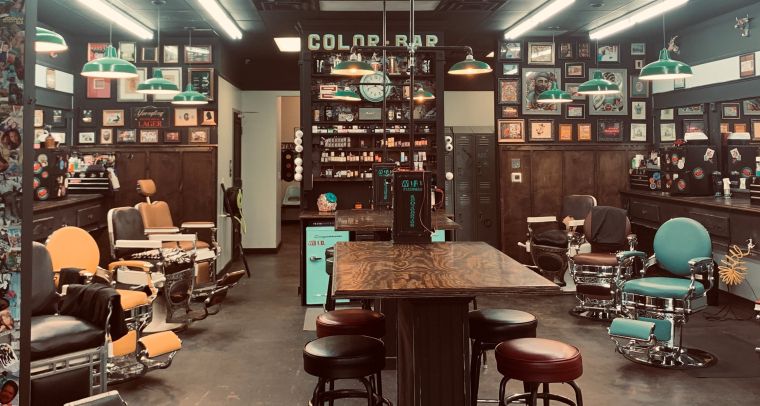 Growing, Recession Proof Industry – By offering hair services to all and a custom product line, Chop Barbershop taps into two surging U.S. markets: Hair Services and Hair Product, both of which average $80 billion dollars annually.
Lower Initial Investment – Many barbershop chain's initial investments run over $275,000. Our initial start up costs range between $125,000 and $215,000 and our financial requirements make franchise ownership attainable for a new kind of entrepreneur.
Turn Key Ownership – Having been there, done that, we have thought of every detail from outfitting your location, to providing an online e-hub for ease of ownership, to establishing technology partners to take your shop to the next level.
Stand Out In The Crowd – By offering a unique, pub like barbershop experience for all with diversified offerings, Chop fills a void in the hair services market and makes for a great business model in any location.
We've Got Your Back – Our franchise staff will be there from the start to prepare you and your team for success through online and in person classes. In the weeks before opening, our educators will come to you, train your staff, and celebrate your grand opening right there with you!
Every Day All Day – Our 8-12 chair busy shops open early and close late 7 days a week maximizing your and your staff's bottom line, while meeting all of your customer needs.
With Chop, you also receive a customized product line developed by Chop stylists for Chop clients only, Big Top Hair Care. Yes, we have thought of everything!
The Story Of Chop Barbershop
In 2015, Steve and Sarah Bolinder finally agreed it was time to open the doors to a shop they had dreamed of owning for over 15 years; a barbershop for all humanity with great music, beer, and a "come on in" kind of vibe. Before opening, Steve met with his good friend and fellow barber Danny Rainey to invite him and his wife, Katie, to help give life to their dream. By 2018, their little shop had grown to three and signed its' first franchise deal.
Before deciding to make the franchise leap, the owners sat down to really look at what had caused such tremendous growth in such a short amount of time, and what they discovered was that the culture of Chop surrounded four key values that had developed under their noses as they worked on the dream they loved.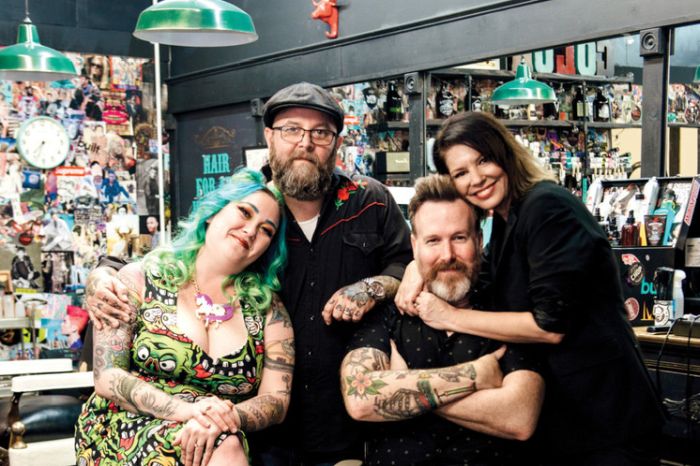 TEAM EAGLE: In 2015, 4 people who never expected or even considered leadership "their thing" became business owners and "bosses" to a growing number of amazing and talented people. Recognizing the responsibility being placed on their shoulders, that team of owners went out and bought their first leadership notebooks to begin mapping processes and procedures to protect the staff of Chop. Yes they were cheesy notebooks with airbrushed eagles on them (we were on a budget). And that was the birth of the Team Eagle core value. Three years later, team eagle has trickled down to every member of Chop. It's what keeps us looking out for each other, for the shop, and for our customers. It's what keeps us moving even in the weeds with smiles on our faces knowing we are in this together. It's what sets us apart!

SHARE THE LOVE:

From the very start, we have loved our staff like family. We pay well, offer benefits and rewards, and provide growth paths for every staff member because we know that success in this industry requires establishing relationships with clients through consistency and care. Our staff shares that love with their customers which creates a chain effect of success and prosperity. We also have a strategic goal to Share the Love we have built in Tallahassee with other cities and other hair service industry specialists throughout the United States. And that journey begins with you!
UB-LIKE FEEL: This core value developed as a natural extension of the owners' likeable, laid back personalities combined with their love of antiques and vintage decor. Each Chop strives to offer a pub-like experience to the community it serves in many ways including a center WiFi bar, animal heads on the wall, antiques hand selected for their vintage look, an eclectic soundtrack of edgy favorites, a retro fridge offering complimentary beer and soda to visitors, and barber and stylists who understand the importance of building long lasting friendships with their customers and each other.

HAIR FOR ALL HUMANITY:

Hair for All Humanity, has been with us well before we opened our first shop's doors. From the beginning, we wanted all people, regardless of gender, race, sexual preference, age, disability, marital status, socioeconomic status, etc. to have access to a hip, vintage barbershop experience. Anyone or any family can walk into our shop and get a great haircut. We encourage diversity of services through hiring and education and we motivate our staff to expand their offerings and skill sets. So many times we were told this value was a dream, that it couldn't be done in this industry. Yet here we are. Every Chop customer is an original, and they deserve to be treated like one!