ClaimTek Business Opportunity:
Start a Professional Medical Billing & Practice Management Consulting Service Now!
The Right Opportunity at the Right Time!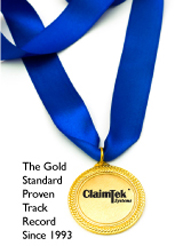 It is a fact! The two industries that continue to outperform even under the current economic times are IT & Healthcare services. Electronic Medical Billing combines them both! With ClaimTek, the setup fee is low and you'll have a business of your own that allows you to be the boss, set your own hours, set your own schedule, and earn as much as you want and need.
Doctors are in desperate need of accurate claims processing to restore their cash flow. What's more, they are willing to pay well for it! In fact, they're happy to pay for it!! As an electronic medical billing professional, you will be in high demand. It doesn't take long for good claims processors to have more business than they can handle through doctor referrals alone. ClaimTek provides you with numerous professional learning and marketing tools that help assure your quick success.
The ClaimTek Medical Billing Business system
We designed our exclusive system to provide you with four very important, valuable elements:
True, State-of-the-Art Medical Billing Software:
You receive our advanced full featured exclusive software, MedOffice® and DentOffice® as well as training on selling Electronic Medical Records (EMR) systems, which is being mandated by the government right now! Our software can handle full billing and practice management for all medical & dental specialties. It can be installed on PCs, Macs, servers and can be accessed online from anywhere. It's substantially more advanced than any browser-based system. Our programs also include productivity software for medical coding, cost analysis software, and much more.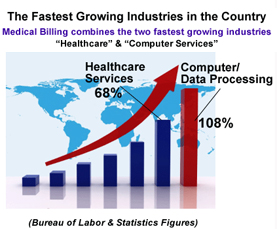 Advanced Private Training:
We provide one-on-one hands-on personal training right on your own computer. Our trainers take you through 3 vital stages of progressive education to master medical billing and build a successful business.
Professional Marketing Materials:
Written and designed by top marketing professionals, these materials will help you win clients and get your business up and running quickly.
Full Business Support:
Toll-free support on all aspects of the business! You're never alone.
ClaimTek provides you with step-by-step guidance and consulting on all aspects of the business. Plus, you get our highly regarded and respected exclusive certification! We will train you up to the level of a professional medical management consultant. You will be in a position to provide physicians with many valuable services.
AND, You Can Offer Additional Services with ClaimTek!
Besides its renowned medical billing business opportunity, ClaimTek offers you the opportunity to generate even more revenue for your business by providing several cutting edge and unique services to your doctor clients. In addition to performing medical billing business functions, you can provide advanced services like electronic fund transfer "EFT", third-party collection service, Remote backup service "RBS", and Digital scanning of medical records. You won't find these services anywhere else! Doctor's will need you and your services more and more. And they will need you on a continuing basis. Not just one time!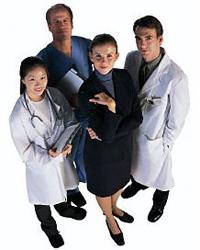 Before Choosing Your Medical Billing Program, Consider This…
Ask yourself, are you serious and determined to succeed? If so, then you can be sure that ClaimTek is the company you need to move you to your goals. ClaimTek offers what our competitors simply can't. We go to a lot of effort to see that you have up-to-date and state-of-the-art software, services that are unique and designed to push you up the ladder of success quickly and effectively. You also get the finest professional marketing materials available along with unequaled training that you won't find anywhere else at any price! Finally, you will get the best support available from the company that knows electronic medical billing & practice management services better than anyone else...ClaimTek.
What more could you ask for?
No other business offers you this much without charging you a huge entry fee! Your first step of starting a small medical billing from home business can quickly grow into a viable large-scale operation. Get started today by completing the information form and take your first step to a successful new career with ClaimTek.
Please note this opportunity is accepting inquiries from within the United States ONLY.