The Ultimate Ice Cream ExperienceTM
Cold Stone Creamery® is one of the most talked about ice cream companies in the world today. And that's just the way we like it! Renowned for offering super-premium ice cream for more than 25 years, people everywhere recognize the quality associated with our brand and are more likely to be repeat customers because of it.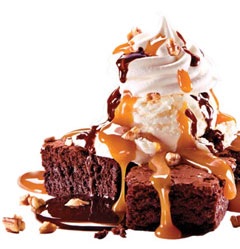 How good is our ice cream? Well, let's just say that on a scale of 1 to 10, we're somewhere around an 11.5. Our super-premium ice cream and waffle cones are made fresh daily right inside each store. Fresh-baked brownies, brand-name mix-ins, fruits and nuts are blended together on our frozen granite stone. From unique ice cream CreationsTM, cakes and shakes to ice cream cupcakes and cookie sandwiches, nobody serves up the ultimate indulgence like Cold Stone Creamery.
But we're about more than just serving amazing ice cream. We like to think we're really in the business of making people happy
It's all about what we call the 10-Minute Vacation® - that 10-minute getaway people deserve from the world outside our doors. When they head inside any Cold Stone Creamery, that's what they'll get. From our enthusiastic, singing crew members, to the shared laughter of a family enjoying a treat together, if it's making our customers, their friends or their loved ones happy, then we're doing our jobs right!
Our franchise ownership experience
Kahala, franchisor of Cold Stone Creamery, is proud of the extensive supportprovided to our franchisees. When you join Cold Stone you'll never be alone, because we'll be with you every step of the way. Our dedicated Cold Stone team will assist you with important pre-opening steps such as site selection, design and construction, as well as your grand opening plan. Our industry experience enables us to keep the cost of entry and operating costs as low as possible.

Ready to take the next step?

Contact us today to learn more.