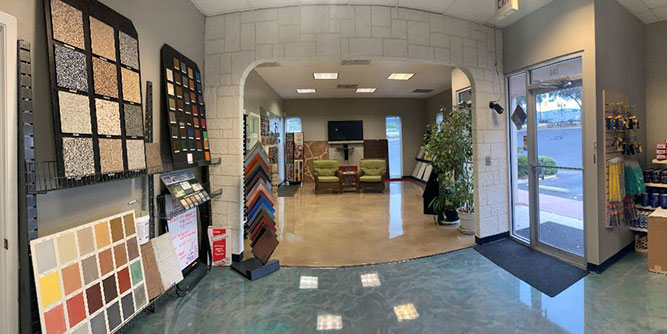 ConDecor Superstore is considered an Essential Service right now!
The decorative concrete process takes an essential construction component (concrete) and turns it into a desirable, attractive element that increases the value of the end product. The cobblestone drive at Las Vegas hotels is just an example. They get walked on, parked on, and experience constant wear.
Tourists see the beauty, while the hotel thinks durable, attractive, and low maintenance. Decorative products transform a concrete caterpillar into a butterfly in homes, businesses, and governmental projects.
Modifying concrete with decorative concrete products is not limited to fresh poured concrete like driveways, retaining walls or concrete countertops, but often is the beatification of existing concrete by using acid stains, dyes, sealers and overlays.
Make no mistake, our franchisees did not pour all that concrete, but we do supply the products to the contractors who do.
History
ConDecor Superstore, via its company owned location, opened in July 2006 after the founder had done substantial research into the new cost effective way to make concrete more attractive. The decorative concrete industry was just getting started and concrete contractors were looking for a way to provide a premium product for their customers.
The need to service the industry led to developing the business format we have today that supplies not just products, but know how to the concrete contractors and the DIY'er. We have the right product, the right support, and the right training that makes the concrete contractor or DIY'er do the job exceeding well. Their success has made us a success at the ConDecor Superstore.
Investor-Owned Opportunity
This is a relatively simple business with a limited number of SKU's (stock keeping units), high dollar transactions, few employees, low fixed expenses and a modest customer count. The concept does not require costly specialized equipment, has a very reasonable cost for building finish out, and is not high tech. You're going to need a store manager, (who has completed our training), an assistant manager, one counter person, and one loader, that's all to start.
So the business lends itself to be a great investor-owned opportunity. Lastly you will not be alone in monitoring your franchises success as we will be doing it as well, reporting back any concerns we might have.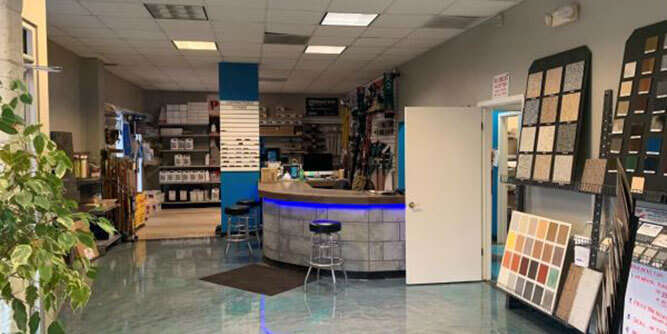 Franchise Qualifications
A background in construction, retailing, or small business experience will serve you well in making your ConDecor Superstore a success. A good work ethic, personality, and common sense will go a long way. To that end, as your franchisor, we are looking for a well-rounded person to become our franchisee. We'll teach you the finer points of the business in our training at ConDecor University, but it is your responsibility to stay awake in class.
Minimum Market Size Requirements
Franchise stores must service a trade area population of 200,000 or more. This franchise is not suitable for trade areas of less. Your trade area will often be greater than this.
Investment Range
The investment range for buying your franchise, inventory, and other cost is $169,400 to $225,700. A complete breakdown of anticipated expenses is included in the ConDecor Franchise Disclosure Document which is furnished to you prior to committing to purchasing a franchise.