Credit Repair Nerds Licensing Opportunities
JOIN US FOR UNLIMITED INCOME POTENTIAL!
Back end corporate support.
Access to our software to maintain client results and updates.
Marketing materials.
Your own website.
The opportunity to build your own team.
Credit Repair Leads.
Licensee Leads.
VIP Program.
Opportunity to lead others to become a success.
Free yourself from having.....A JOB!
#1 Credit Repair Company on www.badtogood.credit and www.top10creditrepair.info
What does that mean for you?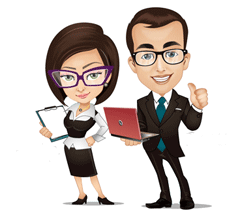 It means you won't fail. If you follow our proven business model, you will succeed and make a great living doing it. All of your clients' processing will be done by your account manager. Updates and removals of accounts will be updated by our corporate office. Those updates will be synced over to your account and your client's account in real time. All via our credit repair software.

An economy-proof business

No matter how the economy is doing you'll have a business. We've been in business since 2006 and have been through the ups and downs. We've flourished without hesitation. We've actually grown throughout the past 10 years with a year over year increase of 30% revenue and we've exploded to a 300% growth increase in just 2015.

Unlimited client base

There are millions of Americans who have credit problems. You probably know quite a few within your circle. Now, imagine if you controlled your market. The income potential is unlimited.
Leads!
We are now providing leads to all of our new licensees. As we have grown, our traffic has grown tremendously. Fortunately for you, we don't have time to work these new clients. So, what do we do? We give them to you! So, not only do we finance your license fees, we are now giving you business!

No experience is required

Full training from our corporate office in Houston is given to each licensee. Our credit repair system does the work. Your focus should solely remain on building your client base and your team.
Freedom

Work out of your home or office. Our system allows you to work on your schedule. Want to work from home? We promote that. Want to build a team and open up an office in your market? We'll help you with that as well.

No restrictions

We have no restrictions. We allow our licensees to become free. Free to take the entrepreneurial spirit and run with it. Want to expand into other markets? We'll allow that. We don't offer exclusive territories. There are too many markets in this country to allow just one licensee to build that market. It takes a team to do that, which is why we run our program the way we do. We do it as a team.
Investment
Ah, this is where we separate ourselves from the rest of the pack. We have 4 levels that you can come into our company at - $999, $2,500, $4,500, and $29k . We accept no excuses not to sign up. We've made it affordable for everyone. With that license fee, you become part of our team and you become a licensee of Credit Repair Nerds. We want individuals who eventually want to come in, learn the credit game, then focus on building their own team (with our help of course). Payment plans are available.
Pay Structure
Example: $2500 licensee is on a 50% personal contract and a 10% team contract. Plus, at that level, we allow you to build nationally AND get paid to grow nationally. Let's say you sign up a credit repair client at $999, you will make $499.50. Remember, we offer your whole back end support and processing. You will do NO paperwork. None. Zilch. Nada. We are a technology driven credit repair company. Software will run your business.
Example: You bring in another $2500 licensee on your team. We will pay you $600 for that $2500 licensee that you just signed up. On top of that, when that licensee signs up a $999 credit repair customer, you will receive 10% of everything that they do. So, you would of made another $100 for doing nothing. The 10% is paid to you out of our %. Not the % of your licensees that are on your team. We never take out of a licensees income to pay another licensee. Those bonuses are paid out of corporates %. Here is where we start stepping it up. Let's say your licensee that you brought in wants to build. Great!! If they bring in another licensee at $2500, they will get paid the $600 direct recruit bonus and you will get paid a $300 in-direct recruit bonus. You will also receive your 10% on their credit repair production as well. So, when that licensee signs up a credit repair client at $999, we pay you your 10%. Another $100 you just made while doing nothing.
As you can see, we pay for growth and we pay for success. You won't find any pay structure like ours in this industry. We admit, we do have companies that try to emulate us, but they just aren't very successful at doing so.