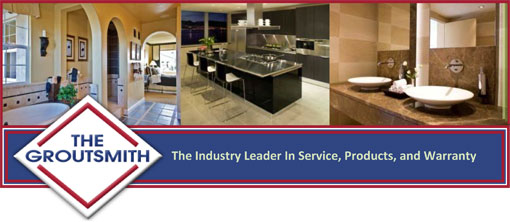 Imagine having your own business where you will:
Provide a needed service for which the demand has been steadily increasing over the last 15 years.
Deliver the service at less cost and produce a better result than the competition.
Own a very affordable business that you can start as a one-man operation and grow into a multi-van operation.
Benefit from training and supportfrom people who have successfully operated this same business for over 20 years.
Partner with a company led by a man with over 37 years of experience in this industry.
Enjoy the opportunity to build a verifiable six-figure annual income.
This is exactly what the Groutsmith franchise offers.
Over 3 billion square feet of new tile is sold and installed every year in the United States. Restoration, repair and maintenance services are needed on all of this new tile, as well as on the billions of square feet of grout and tile already in place. This creates an outstanding opportunity for entrepreneurs to build a substantial business servicing this demand in both the residential and commercial markets.
Our restoration techniques and proprietary professional products are what separate us from all other competition. This is why we sell and close nearly 80% of all the demonstrations and estimates that we do.
Key benefits of The Groutsmith franchise ownership:
A proven business model with 20 years of successful history.
A realistic, verifiable six-figure income potential.
A scalable model which you can start as an owner/operator and later run as an owner/manager as your business grows into a multi-van operation.
A large exclusive territory: 125,000 owner occupied households.
A needed service in a steadily growing market.
No hard selling.
Two income sources: services and product orders.
Training and support by the experts in this industry.
A business that allows you to build equity.
Home-based with very minimal overhead.
Low investment.
Great hours (Mon-Friday 8:00-5:00).
"I invite you to take a closer look at our franchise opportunity. If you decide to join our team and we qualify you as a candidate for a Groutsmith franchise, we will train you, support you and provide you with the knowledge and products necessary to dominate the grout and tile restoration and repair business in your own exclusive territory.
Thank you for your interest." - Jonathan Smith, President, Groutsmith Franchising Inc.

Submit the form to the right today to learn more about
franchise partnership with The Groutsmith.