Why Franchise With Homes & Land?

Homes & Land has been a proven marketing system for the real estate industry for over 40 years. A franchise is a great way to start your own business with fewer risks relative to bare-bones entrepreneurship. Homes & Land is also part of a very large, historically-stable segment of the U.S. and Canadian Economies.
According to the NAHB, the U.S. Housing market typically contributes 17 to 18 percent to U.S. GDP. Another growing segment Homes & Land serves is the home improvement segment with consumer spending totaling $120.7B in 2012 according to Harvard's Leading Indicator of Remodeling Activity (LIRA) report.
We offer great products and services for the real estate market including: Full Size, Full Color Magazine Ads, a national real estate website, Featured Listings online, unique marketing tools and services, and much, much more.
---
Support & Training
Homes & Land provides initial training to all new franchisees as well as periodic ongoing training sessions, webinars, online training, and annual meetings.
Most of our successful franchise owners come from backgrounds other than real estate and publishing. Our extensive training program teaches motivated individuals everything they need to know to be successful.
The primary objective of our classroom and field training is to help you analyze your market, develop the appropriate business strategy, sell to new clients, and generate profits. In addition, we make sure you are capable of publishing a quality magazine that is consistent with the high standards of the Homes & Land network.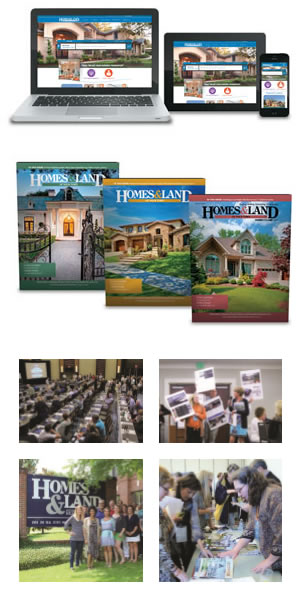 Franchisees Get Help Every Step Of The Way
A full week of classroom training at our corporate office covers these topics:

Introduction to the real estate industry
Understanding our products
Marketing your business
Learning the sales presentation
Distributing your magazine
Setting up your office

Your Regional Director will then join you in your exclusive territory to accomplish the following:

Research and understand your market
Analyze your distribution locations
Fine-tune your sales presentation
Make initial sales calls
Network with prospects in the real estate community

In addition, to help you get started we:

Build a minimum of your first three issues
Provide production training in a classroom setting

The support never stops. We have an ongoing series of communication, training, and networking opportunities:

Your Regional Director is a continuing resource for marketing consultations and product information

Regional workshops and an Annual Business Conference

A toll-free support line with consultants trained to answer technical questions

New marketing materials to make selling advertising even easier

A monthly newsletter filled with sales and marketing idea
---
Testimonials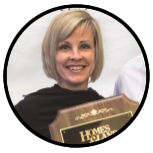 "Homes & Land gives incredible support. It is wonderful for the technology and the tech support, the seminars and the training sessions. The senior management team always listens, and they try to help on all matters. Homes & Land is more of a partner who recognizes that if we succeed, the Company succeeds. The network of franchisees is always helpful as well. I feel that Homes & Land is providing our business model, and it is up to us to utilize and sell it. The strength of the brand and the network throughout the U.S. and online has enabled my success. I am not a little independent trying to create a magazine from scratch. I own a branded, valuable asset that I can one day sell."
— Michelle Russell, Homes & Land of Chattanooga & Northwest Georgia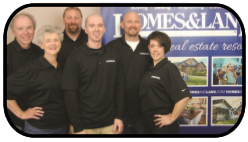 "We are delighted that over 32 years ago we made the decision to buy our rst Homes & Land franchise. It's the best business and career decision that Cheryl and I ever made. Today, we publish six Homes & Land magazines and two Rental Guides across Eastern and Middle Tennessee. Owning a Homes & Land franchise has been very rewarding for us, and now our children are a large part of our business."
— Russ & Cheryl Haskins

"Through the years, Homes & Land has aggressively pursued a group of services that our customers could not get in one place. This practice provided us with an essential key to our success: Belief in our product. We have also been provided with the support and exibility to develop local services that meet our local Realtors' needs. This has made us a true marketing partner."
— Peggy Lawyer, Homes & Land of Malibu to Beverly Hills
---
Ideal Candidate
We're looking for franchise owners who are outgoing and have sales, marketing, and/or management experience, and who are results oriented. A person who can build relationships, lead a team, and who has the motivation to excel! You must have a minimum of $50k in liquid capital, and be ready to make a full-time commitment. Successful franchisees are competitive, hard-working professionals with the ability to follow our proven system.
You're interested in becoming an Entrepreneur, that's fantastic!
Fill out the form to start the initial request for information process!