Unleashing An Exciting Business Opportunty!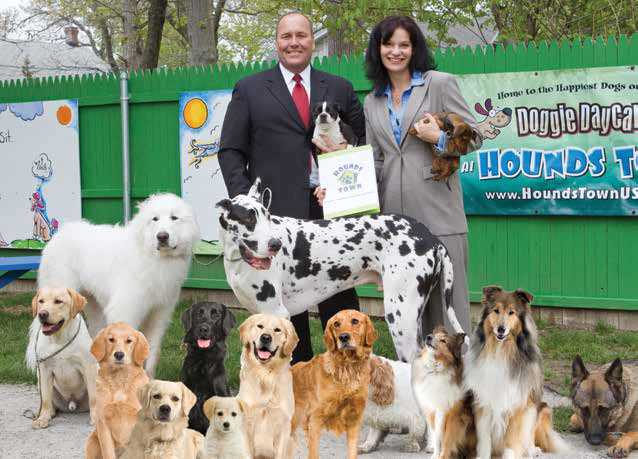 Becoming the owner of a Hounds Town USA franchise could not only be a fun and rewarding opportunity but an incredibly great career move! Our concept has an appealing "town" theme and a unique, positive care approach. And our vast experience with dogs and knowledge of the dog care industry makes us different from ordinary dog care operations. Plus, even in a shifting economic environment, the pet industry not only remains exceptionally healthy—it's still growing!
• Dog ownership is huge! Almost 45 million U.S. households own 74.8 million dogs!
• Total pet industry sales are expected to climb to $45.4 billion. Spending on pet boarding and grooming services are projected to increase, too from $3.2 billion to $3.4 billion.
Evidence of the pet industry's resilience abounds. Bob Vetere, president of the American Pet Products Association, attributes the growth, in part, to society's overall "humanization" of pets and empty-nesters who shower the love they once gave to their children onto their pets. Studies demonstrate that dog ownership is actually good for people—helping to prevent heart disease, lower blood pressure, boost the immune system, reduce stress, and fight depression. It's no wonder dog ownership levels are so high!
We do not discriminate based on breed, age, or disability
We have the experience and ability to group and care for all types of dogs--including bully breeds and disabled dogs--as long as they pass our temperament evaluation. With millions of Pit Bull, Boxer, German Shepherd, Rottweiler, and Doberman Pinscher pet owners across the country, this opens up our customer base significantly. We also accommodate senior and disabled dogs.
We offer natural pack environments that provide psychological structure for dogs
We pride ourselves on providing fully interactive daycare all day long in groups that simulate natural packs for dogs. This optimizes their physical and psychological health and provides the natural structure dogs need.
Founded by former NYPD canine unit officer with more than 35 years of commercial canine experience
We have a unique and straightforward approach to pet care rooted in a deep understanding of dogs and their behaviors. Since our inception, the system has hosted almost 500,000 canine visitors.
We know what we're doing
Our staff is fully experienced in not only managing dogs, but grouping them so they can play.
We are competitively prices and don't upcharge for special treatment or requests
Unlike some other facilities, we do not take advantage of customers' emotions and their anthropomorphic treatment of their dogs. We do not charge extra for administering medication, giving treats, or personalized attention.