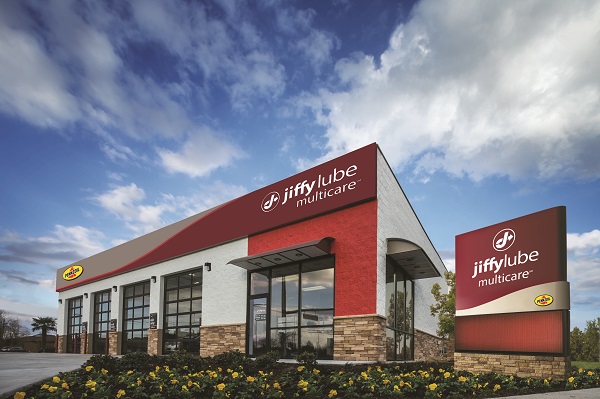 Overview
An industry leader, Jiffy Lube International, Inc. continues to grow its footprint of over 2,000 locations across the United States and Canada by adding new service centers and welcoming qualified candidates to join the proven franchise system. As a franchisee, you'll benefit from national advertising, field support, a proprietary point of sale system and an award-winning training program. These benefits are further supported by the Shell and Pennzoil brands. We invite you to join the #1 preferred national brand in the category!
Why Choose Jiffy Lube
With our support behind you, there's no limit to the success ahead of you.
A strong foundation
Interest-free funding, waived royalties at start up, low ongoing royalty fees
Immersive training program covering IT, operations, marketing, fleets and more
Jiffy Lube University – Training Magazine's "Top 10 Hall of Fame Outstanding Training Initiatives" (2019)
A powerful network
Recognized leader in the automotive maintenance category
Collaborative group of like-minded entrepreneurs
Iconic industry leaders with the Shell® and Pennzoil® family
Multi-million dollar national advertising campaigns
A proven model
Positioned to meet the changing demands of vehicles and drivers
Expanded service offerings with Jiffy Lube Multicare®
Digitized customer experience for the next generation of car owners
Ranked #1 in Category in Entrepreneur's 2022 Franchise 500 listing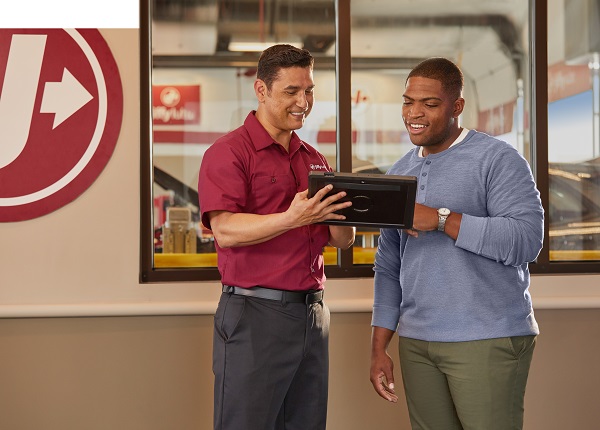 Ideal Candidate
Whether starting a new career, converting your business or diversifying your portfolio, Jiffy Lube International, Inc. offers a variety of ways to invest in your future and reach your goals.
Our best performing franchise owners have some experience running a business. However, we provide award-winning training and no automotive experience is required.
We're looking for franchisees who share our values of: Honesty, Integrity, and Respect for People. We want you to be the pulse of our system, the face of our business.
History
For over 40 years, Jiffy Lube has led the quick lube industry. In 1979, we created the first drive-through service bay to make oil changes faster and more convenient for customers. We also introduced the first window sticker to help remind drivers when to get their next oil change. Jiffy Lube developed a nationwide database, giving customers the freedom to visit any Jiffy Lube location with the peace of mind that their service records will travel with them.
Today, more than 20 million customers each year trust Jiffy Lube to keep their vehicles running right. We maintain our leadership in the industry by continuously enhancing and improving customer experience, while also expanding our service offerings now including brakes, tires and batteries. Jiffy Lube is also pioneering electric vehicle services in the industry.
Headquartered in Houston, Texas, Jiffy Lube International, Inc. is a wholly owned, indirect subsidiary of Shell Oil Company.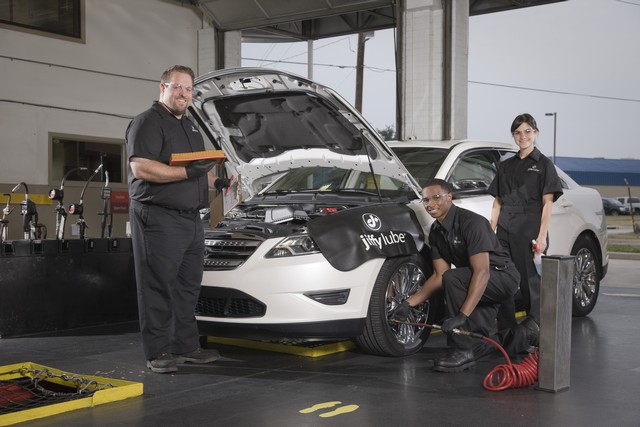 Training
Jiffy Lube International, Inc. offers comprehensive in-store and online training through Jiffy Lube University to help you and your business succeed. Jiffy Lube University is an Automotive Service Excellence (ASE) accredited program designed to provide you and your employees with the skills and knowledge needed to deliver consistent, quality service. Service center employees can earn up to 25 hours of college or trade school credit through the American Council on Education by taking courses through Jiffy Lube University. New franchisees also attend a week-long Boot Camp in Houston, TX before their store opens. This gives the franchisee an opportunity to receive hands on training across all of the policies, procedures and systems that Jiffy Lube has in place.
Testimonials
"No matter what kind of vehicles are out there, they'll always need some service, and we'll always be able to provide it."
Executive Vice President of Stonebriar Auto Services joined Jiffy Lube in 2019
"Jiffy Lube is a tremendous opportunity. Its business model generously rewards franchisees, commensurate with effort."
President and CEO of Team Lucor joined Jiffy Lube in 1986
"My business is still growing and my car count is still growing. It's been really successful and really good for me."
President of S.T. Lube joined Jiffy Lube in 1986
"After looking at a lot of different franchise models in the automotive space, I was really attracted to Jiffy Lube."
President of The Foster Group joined Jiffy Lube in 2016