Kitchen Tune-Up is the nation's leading kitchen & bath remodeling franchise. Our franchisees offer affordable remodeling transformations with personalized service guided by 5 customer service Trustpoints to ensure a hassle-free experience from start to finish: we listen carefully, we arrive on time, we respect your home, we provide solutions, and we communicate.
Kitchen Tune-Up Franchise System ~ Remodeling your expectations.
Kitchen Tune-Up specializes in affordable kitchen and updates for residential and commercial enterprises. We are known for our signature one-day wood restoration Tune-Up, cabinet refacing, cabinet redooring, new cabinets, Granite Tune-Up and storage solutions. Our standout remodeling concept offers personalized service and incredible results that are structured around customer service Trustpoints to ensure a hassle-free experience from start to finish.
"Remodeling Your Expectations" is both the slogan and the mission guiding each project through completion for a truly transformational customer experience.
Franchisees within the Kitchen Tune-Up system receive comprehensive training with ongoing sales and business coaching. They also benefit from the knowledge and experience shared between owners – the domino effect of the expertise is invaluable.
History:
Our founder, Dave Haglund, began a cabinet distributorship in 1975 and found his niche market while visiting a customer's home in 1986. Noticing that the 6-year-old kitchen was starting to look a little run-down, but wasn't ready to be remodeled, he offered to touch up some of the worn areas. When the customer was thrilled with the results, Haglund realized the market potential of this concept. After years of testing and perfecting his process of restoring interior wood surfaces, Haglund sold his first franchise in 1988. Over the years, and with the help of many talented franchise owners, the Kitchen Tune-Up system expanded to include cabinet refacing, redooring, custom cabinets, storage solutions and more. There are now Kitchen Tune-Up franchises throughout North America. Both home-based and retail franchises are available.
Several members of the Haglund family have been involved in the family business including Dave's oldest daughter, Heidi Morrissey. Heidi has served as vice president of sales & marketing since 2003. She was announced as the new president of the Kitchen Tune-Up franchise system in January 2017. Heidi oversees franchise training and serves as an effective sales and business coach for our franchise partners.
How is the Training Structured?
You'll receive a comprehensive training in 3 phases.
Online Pre-Training – You will become familiar with the Kitchen Tune-Up concept well before arriving at training school. Our online Pre-Training will help you to establish your business and to arrive prepared for training school. Pre-training consists of reading manuals, taking quizzes, viewing videos and establishing your new franchise.
Five day Classroom and Practical Training – Arrive at the Kitchen Tune-Up home office in Aberdeen, South Dakota where our professional trainers will teach you how to: market, sell, tune-up, redoor, reface, and so much more.
Twelve Week Action Plan – In the 12 weeks following training school you'll attend scheduled webinars and weekly online training modules to reinforce and supplement the overall training program.
Join Our Franchise Family
Ideal franchise candidates are creative self-starters who appreciate the system Kitchen Tune-Up has designed and evolved during the past 30 years. No remodeling or construction experience is needed. Kitchen Tune-Up franchisees primarily manage their small employee base with minimal overhead, and consistently oversee effective sales and marketing programs.
A Day in the Life of our Franchisees
Every day is different when you own a Kitchen Tune-Up Franchise. What are your specialties? What would you enjoy doing? You pick the hats you want to wear and we help you figure out the rest. Some owners focus on project management, some do sales and some truly manage the business.
What will your day be like?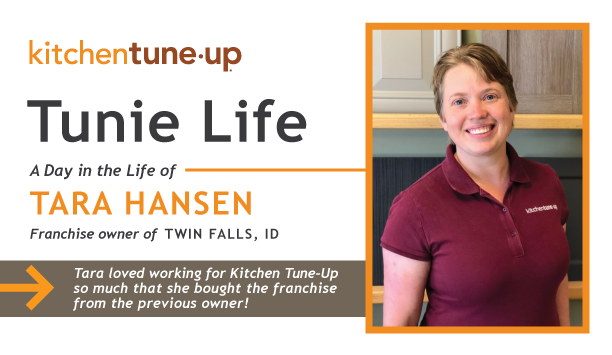 Tara Hansen loved working for Kitchen Tune-Up so much that she bought the franchise from the previous owner!
Her journey all started with an agreement to run the Kitchen Tune-Up booth at a state fair. She was promised a small bonus for each appointment she booked and at the end of the fair, she had secured over 40 appointments! Tara accompanied the owner on all the sales calls to help with all the extra work and fell in love with the process of helping someone go from "this is what I want" to achieving the end results.
She eventually quit her job working the graveyard shift 7 nights a week delivering newspapers to work full-time for Kitchen Tune-Up as a Sales and Business Manager. After learning the process and seeing how the business was run, she agreed to buy the franchise in January 2019.
Tara can now wake-up and go to bed with the rest of her family and has the time and energy to enjoy life with her husband and 7 kids. Life is busy and her husband, Ben, helps with keeping the kids organized and steps in to help with jobs as needed. Her oldest daughter has also joined the business and the previous owner's son has stayed on, even with the change in ownership. Tara currently manages 3 different crews and has a goal of overseeing 15 crews throughout her territory.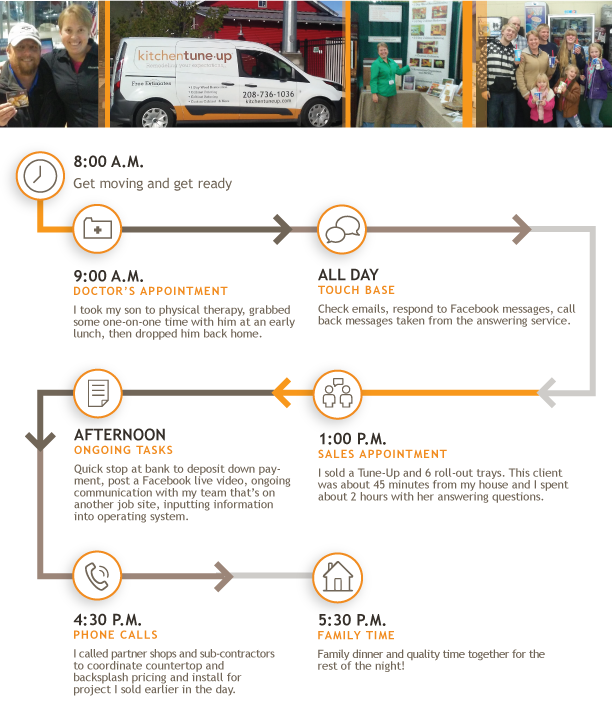 Franchisee Testimonials
"What sold me on the Kitchen Tune-Up franchise is that it is family owned. You know everyone at the Home Office and they are a great group of people to work with!"
Tammy Martin –

"We were both looking for changes in our careers and Kitchen Tune-Up fit into an area of interest for us, it was something we knew we would enjoy. The overall products and services were a fit for our market. In addition, KTU had a long history of national success that impressed us."
Susan & Charlie Johnson - Little Rock, AR
"As a new franchise owner, I can say that the support provided by the Kitchen Tune-Up Home Office team has been amazing in helping me to learn everything I need to launch and to maintain a successful business. Their attention to all aspects of the business and delivering quality projects to our clients is and will always be an integral component of my success."
Jeff Toren - Main Line, PA
"After helping helped build several companies for others, we simply couldn't stand to keep building for someone else. It was time to do it for us."
Joel & Jessica Winters – Castle Rock, CO
"The Kitchen Tune-Up Home Office really stood out to us. The people were kind, down to earth and really have a desire to help us succeed."
Bruce & Lori Morgan – Colorado Springs, CO
"I joined Kitchen Tune-Up because I wanted a proven system that I could utilize from the start to help grow my business. If you are looking for a franchise in the remodeling industry – your search has ended!"
Bryan Whitfield – Minot, NC
Discovery Process
Kitchen Tune-Up may be the first or the tenth franchise you have looked at, and we understand that investigating a franchise can be very time consuming, nerve racking and exciting all at the same time. Our intent is to guide you through the process of validating how well we fit together. By following these steps, you will complete a thorough due diligence evaluation of Kitchen Tune-Up and be able to make an educated decision.