LearningRx one-on-one brain training centers use intense game-like activities that empower anyone of any age to learn faster and easier. Tutoring and other programs reinforce WHAT students learn (information). LearningRx brain training centers identify and strengthen the skills behind HOW well students process information. We target the cause rather than the symptoms. Brain training is truly life changing!
Positively Impact Your Community and Change Lives With LearningRx

LearningRx franchisees benefit from a results-driven system that features:
Both in-center and live, virtual brain training options for clients.
Award-winning franchisee satisfaction.
A proven business model.
Systematic, easy to learn brain-training programs that are backed by more than 13 peer-reviewed, published research studies.
Programs that help build seven major learning and processing skills.
Programs for children and adults. Serving clients ages 5-105 means huge market potential for your business.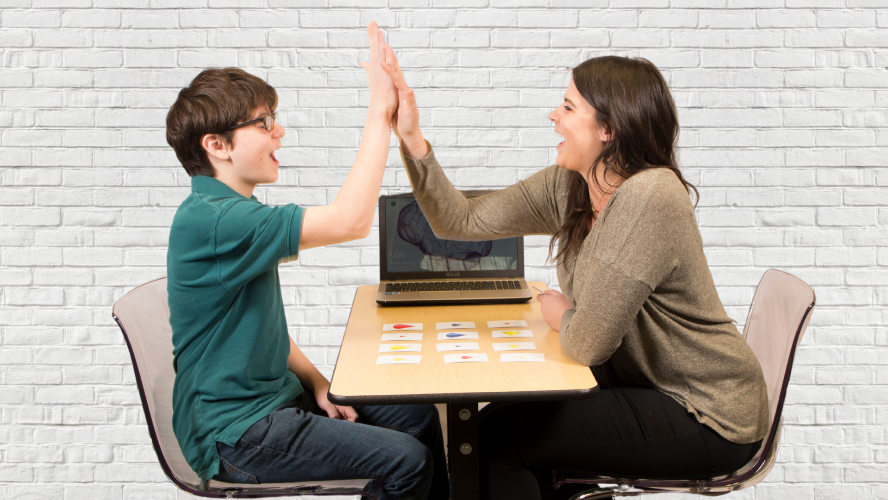 LearningRx Programs Are Unmatched
As an industry leader, LearningRx is #1 in results and helps improve all major brain skills including memory, attention, and processing speed. LearningRx results are back by science and over thirteen peer-reviewed, published research articles.

Among all 21,974 LearningRx clients between 2010 and 2018, the average change in IQ score was 14 points for both children and adults across all programs. Among the 9,959 LearningRx reading program clients between 2010 and 2018, the average gain in reading skills was 3.5 years, with the largest gain of 6.3 years in Sound Awareness following training.

In randomized control trials, children and teens with ADHD reported transfer to improved confidence, cooperative behaviors, and self-discipline. Children and teens with learning struggles reported transfer to improved academic skills, self-esteem, relationships, and self-discipline.
Is It Time for a Meaningful Career Change?
Ideal LearningRx franchisees possess:
Passion
Higher calling to help people
Integrity and honesty
Professionalism
Good management skills
Drive to make their business succeed
We surveyed our franchisees with the open question, "What were the top three reasons you selected a LearningRx franchise?"
100% indicated: an amazing product that changes people's lives
63% indicated: a service that will allow me to help my community
53% indicated: the potential for personal growth and independence
32% indicated: the integrity and value system of the franchisor
Benefit from Our Powerful Business System & Comprehensive Support
Combining the LearningRx business system with LearningRx's unmatched programs has created a personally and professionally rewarding experience for our franchisees. LearningRx provides some of the most extensive franchisee support in the industry. As a LearningRx franchisee you will receive:
Comprehensive initial training that prepares you to open your center.
Marketing and advertising support to help you promote the launch of your new center.
Professionally designed marketing materials including the LearningRx Magazine—a customized direct mail magazine, as well as print ads, postcards, radio spots, and digital marketing campaigns that further promote your center.
Access to the center and trainer management systems, centralized web portals where you can obtain sales and marketing tools, test analysis data, sales figures, statistics from your center, and access systemized student flow through our programs based on their individual progress.
Continuing education and onsite support. An experienced center director will spend four days at your center showing you how to turn prospects into customers and providing any additional guidance. Hands on first year coaching, regional meetings, and our annual convention provide you with ongoing support
Hear from a Franchisee…
"This would be an excellent business for anyone who loves working and making positive contributions to children's lives. Results are so profound that they will impact a person's life forever, and thus is very satisfying emotionally. You can always sell sandwiches and sodas, but here you feed their brains, not their tummies."
- Ali Hashemian, LearningRx Franchisee

"I chose LearningRx because it is such a unique system. It is a fantastic way to help others learn and the market does not seem to be saturated with competitors. The more I researched LearningRx, the more intrigued I was about it and its results. My passion is working with children and making a difference in other's lives. With LearningRx I get to accomplish both and not only enjoy the outcome, but the progression as well."

- - Betsy DeVega, LearningRx Franchisee

"It has been a fabulous experience becoming a Learning Rx franchisee. I have really felt like I have become a part of a new family. The support has been tremendous, along with the innovative and creative ideas of all other franchisees and corporate staff. I really get the feel we are on the cutting edge of making a difference in education. The marketing and sales materials are second to none in quality and it is great to be a part of and included in ideas for their development. It is exciting to watch the lives of individuals change in front of your eyes."

- - Russell Griffiths, LearningRx Franchisee