What began with some strategic door-to-door marketing in 2007 quickly evolved into the founding of Magic Bubbles, Palm Beach County's premier pressure cleaning company. Since the opening of our first office location in 2010, we have continued to grow and expand across the state of Florida, adding the most trained professionals and state-of-the-art trucks, to provide top-notch customer service and satisfaction. Because of our continued success, we've been featured on the local news as a "Business to Watch" and also on the "Best Businesses to Work For" list.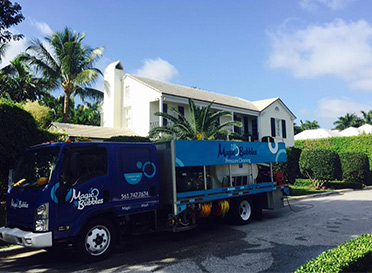 Unbelievably Clean! That's our motto at Magic Bubbles, where we provide pressure cleaning that goes beyond the norm. No magic wands or hocus-pocus — just impeccable, honest, personalized service using the industry's finest cleaning equipment and supplies, and technologically advanced trucks.
Magic Bubbles is the ultimate pressure cleaning business for entrepreneurs looking for a lucrative investment. The systems we have in place allowed us to be successful in the marketplace and offer interested entrepreneurs the same advantage.
We provide residential and commercial pressure cleaning services and have also created a membership program which our customers find great value in.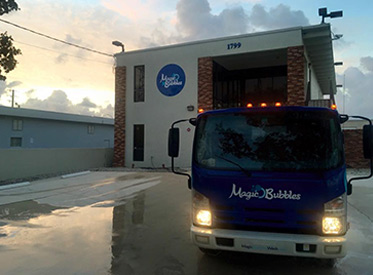 Our pressure washing services include:
Roof washing
Exterior House washing
Gutter washing
Exterior Window washing
Patio/Screen washing
Driveway/Walkway washing
Pool/Deck/Patio Furniture and more
Magic Bubbles has packaged together its systems and processes to make any franchisee's job of running a pressure washing business a whole lot easier. We provide training and support to any franchisee from the beginning of their franchise journey and even long after they launch their business.
Give your community premium pressure washing services and a brand they associate with being state-of-the-art in everything they do. Inquire today about Ownership opportunities with Magic Bubbles!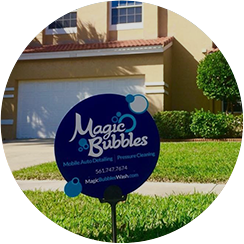 Complete Office Management
Incoming & Outgoing Calls
Email Management
Quotes
Website Quote Submissions
Appointment Scheduling & Confirmations
Deposit Collections
Routing
Invoicing
Collection Calls
Membership Quotes & Setup
Billing & Scheduling
Corporate Email Blasts to Customer Database
Media Plan Setup, Research and Development