When you open your own Merle Norman Cosmetics franchise, you become part of our American success story, helping women look and feel their very best. No other online or brick-and-mortar retailer offers our unique, American-made products; your studio is the only source for customers to purchase Merle Norman Cosmetics.
Invest in a Beautiful Future
Own an Exclusive Business
Merle Norman is an American success story. For nearly a century, our studios have been an attractive business to own. Merle Norman was ahead of her time – a pioneer in cosmetics and franchising who believed in creating authentic products that work. She also empowered women through business ownership, and today we are thriving with her original passion, vision, and tenacity.
Our product quality, integrity, and legacy are unparalleled. Extended by Merle Norman herself since 1931 to entrepreneurs, our franchise opportunity gives franchisees personal and professional fulfillment as Merle Norman Cosmetics Studio owners.
Why Now is a Great Time to Own a Merle Norman Cosmetics Studio
Empowering Women Through Business Ownership
Merle Norman believed in empowering women through business ownership to achieve their dreams and realize their full potential. When you become a Studio owner, you carry on Merle Norman's original vision.
Help women look and feel better about themselves every single day. Our Owners pride themselves on the art of the one-on-one consultation. Providing superior service, building a strong relationship, and connecting with the customer is what our brand is known for.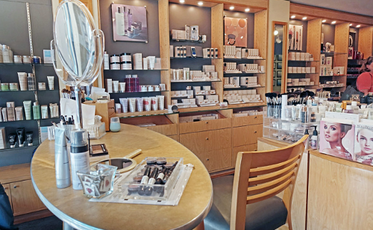 Be Your Own Boss
Flexibility. Fun. Financial freedom. Being your own boss has its advantages! Maybe you're struggling to find the perfect work-life balance between raising a family while maintaining a rewarding career.
Many women have found that owning a Merle Norman Cosmetics Studio enables them to govern their own life, allowing them the opportunity to work hard and still make themselves available for their family's needs. Whatever your personal or financial goal, we'd like to help you reach it.
A Rewarding Business
The financial rewards can be beautiful too! Even when times are tough, the cosmetic industry remains stable. Research shows that women spend over $426 billion dollars a year on beauty products and enjoy the mood-boosting benefits of buying something as simple as a new tube of lipstick, one of life's affordable pleasures.
3 Ways to Franchise with Merle Norman
The nation's iconic cosmetics studio has three different ways to franchise and a flexible selection of floor plans.
Open a new Merle Norman Cosmetics franchise: Merle Norman Cosmetics Studio franchises are located in a variety of retail areas including malls, strip centers, and stand-alone buildings. This unique system allows us to cover a wide range of markets — everything from small towns to large metropolitan cities. The concept is simple. We've sidestepped the pressures and distractions of the department stores to present customers with a more private and personalized option.
Purchase an existing franchise: Purchasing an existing franchise for sale is a great way to enter into the Merle Norman family. You'll enjoy the benefit of an existing client base and an already established location.
Add Merle Norman Cosmetics to your existing retail business: We'll help you enhance your retail experience by tailoring product selection that aligns with your store, enabling you to make more money per square foot. This customizable option is ideal for businesses like gift shops, boutiques, salons, pharmacies, jewelry stores, bridal/dress shops, or any other retail venue that's geared towards women and looking to easily increase revenue.
Merle Norman is committed to our franchisees' success
No matter your background or experiences, Merle Norman Cosmetics is committed to investing in your education and training, so that you are equipped to own and operate your Studio from day one.
Additionally, we support you beyond your Grand Opening. We offer ongoing educational opportunities and marketing and advertising support.
Start-up Training
Once you sign your lease, you'll begin with our online training, then you'll attend a five-day comprehensive training program at our home office in Los Angeles, California, where you'll learn everything you need to know about setting up your business.
Thorough product training on 200+ products and 600+ shades
Professional makeup artistry skills and skin care knowledge
Successful selling techniques
Staff and business management tips
Point Of Sale (P.O.S.) software training
Website, email and hosting assistance
Ongoing Training
With our ongoing training you'll stay in the know on the latest and greatest in beauty trends, makeup artistry techniques, and product information.
Step-by-step instructional makeup artistry and new product videos taught by celebrity makeup artists
Webinars on topics like successful selling techniques and product knowledge
National training events featuring industry experts who provide sales coaching and artistry expertise
Opening a new retail business space may seem intimidating, but our corporate team will help with every step of the build-out and start-up process. Our experts assist with all the logistics of site development, including real estate selection, fixtures and signage and store layout and construction.
ARE YOU OUR NEXT STUDIO OWNER?
PLEASE REQUEST INFORMATION BELOW AND TAKE THE NEXT STEPS TO LIVE A LIFE YOU'LL LOVE!