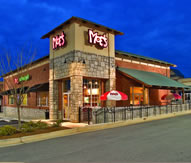 In the winter of 2000, when the first Moe's Southwest Grill opened its doors in Atlanta, GA, customers were introduced to a new restaurant concept that served fresh Southwestern food in an atmosphere that made everyone feel welcome whether you were grabbing a bite for lunch with a co-worker or taking the family out for dinner. Moe's was an immediate hit that quickly became known for its appreciation of classic rock, cool-without-trying-too-hard personality, and of course, the best burritos this side of the border.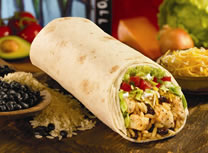 As the fast-casual segment continues its explosive growth, Moe's Southwest Grill is positioned for even greater success as a leader and innovator in its category. In fact, Moe's was listed in the top ten of Fast Casual's "Top 100 Movers and Shakers" in 2005 and 2007 and ranked # 2 top new franchise by Entrepreneur Magazine in 2006.

With the addition of Moe's, FOCUS Brands is now the franchisor and operator of over 2,100 ice cream stores, bakeries, restaurants and cafes in the United States, the District of Columbia, Puerto Rico, and 32 foreign countries under the brands names Carvel ®, Cinnabon®, Schlotzsky's®, Moe's Southwest Grill ® and the franchisor of Seattle's Best Coffee® on military bases and in certain International markets. Based in Atlanta, the primary objective of FOCUS Brands is to FOCUS on making people happy!


When you join the Moe's franchisee family, you will be working with passionate, experienced professionals who have extensive brand-building, development and operational experience in all functions of the foodservice industry. Our commitment to you is to provide you with world-class support and service base on respect, trust and dedication to the success of your business. Here are just a few of the ways we will support your business:
Product Development
Continually bring world-class menu variety through improved products and expanded offerings

Operational support and top-notch quality insurance
Marketing
Innovative, targeted local and national marketing plans to increase sales by building customer frequency and new product trial

High quality point-of-purchase, merchandising, and local store marketing materials
Training and Management Development
Franchisee Training Certification

Online access to training tools

In-depth Operations Manual and detailed job aids for all products Development

Real Estate - guidance through site selection and evaluation assistance

Architectural and Engineering - prototypical design and conceptual layouts for new restaurants

Access to our national network of select brokers
Business Consultation
Regular consultation visits, up to four per year

Business review and performance analysis

Quality, Service, and Cleanliness (QSC) inspections

Dedicated Toll-free helpline providing one stop shop for assistance with operational issues
Moe's Now is the time to take the next step and secure your desired territory. Please fill out the express request and once you submit this form, we will be in touch will you to discuss ownership opportunities in your area and answer and questions you have.

Thank you for your interest and we look forward to getting to know you better and possibly welcoming you into the Moe's family of franchisees!