Money Mailer franchisees are local marketing experts. They help local businesses develop targeted, integrated marketing solutions that deliver compelling offers to consumers in the mail, on the Internet, to mobile devices and social media all for pennies-per-household.
GPS, an unprecedented 2-year training, support and launch program that even provides working capital assistance to minimize the financial stress of business startup.

Monthly checks starting your very first month in business by meeting minimum performance goals. Our mission is to get you up-and-running quickly.

No royalties for your first 2 years. Royalties and franchise sales are not a profit center for us like other franchise systems - as your supplier we want you focused exclusively on building monthly repeat business. We'll do the rest.

Low initial investment, home-office based. With your 25% VetFran discount and robust startup program you're on the fast track for success.

Two powerful trends will continue to drive strong growth! Consumers needs to save money, local businesses need marketing expertise. The coupon craze is here to stay and your Money Mailer franchise will deliver on a multi-media platform.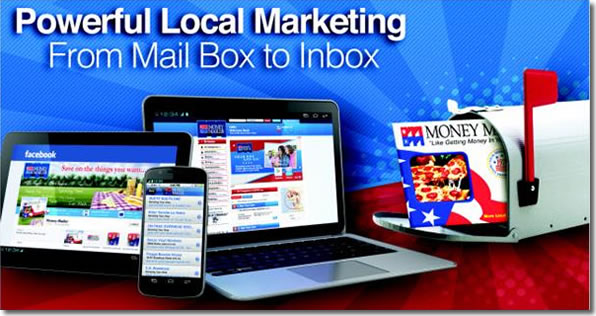 Here's How We Do It
Money Mailer University. This intensive, one week classroom curriculum gives you the technology, tools, systems and processes to build your marketing services business.
Boot Camp. Next you'll spend 4 weeks at a company operation working hand-in-glove with a team of field trainers. You'll be applying what you learned at MMU in an actual sales territory, making all those initial "learning" mistakes in our territory, not yours. We'll provide a $5,000 expense allowance for boot camp and you'll emerge "seasoned" and ready for a success.
Your Personal Coach. After boot camp your Regional Sales Manager will spend 2 weeks with you in your territory to help ensure a successful startup. You will have a dedicated, field-based Regional Sales Manager personally accountable for your performance for the entire term of your Franchise Agreement. Nothing is left to chance.
Customer Care Concierge. You will have a dedicated customer care expert based at corporate HQ to make sure each mailing runs smoothly.
Art Center Coordinator. Your personal art center coordinator works with a team of graphic designers for all ad design and art management – you don't need any graphic design experience. You do the consulting, we do the rest.
Proprietary Technology. You will use cutting-edge targeting technology to show clients how to maximize advertising ROI, access robust marketing databases to customize your proposals with hard-hitting facts and become an "instant marketing expert" on any business category with our interactive Intranet site.
Ideal Candidate
As a veteran you've mastered a critical trait for success in our business – the ability to follow a proven system. We also know you've got the discipline and work ethic to continue following the system until you've mastered it. All veterans receive a 25% discount on our franchising pricing! If you also can develop a passion for helping local businesses succeed you are ready to be a successful Money Mailer franchisee. Sales experience is not required – we will teach you everything you need to know.