Overview
NaturaLawn of America is an organic-based lawn care company that has 87 franchise licenses in 25 states serving over 80,000 customers and generating annual revenues in excess of $53 million. Our natural lawn care system consists of a proprietary line of organic lawn care products and provides business opportunities to individuals wishing to secure their own franchise. With an average gross revenue of over $1,215,218 per location and the highest reoccurring revenues in the industry, NaturaLawn of America is the premier choice when seeking a franchise service business.
Products & Services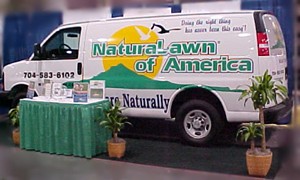 Industry Pioneer


Just another lawn care company? Hardly. Many things make NaturaLawn of America different from other lawn care companies but our products and services set us truly above the rest. As the lawn care industry stands by and watches, NaturaLawn of America continues to make environmentally responsible break throughs in lawn care. Our research and development keeps us ahead of the competition and delivers safer, superior results than traditional chemical lawn care.

No other lawn care company has our exclusive proprietary product lines. These products are made to our specifications and packaged exclusively for NaturaLawn® of America franchises in our easily identifiable trademarked bags.



IPM


And while the rest of the industry may continue to randomly spray chemicals and pesticides whether needed or not, NaturaLawn of America operates an Integrated Pest Management program (known as IPM). By preserving the natural enemies of turf pests, introducing newly developed turf varieties with natural pest resistance and providing continuing consumer education on the proper cultural practices of mowing and watering, NaturaLawn® of America's IPM system has reduced weed and insect control usage on lawns by over 80% compared to traditional chemical lawn care. Our program provides a safer healthier alternative.

The use of biological controls versus potentially harmful synthetic pesticides used by traditional chemical lawncare companies is another NaturaLawn® of America advantage. This is true environmental responsibility and leadership!
Training & Support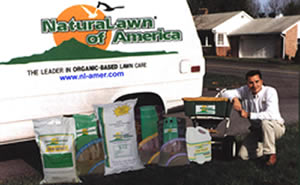 We have many tools and resources available to help you grow your business. All you have to do is follow our proven franchise system.
You can expect to receive:
In-depth classroom & field training.
On-site field training.
Professionally created marketing and promotional materials.
National buying programs
.
Are You a Good Fit for Naturalawn of America?
All our franchise candidates are screened very carefully because we seek owners who welcome a challenging and rewarding career path in addition to growing a rather significant business. NaturaLawn of America is not for everyone. However, if you feel you have the dedication, commitment, and skills to consider franchise ownership with us, it will be important you meet the following minimum requirements.

Sales or sales management experience and/or
Middle or upper management experience and/or
Significant entrepreneurial experience
A minimum net worth of $250,000 of which $50,000 is liquid