Our mission is to be the best locksmith and
unlocking mobile technical services company in the world.
Pop-A-Lock is the country's largest group of locksmiths, providing 24–hour locksmith services across the country. As a result of years of dedication to pride in service and customer satisfaction, we have developed a reputation for fulfilling customer needs quickly and professionally. Today, Pop-A-Lock is home to the nation's most trusted locksmiths.
Pop-A-Lock is the largest and most successful group of franchise locksmiths, car door unlocking and roadside assistance providers in America. There are several key reasons why we have been so successful, including: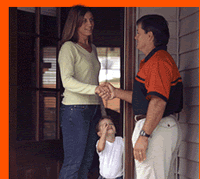 Pop-A-Lock's proven, successful business model.

Our initial and ongoing franchisee support at all levels that are important to you and your business. (Training, Operations, Marketing & Advertising, Administration)

Our sterling reputation for fulfilling the needs of our customers quickly and reliably, with a focus on timeliness and efficiency.

Our people are the trademark of our success – and all Pop-A-Lock team members are required to meet uniform and grooming standards and drive properly marked, well-maintained vehicles. Distinctive "rescue orange" markings and uniforms help identify the Pop-A-Lock brand while keeping our corporate image consistent and professional.
We offer you a proven formula for your franchise success – including a number of Sustainable Strategic Competitive Advantages. It all adds up to an effective and easy to duplicate business model.
The Pop-A-Lock® Franchisee Training Program.
The Pop-A-Lock® Franchisee Training Program introduces you to the various facets of operating one of our franchises, including: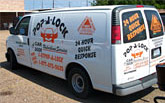 Operations

Standards

Human Resources

Administration

Accounting

Advertising and Marketing
New Franchisee training is conducted at our corporate offices in Lafayette, Louisiana.
This program is followed by technical training for your staff. This training shows you/your staff how to use Pop-A-Lock's proprietary equipment and techniques to open vehicles. The course includes comprehensive instruction and is conducted at our national training facility. Should you or one of your employees later become a certified instructor (after completing additional training and meeting other requirements), you will be qualified to train your new technicians locally. You will also receive annual instructor re-certification training.
By providing you with comprehensive training and support, Pop-A-Lock continues to be the leader in locksmithing and helps to ensure that your new franchise business will have the best possible chance for success.
Your key to success: a franchise of your own.
We are looking for qualified franchisees for large and middle size exclusive territories, worldwide. Virtually none of our franchisees had any previous "industry specific" experience. Now is the time to start your own Pop-A-Lock franchise and become part of our incredibly successful team. We invite you to explore the possibilities and take advantage of our exciting franchise business opportunities. Please fill out the form to the right for more information on Pop-A-Lock franchise.