Pronto Insurance Franchise Information: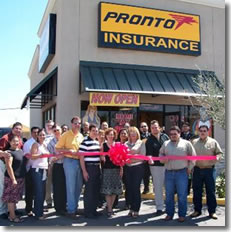 Why Pronto?
Pronto has years of experience in running a large number of highly successful insurance agencies. We have developed competitive products and an extremely effective business model that consistently outperforms the competition. As a Pronto franchise you not only receive the great advantages of brand recognition, you receive extensive training and expert support in site location, operations, marketing and human resources.
As a Pronto franchise you will own a full service insurance agency that will include complete support in every aspect of the business at a very affordable price. This low cost franchise opportunity is one of a kind and it is unforeseen in the market. You do not have to invest in high cost equipment, large inventories or a large staff like the majority of franchise opportunities. You simply need to equip an office in a retail location, hire a few employees and you are on your way to running your own Pronto Franchise.
Support
At Pronto Franchise we understand that purchasing a franchise is one of the biggest decisions you will ever make and that is why we have made our support services program the best in the industry. As a franchisee, you can expect to have a specialist walk you through every aspect of the business, from its inception at the grand opening to the everyday activities involving customers. Take a look at the wide array of support we provide:
Site Selection

Design

Operations

Human Resources

Marketing
Training
At Pronto we believe that training is a fundamental part of making you a successful franchisee. We have on-going training on how to sell and manage new products and services as we develop them. Our three step program is designed to provide you with all of the necessary tools to running a successful Pronto agency. The program consists of three weeks:
Week 1: Introduction to the Pronto system:
This portion of the training will teach you in great detail, the everyday operation of your own business.
Week 2: Immersion into an existing Pronto Agency:
The "Hands On" portion of the training involves you participating in the everyday activities at an actual Pronto agency.
Week 3: On-Site training:
By the third week your office is fully equipped and ready to open. The On-Site training portion of the program takes place at your own agency and it involves a grand opening, marketing and
selling to your new customers.
Pronto Franchising offers two types of franchise plans. The site selection process is extremely important to the success of your business.
Single Unit ~ There are many opportunities in all markets throughout the state of Texas. The awarding of a franchise to a specific location is dependent on a demographic study that is applied to a proven formula that incorporates a large number of factors like specific demographics, traffic counts, physical attributes and competition.
Area Development Plan ~ This opportunity is awarded to a company or individual that will develop a given territory by opening a specific number of franchises under a scheduled amount of time. These opportunities exist in larger markets throughout Texas.
Join Our Team!
We appreciate you taking a closer look at the Pronto Franchise concept and hope that we can provide you with the necessary information so that you can make an informed decision that matches your needs and goals.
Please note this franchise is accepting inquiries from Texas ONLY.
Interested parties should have at least $60,000 to invest.