STEM For Kids
Bring Computer Programming, Engineering, Robotics and Technology for pre-K, Elementary and Middle School Children In Your Community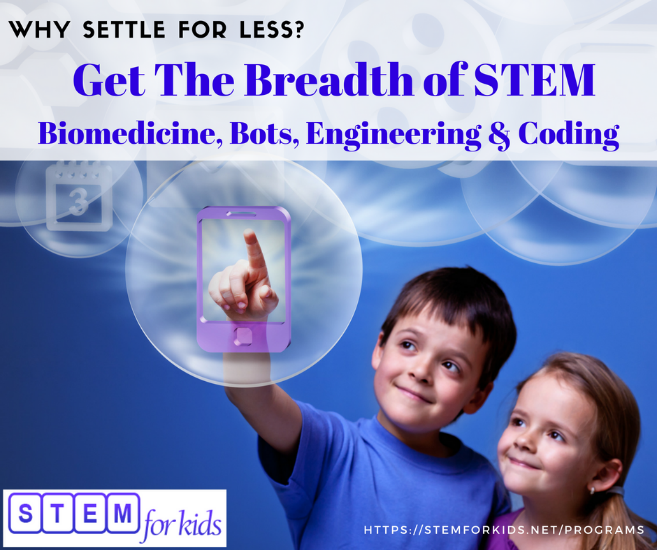 STEM for Kids®, ranked #415 in the Entrepreneur Franchise 500 rankings,provides educational enrichment in Coding, Business, Bio-medicine, Robotics and Engineering for children ages 4-14 through camps, after school programs, in-school field trips and classes.
Enter the growing children's education industry with the market-leading portfolio of programs covering the breadth of STEM / STEAM and 4C career skills.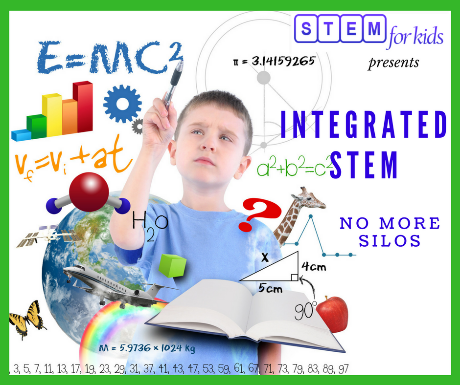 Most comprehensive and cutting-edge curriculum portfolio. No store-front required! Operate from unlimited sites within your territory.
System
Make a lifestyle change using our asset-lite system.
Work when you want and from where you want – business management from your home office; programs at community spaces.
Leverage our proprietary Territory Management Process (TMP).
Our processes, diligently crafted and baked with experiences, are designed to be simple yet effective in helping you set up and run a successful operation.
Engage with an innovative kid-friendly curricula.
The secret sauce of our business model, the curricula is born in industry and developed in-house to maximize real-world connections and educational alignment while providing fun-based learning experiences.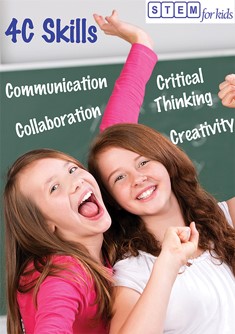 Training
Get trained to setup your business.
Initial training includes go-to market planning, organizational planning, site selection, business development, marketing, hiring, operations, accounting, IT/technology setup, program administration, lead management/conversion and customer relations. Plus, training on launch curricula. Ongoing curriculum training as you scale your business.
We want you to succeed – receive ongoing support.
Our cloud-based, STEM For Kids® proprietary curricula and system, are within your reach at anytime, anywhere and from any device. Regular business reviews to ensure smooth operations, uncover issues and help you with solutions.
Extras
Have fun while working!
Discover your inner child as you have fun with our system. Learn some new skills as you work your way through our broad curricula ranging from engineering to computing to advanced manufacturing.
Be involved in the community.
Get the satisfaction of making a positive difference in your community as you enable youth and support local schools, PTAs & community organizations.
Grow with us.
Become part of our emerging system and join us as we make history. Partake in the many opportunities to grow and scale your business as most national and international markets are currently available.
Money
Earn a livelihood or replace your current income.
Enjoy multiple year-round revenue streams.
Choose the entry cost point to best fit your needs – one territory or more.
Low cost franchise with initial investment as low as $20,000.
Stretch your money while delivering a high quality program.
We have perfected the tools and strategies to minimize your costs. Our asset-lite model provides for a mostly variable business model that is mobile and scales as you grow.
Incentives
Check current incentives being offered for US Veterans, recent college graduates and teachers.
Ideal Candidate
We are looking for franchise owners who are interested in STEM and understand its role in today's economy; who are or desire to become active in their communities and are hungry to make a positive impact in young minds. People who possess an entrepreneurial agility with a drive to get results, open to learning, growing and having fun in the process. Experience in a STEM field, Sales, Business, Marketing or working with children is a plus.
Owner's Activities
Most owners focus their time on business development, marketing & management. Some also get involved with curriculum instruction.
Financial Terms
Cash Investment: $20,000+
Total Investment: $19,900 – $48,650
Minimum Net Worth: $125,000
Franchise Fee: $12,500 for one territory. (Prospects can add additional territories on the same franchise agreement for additional fees as follows: Territories 2-5 for $7000 each, Territories 6+ for $6000 each.)
Royalty: 7%
Ad: 2%
Home Based: Yes
B2B: Yes
Veteran Discount: Yes
Background
Established: 2011
First Unit Franchised: 2015
Number of Units: 102
States Registered In: Open to receiving referrals in all US states.
Canada Franchises: Yes
International Franchises: Yes (multi-unit or master only)
Financing Available
3rd party financing.
Eligible for SBA financial assistance.
Veteran Incentive: 12% off Franchise Fee
Opportunities Available
Single-unit & multi-unit franchise options available throughout the United States.
Awards
Entrepreneur Franchise 500 ranked #415 and Fastest Growing Franchise #49