WHY SEARS HOMETOWN & OUTLET RETAIL FRANCHISES?
Sears is one of the most trusted and preferred brands in retail and has served generations for more than 125 years. Today Sears Hometown & Outlet Stores has several retail store concepts expanding in a market near you. We are looking for owners/entrepreneurs to set up a Sears Hometown store that will serve their local community by offering customers the largest selection of:
Home appliances

Lawn and garden equipment

Tools

Top 10 appliance brands including Kenmore®, plus some of the top selling hardware brands including Craftsman®, and Diehard®.
Sears Hometown Stores also provide exceptional customer service, price match guarantee, credit and protection agreements, as well as delivery and installation services.
THE SEARS HOMETOWN DIFFERENCE
Starting your own business can be both a rewarding and complex process. As one of America's premier retailers, Sears Hometown makes it easy for you. Unlike many other dealer and retail franchise concepts, Sears Hometown offers smart business models that allow you to do what you do best – develop and maintain relationships with both customers and the community. There is a low cost of entry with no inventory investment, license fees, or transportation expense.
STORE CONCEPTS
Our various store formats set the standard of excellence for quality and dependability for millions of households across the United States.
We are America's brand!
OPEN A NEW HOMETOWN STORE IN YOUR MARKET
In this model, we own inventory in the store, which averages $200,000-$300,000 per store. The store owner is responsible for operating costs, including rent and payroll, and is paid a commission on sales. In addition to selling merchandise, store owners also sell and earn revenue on Protection Agreements, Credit Offerings, and Delivery and Installation services. Other notable details about Sears Hometown Stores include: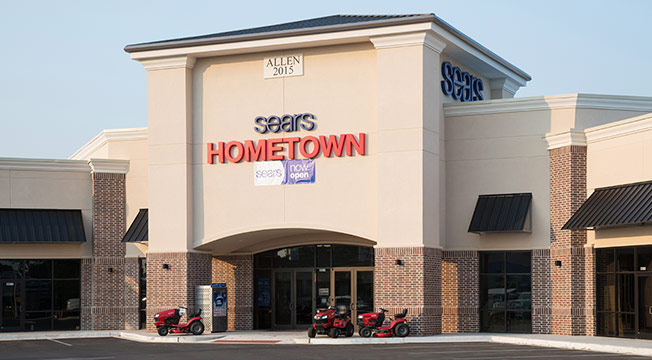 98% owner operated with a national footprint of over 800 stores

Average 6,000 selling square feet

60% of sales are home appliances, 23% of sales are lawn and garden

An average of 27 new stores opened in each of the past five years
STORE-WITHIN-A-STORE
Sears Hometown is looking to partner with suburban/rural businesses that have home goods products aligned with the HTS brand and at least 1,800 square feet of selling area. Merchandise options include an Appliance Only, or Appliance/Lawn & Garden department. Now you can also add a Kitchen Tune-Up franchise to gain access to new revenue opportunities.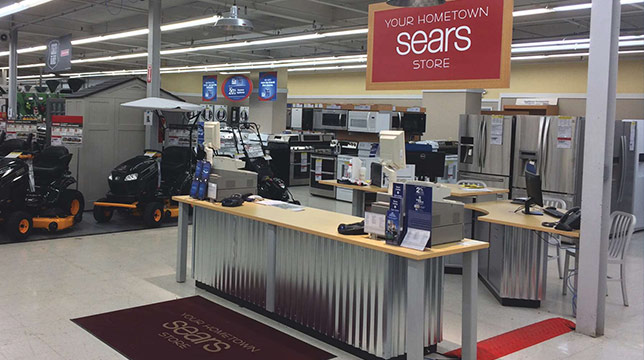 MARKETING
Sears Hometown & Outlet provides continuous marketing support throughout the life of your retail business. Through weekly circulars, weekly updates of digital and social media platforms, seasonal programs, rebranding opportunities and ongoing cause-related local and national marketing partnerships, Sears Hometown & Outlet invests over $40 million annually across all the Hometown format stores.
Sears Hometown & Outlet ensures you will have access to an experienced retail franchise development team who will guide you through market analysis, site location, lease negotiations and construction/retrofit. Additionally, we will provide assistance with fixture set up and merchandising the store, as well as preparing for your opening.
TRAINING AND SUPPORT
Sears Hometown invests considerable time and resources to help our owners be successful. New Owners receive extensive training and support which continues throughout the ownership of your store. This continuous support of our owners is a priority, because we are successful only when you are successful!
For New Owner Training we provide:
Initial training in one of our Certified Field Training Stores

An in-depth week of training at our Training Store in Dekalb, IL and our Headquarters in Hoffman Estates, IL

Field Trainer visits to your store prior to and during your Soft Opening
ONCE YOUR STORE IS OPEN WE PROVIDE:
Continuing support through an online curriculum
Intermediate owner training at our Headquarters 6-12 months after you open the store
In store training opportunities throughout the year with our Field Trainers and Vendor Partners
An annual National Hometown Celebration providing training on new products, the sharing of best practices, motivational speaker presentations, Q & A sessions with the Sears Hometown Staff as well as an opportunity to meet and connect with other owners and enjoy world class entertainment.
Sears Hometown also provides a Hometown Solutions Team to support your day to day needs and is available to assist you 7 days a week on issues such as systems, products and procedures.
Most importantly your store will be assigned to a District Sales Manager who will partner with you to coach you and your associates on skills needed to drive sales and profits for your business.