Overview
The relationship between a coffee consumer and their coffee house. It extends beyond habit and routine. For the contemporary coffee house does more than serve food and beverage. It brews community. Today's specialty coffee house is a social encounter that defies all other dining experiences. It is a welcoming environment that fosters warmth, human interaction and shared experience. It's your kind of coffee experience. Is it any wonder many consider the local coffee house to be the new town square?

As a potential Sertinos franchise owner we know you are seeking out new business opportunities to capitalize on the explosive growth of the specialty coffee market. A Sertinos franchise comes with great potential. You will be indulging your customers with more than fine coffees and tea. You're brewing a community as rich and inviting as the neighborhood itself. It's your kind of coffee. In essence, when someone walks into your Sertinos coffee house you are in fact welcoming them to the special neighborhood experience.
Products & Services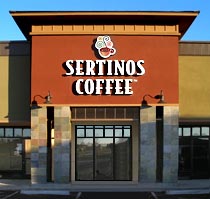 Sertinos Coffee Shops are specialty coffee stores presently located in the Western States and Texas with expansion plans throughout the United States. These shops feature premium and organic espresso, brewed coffees, a wide selection of imported loose-leaf teas, and iced drinks such as frappes, iced mochas, espresso milkshakes and Italian sodas. Pastry items such as scones, bagels and muffins are available.

Sertinos Coffee Shops offer whole bean coffee and loose leaf teas, brewing equipment, decorative mugs, travel cups and home brewing accessories.

Sertinos Coffee Shops are designed for a warm and relaxed environment catering to the specialty coffee and tea customer. Our stores are positioned to take advantage of the steady growth trend in specialty coffee and tea sales.

We are a part of an established hospitality business of quick service restaurants - All American Specialty Restaurants - that started out offering healthy frozen yogurt treats. We've evolved to include ice cream, sandwiches, specialty coffees and more-never forgetting our roots, while staying on top of trends.

We are all about hospitality, quality and variety. We have made significant investments in the development of our broad menus and the high quality of our products. We take pride in our ability to serve and please our patrons. Our many years of experience give us the knowledge needed to be able to provide the best quality offerings. We want to impart that knowledge on to you.
Training & Support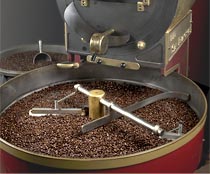 Whether or not you are experienced in the restaurant or retail fields, we take the time and care to get you acquainted with the tools and knowledge needed to thrive. In our initial and ongoing training programs you will learn what it takes to be in the hospitality business and what Sertinos is all about. We want to help make you an expert in the field.

Our comprehensive training programs consist of two main parts: an up to five-day classroom-style program and an up to 14-day session of in-store training. For the classroom training, you get to come out to our corporate offices. Here, you will focus on learning management and operational skills. We will give you a review of all the information in the Sertinos Operations Manual. You can later use this manual as a reference guide for your daily store operations, as a problem-solving tool and as an aid for training staff. This training is not only crucial; it is exciting.

You'll learn the Ins-and-Outs of:

Hiring and Training

Shop Operations

Personel Management

Customer Service

Advertising

Accounting

Budget Procedures

Security

Beverage Recipes

Marketing

Purchasing

Inventory Control

Equipment Usage

Maintenance

Retail sales of whole bean and home brewing accessories
Then it's on to training your staff. Your employees are critical in maintaining high customer satisfaction. Once you have been trained in the Sertinos operating system, it will be easier to influence and guide others with your knowledge and enthusiasm. In-store training prior to your store opening, will not only help your opening day go smoothly, but will also serve as a means of increasing your store's long-term performance. We will spend much of our time teaching you how to make our various menu items-getting you to where it seems you've been doing it for 20 years.
Why Sertinos Coffee and Cafe?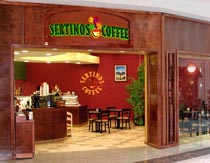 Designed To Be Inviting While Promoting Sales Unlike other coffee houses where the mood is dark and formal, Sertinos coffee houses are designed to reflect the feel of the total coffee house experience, complete with comfortable couches, appealing side chairs, warm woods, inviting pastels and interesting wall décor. We have strategically designed our interiors to be as comfortable and inviting as possible to enhance our intimate Sertinos experience - a look and feel designed to make your customers feel comfortable, while facilitating service and maximizing sales.

The Construction Process Once you sign a lease for your space, we will guide you through the design and construction phase. We will provide you with professional prototype floor plans based on the configuration of the space, a complete equipment list and comprehensive specifications for your Sertinos store design and décor. Our job is to keep the process as simple and streamline for you as possible. If necessary, we can put you in touch with our architect to design and draw up a set of construction blueprints for your store.
Are You a Good Fit for Sertinos Coffee and Cafe?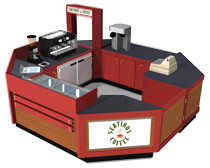 There is no one size; stores generally range from 150 (Kiosk) to 2,600 square feet. Your Sertinos Coffee Shop store may be located in a shopping mall, community "strip" center or a free standing building.

The typical total investment required to open a Sertinos Coffee Shops franchise is between $177,200 and $395,550 depending on the Sertinos Coffee Shop concept you choose, the size of your market, the location of your shop, the equipment utilized and the physical layout of your facility.