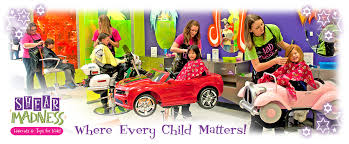 ---
Our Experience
In over 20 Years there's a LOT of experience to share. Our first location was opened in 1997, even though the concept wasn't franchised until 2011.
We have experimented with different space usages, from small to large, to adults and more to find out what works.
Effective strategies for paying stylists.
Efficient systems for controlling costs.
Procedures tried and true for preventing employee theft.
Marketing the Shear Madness brand - we know how to get the best bang for your $$$!
Best service and menu strategies for your best profit.
Systems for keeping a salon in ship shape.
We partner with you – saving your $$$ and shortening your learning curve.
Our Success Equals Your Success, and it Shows!
Voted the number # 1 children's salon franchise by Francompare for 2018 , an independent rating service based in Oakland California.
No franchise closures to date.
30% of current franchisees are multiple unit operators.
Shear Madness Haircuts for Kids Awarded the SBA Small Business of the Year Midwest District.
Voted one of the top 25 businesses in Kansas City by Small Business Monthly.
Voted Nickelodeon's Best Place to get a Haircut.
2012: Opened our first franchise location in San Antonio.
Award winning Franchisees! – Shear Madness Haircuts for Kids in Albuquerque, Des Moines and Ankeny voted the best place to get a kids haircut in their markets!
Every Child Matters!
Our goal is to make every child feel special any way we can! The stylists are accommodating to each child whether they have: special needs, don't like haircuts, cutting their hair to donate, or it's their first haircut ever! Between great stylists, cool cars, video games, parties and the toy store kids never want to leave! When wearing our stickers and Power Bands with empowering sayings every child can remember why they are so special and why "Every Child Matters".
Your Success!
YOU and YOUR success matter to US!
Demographics for success.
Help with contractor and design.
Ordering your initial retail.
Training both at our home office AND at your location.
Training with a stylist, manager, AND owner.
Monthly educational meeting for all owners.
Marketing calendar, newsletter, e-blasts done for you.
Our Intranet site is FILLED with every resource you can think of for your use!
Support of all kinds just a phone call away – we are still small enough to care about YOU!
Constant development to stay current both with technology, marketing, retail, and more.
Starting a Small Business:
Starting a small business can be exciting and challenging at the same time. Doing everything right the first time is almost an impossible task. Most small business owners will tell you that they have spent lots of money learning what TO do and what NOT to do! That is where a franchise comes in. Not only do you get a business partner who wants you to succeed, but you get one whose been there before and has spent lots of that money already leaning – so that you don't have to waste your money too! Here are the MOST frequently asked questions about starting a Shear Madness Haircuts for Kids business answered for you:
Do I Need to be a Stylist?
No – the advantage of a franchise is that you don't have to have any previous business experience. So… Read on!
How Much Can I Make Owning a Shear Madness?
Great question! In fact this is the most asked question from any potential business owner. The answer (drum roll) ……. It depends! We know that is not what you want to hear, but it is true!
The FTC regulates the franchise industry and franchises are NOT allowed to tell you any more about their financials than what they reveal in their Franchise Disclosure Document (FDD). This document is divided into Item numbers and every franchise must give information on all Items. Item 19 is the Financial Disclosure section. Franchises can choose to disclose this information, or not to disclose. They also can decide what it is that they want to disclose.
Shear Madness Haircuts for Kids DOES have information in this section – but your results will DEPEND on many things:
Where are you located
How are your marketing
What kind of staff do you have
What time of year did you open your store
How much time are you allocating to your business
Are you following the franchisors system for optimal success
Etc, etc, etc, - I am sure you get the point – it really does Depend!!
You CAN though guesstimate on what you might make by using information from the FDD.
Shear Madness Franchising LLC DOES include an Item 19 in its' FDD – there are lots of details in there including revenue numbers for over half of our locations, individual income numbers for 2016 and 2017 and more. All of these stores are still growing and gross sales ranged from $205,158 to $480,389 for 2017.
How Much Does It Cost To Open a Shear Madness Location?
Revenue and profits are good indicators of a promising franchise. But that doesn't tell you everything. Your initial investment is an important part of your decision and can give you a more complete view of a franchise's value. At Shear Madness Haircuts for Kids our stores our professionally designed to create the unique look and feel of our award winning salons. At the same time we strive to keep your buildout cost low without sacrificing our fantastic looking salons. How do we do this? Most of our furniture and fixtures are created right here in Kansas City where we can review the quality and manage cost before they are shipped to your location. In addition we create architectural plans based on your space and review bids from your contractors. It's all part of our "value engineering" process to get you open at a reasonable cost which is between $131,862 and $302,562.
Where Should You Locate?
Shear Madness Franchising takes a BIG interest in helping you locate in the best location. We charge a $2000 Site Selection Fee that basically covers the costs of the franchise sending representatives to your location to accompany you when finding a site. They do extensive demographic research before arriving to guide you. In fact, we will NOT award a franchise in an area that we believe to have no opportunity for success.
Is Leasing a Commercial Property Just Like Renting an Apartment?
The answer to that is a flat NO! There is NO standard format for Commercial Leases. They are all different and much guidance is necessary when entering into one. In fact, this is the most important thing that you will do before opening your salon. We guide you every step of the way! A misstep here can cost you thousands of dollars – and in many cases, be the deciding factor on whether your business succeeds!