We've built an incredible business transforming homes. Now it's your turn.
Solatube Home is a world leader in transforming the lives of our customers and business owners. For three decades, we've been bringing natural light and fresh air to our customers' lives. Over the years, we carved out a unique niche in the home service industry with our natural lighting and ventilation products. We are globally known for being the natural and fresh-air experts.
Solatube Home provides you with a unique combination of exclusive product offerings and world-class service, paired with industry leadership and manufacturing expertise. Our dedicated team is highly experienced in launching and supporting local sales and installation businesses. All this means you can take advantage of an ownership opportunity that is as brilliant as the light you create for your customers. Our unique business opportunity creates extremely happy customers as well as helps the environment with every unit your team installs.
The Solatube Home franchise opportunity is as rewarding as it is desirable. We offer our skylight franchise owners an incredible compelling way to build their futures, with a uniquely focused, scalable business-building opportunity based on five key products: Tubular Skylights, Skylight Replacement, Whole House Fans, Solar Attic Fans and Garage Fans.

Overview
At Solatube, we've always focused on providing immediate, meaningful impact for homeowners. We started by changing the way they can bring natural light into their homes with our incredible innovation, tubular skylights. And now we also replace their old traditional skylights with our newly designed performance models. We also introduced new ways to bring fresh air into their homes with our solar-powered attic and garage fans, and then added our incredible whole house fans for the ultimate in cooling and clean, healthy air. And we do it all with a proven business model that is built on the industry's premier level of service.
Why you should choose us
Loyal Residential Customers Will Rave About the Transformations Your Team Creates!
At Solatube Home you are part of an amazing team…family! We know you were used to that atmosphere in the service, and we strive to build that same experience with our franchisees!
Imagine owning a streamlined service and installation business, backed by a market-tested business model, where top-quality, exclusive, branded products are provided to consumers in a matter of hours. Solatube Home can show you how you can specialize in offering a unique set of natural lighting and ventilation products — typically installing them on the same day as the sale, and within an unmatched two-hour time frame.
No long waits for revenue, no demolition mess, no months-long projects. Cash flow is king and this business delivers!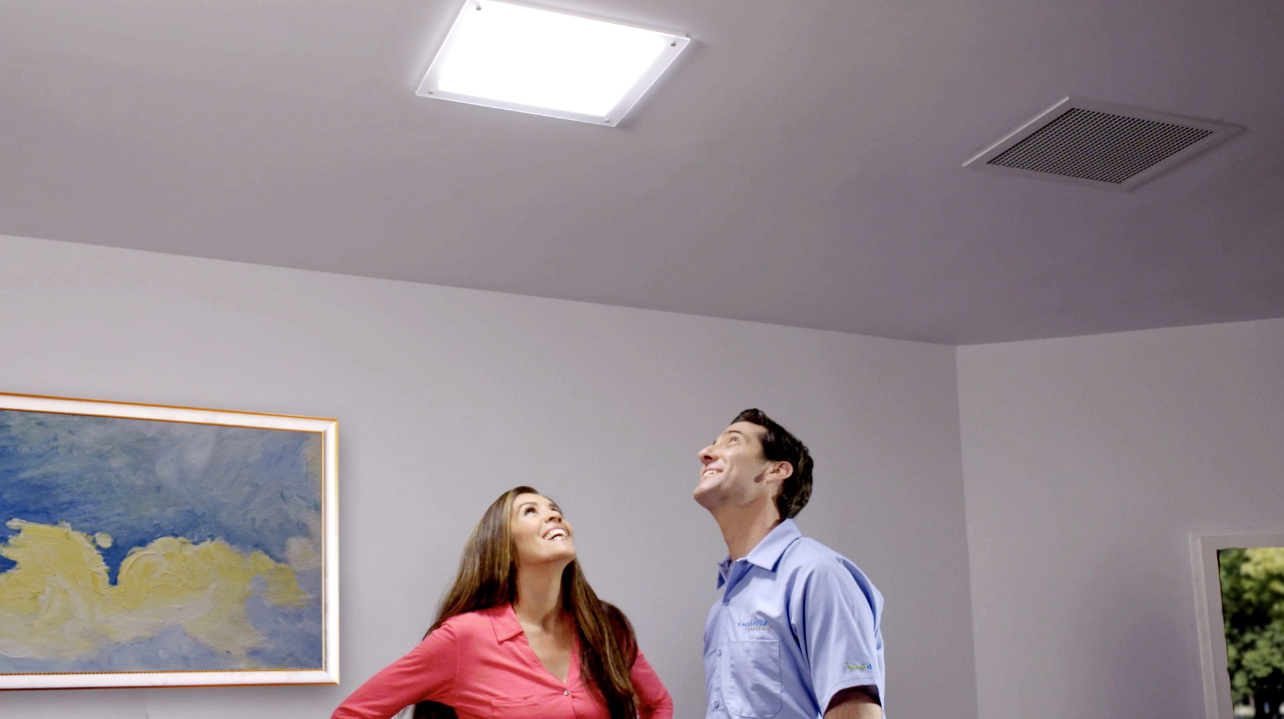 Top Reasons to Choose Solatube Home:
Our exclusive Business Management Software that provides a seamless connection with customers, field techs and office staff that drives your entire business
Unique industry, with limited competition
Global Brand recognition
Cash flow is king
Lead generation system
Training - Solatube Home University and onsite training
Products that make homeowners extremely happy. Some even call us "Recession-proof"
Installing products that reduce carbon emissions, and help save energy for homeowners
Multiple products = multiple revenue streams
Ideal Candidate
At Solatube Home, our franchisees are business-minded individuals with strong management skills and outstanding customer service who enjoy working with people. They take great pride in leading a team that provides expert sales and service to homeowners. We are looking for good communicators and especially good listeners.
Here are our core values, see if yours align:
Communicate - You seek to understand before being understood.
Set each other up for success - Your success depends on everyone's work, so give each other the best opportunities possible.Do now rather than later - You anticipate and act with confidence.
Be hungry for a better way - You are always searching for a better solution.
Good is the enemy of great - You strive to go above and beyond expectations.
Embrace transparency - You work and act with honesty and integrity.
Be respectful - Your respect for others builds trust and trust creates a positive environment.
Work with passion - Love what you do and like who you work with.
Be positive - Your positivity is a force multiplier.
Have fun - You love humor, working hard and playing hard, humility, positive vibes and respecting.

History
The Solatube story began in the 1980s when a lone Australian inventor created a product that revolutionized the way daylight was brought into homes.
Known as a tubular skylight, this product was a compact and leak proof alternative to traditional skylights that installed in about 2 hours. After being patented, this device became the first Solatube product ever sold and the catalyst that transformed the daylighting and ventilation industry.
Soon after the Solatube Tubular Skylight product was invented. Solatube Home was established in order to install these revolutionary products. For over two decades we have been installing our products we manufacture for home owners. We have installed our natural lighting and ventilation products in over 100,000 homes. Two decades later, we feel it's time to launch the Solatube Home Franchise.
Training
Run your Business with Confidence!
You can do it all, backed by nearly 30 years of expertise and a leadership team with you from the start. Three decades as the innovators, creators, and brand-builders of Solatube Home allow us to provide the very best continuing education and training for our franchise owners.
Easy Start-Up
Our goal is to help our Solatube Home franchise owners at every stage in their business' growth. Our streamlinedstart-up process, begins with your coming to corporate headquarters for our University of Solatube training program, which features
Our exclusive Business Management Software that provides a seamless connection with customers and techs in the field and staff in the office. We offer one proprietary, paperless system to run your entire business: reporting, scheduling, inventory, accounting, payroll, marketing, sales, quoting, project management customer service (including text-based service all updates and installer profiles), dispatch, and more.
Extensive hands-on product training
Guidance on refining your budget and goal-setting
Helping you establish your online presence
Ordering your initial marketing materials and other inventory
Site selection, plus business start-up recommendations
Assistance from an Onboarding Specialist to guide you through the setup of your organization
Robust marketing support, including:
A Powerful Lead Generation System to help you acquire customers: prepared materials, a complete website, brochures, and a quickly-deployable digital lead generation program to jump start your lead generation goals
A Marketing Action Plan ("MAP"), your monthly roadmap for the production of leads to drive your sales operations
Sales, installation and customer service training from your assigned Success Manager, a trained and skilled expert who will continue to coach you, and guide you, to resources that will help you improve your business and achieve growth.
Ongoing account management support
Annual conferences each year for networking and continuing education