About Us
Founded in 2008, Surface Experts®, repairs small damage on most interior surfaces, including counter tops, floors, cabinets, bathtubs, sinks, appliances and so much more!
Most companies do complete surface replacement, costing thousands of dollars. We deliver perfect repairs in typically under an hour for less than $100.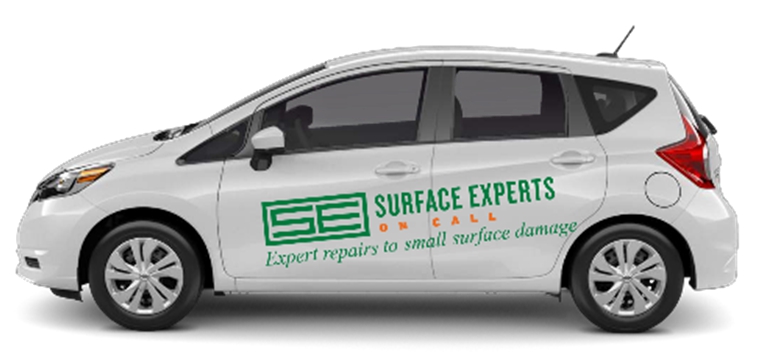 Surface Experts is a great business opportunity, offering the following:
Executive Led Model - Franchisee never performs the work only manages business
80% B2B Service: Core market is property management firms, hotels, restaurants. Residential service is a supplemental revenue stream.
Mobile Business - Small office space (150-350 sq ft) needed to run the business
Recession Proof - Started at the onset of the great recession, the business quickly grew as we offer cost saving alternatives for property managers and owners
Item 19 Summary – Portland Unit: Gross Revenue of $615,511; Net Cash Flow: $230,094. Yes – that's 37%!
Comprehensive Training - This is a true turnkey operation with a complete training program for our Surface Experts franchisees as well as specialized training for our Surface Expert Technicians.
Fast Launch Plan - From Franchise award to open unit in 6-8 weeks.
Our Approach
Surface Experts is an all-inclusive damage repair service provider. We encompass damage repair services for surfaces like Floor, Wood, Counter-top, Stainless Steal, Gas Cook-top, Tub … Almost Everything!. We pride ourselves in our ability to provide incredibly fast service throughout our service areas, while maintaining a friendly-family like atmosphere in our call center and on jobsites. We consider our company to be a blend of old school ideals, and new age technology, resulting in a mix that offers the latest and best tech with a friendly neighborly smile.
Most repairs are simple and small, yet our competition focuses on complete resurfacing. Our objective is a happy customer and a long-term relationship, whereas the competition wants one-off revenue and to completely repaint a bathtub or countertop.
Our typical repair requires only 1 to 2 tablespoons of product so our technicians can carry their entire set of tools and equipment in a small vehicle. Our competition requires large spray equipment and heavy machinery. Most notable to customers is that when they spray a tub, they will shoot a pint or two of product and the smell is so strong that they can't occupy a location for 2+ days while it airs out. Our approach is clean and free of odors in less than two hours.
Our solution is usually under $100 and takes less than an hour to complete. On the flip-side, completely resurfaced bathtub will be fully sanded, prepped, then coated for over $500. A mediocre resurfacing job will skip sanding and prep, won't be warrantied and will be about $200. What ends up happening inevitably with our competitor's approach is the finish starts to peel and it looks horrible in just a few months.

Our Team
We are family owned and operated business, so you can expect a hands-on approach when opening your franchise. Ultimately, your own success is in your hands, but we will use every resource at our disposal to help you achieve it. By starting a Surface Experts Franchise, you are not just purchasing a franchise, you are becoming part of our family!
Franchise Development
Surface Experts franchise development is being spearheaded by Dennis Mulgannon of Franchise Scale who has successfully launched Junk King, Home Care Assistance, The Flying Locksmiths, WaveMAX and NerdsToGo into national brands. Our franchise model is adaptable as an owner operator model (not working in the van), transitional model from another career, or straight ROI model with general manager in place running day to day. We are seeking prospects looking to scale a business and manage a P & L versus working in the field. We have a national call center that manages all prospective customer inquiries through a toll-free number. We educate the customer about our services, give an estimate when appropriate, schedule the job, and route the job through our centralized process.

Target Customers
Over 80% of our business is B2B Commercial Service. The following
Property Managers & Maintenance Departments
We save them time and their owners lots of money. Instead of having a unit out for an entire day or more to replace a damaged floor, Surface Experts can repair that gouge, cut or scratch in the vinyl or wood floors.
Builders & Project Managers - When the final punch list is made and no one knows who caused the scratch, chip or crack in the tub, they do know they can call Surface Experts. With a quick response time and turn around, we can make lasting and beautiful repairs that help builders get their homes to market faster and looking great!
Hotels & Chief Engineers - With constant damage to wood furniture, tile, tubs and other surfaces, most hotel maintenance staff don't have the time or personnel to touch up every nick and scratch. The hotel lobby is the first impression to guests and consequently the highest traffic area in the hotel. We repair damage to front desks, wall wood paneling, flooring and furniture.
Moving Companies & Home Owners - Everyone has some damage in their home and usually it's not that large. Moving companies are constantly damaging furniture and other belonging, whether in packing or transport, so when they can have chips or scratches in furniture taken care of, it is a huge relief to help their customers get back to life as usual.

Franchisee Information
We are seeking motivated business professionals looking to replace $150k+ annual salary who have the drive, ambition and motivation to achieve entrepreneurial success. Key candidates will have business management & leadership skills along with great interpersonal skills.
Experience in construction or property management is not necessary; We have an exceptional training program for both franchisees and their staff.