The Chill Room is a unique, new kind of Social Destination...it's a late-night bar scene, a modern-day retail shop and a glass blowing studio all in one! The main feature of the business is our Kava Bar, a Polynesian retreat with lots of comfortable seating, a pool table, games, sound system and a stage for live music performances, DJs and weekly Open Mic competitions.
Our Kava Bar serves the highest quality "alternative" beverages from Indonesia and the South Pacific islands. Here you can find a botanical tea originally found in Thailand called Kratom. A Kratom Botanical Hot or Cold Tea will have you feeling euphoric and socially adept; it can provide relief from aches and pain and is often used as a substitute to opioids and other pain relievers.
Next, you will find a root from the Polynesian Islands called Kava. Kava has anti-anxiety properties, is a mild muscle relaxer and stimulates the dopamine and serotonin receptors in the brain which will leave you feeling happy, at ease and a sense of overall well-being. We also offer a variety of imported herbal teas and the best Hawaiian Kona Coffee in the area. Our bar tenders are expertly trained to make a variety of tasty Kava and Kratom drinks along with any coffee drink of choice. "Mocktails", as they are known, are the finest in the industry offering more palatable ways of consuming these wonderful alternative beverages.

Next, we offer a Vape Shop with the top manufacturers of E-Liquid, Electronic Vape Devices, Disposable E-Cigarettes, and all accessories needed to keep the devices clean, up to date and running in pristine condition. All of our sales associates are trained to provide the highest quality of service to our customers and kept up to date on all of the newest products that hit the market.

We also offer a full smoke shop for all your tobacco and cannabis essentials. Tastefully designed to be professional and non-intimidating for even our elderly shoppers, our smoke shop features a full array of dry herb and concentrate vaporizers, all American-made glass pipes from Roor, Grav Labs, Zob, Zong, Mathematix and Righteous Glass, plus all of a smoker's favorite accessories from grinders, hand pipes, rolling papers, cones, tobacco wraps, etc.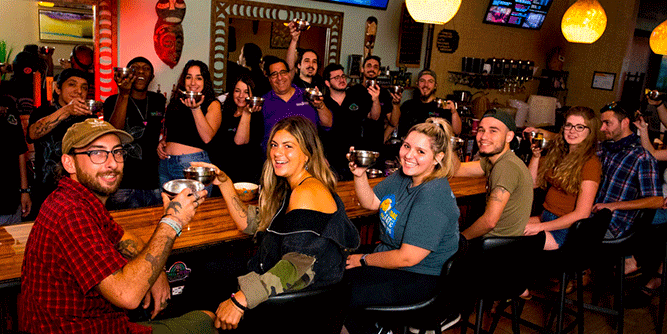 Lastly, and by far one of our favorite attractions is a high-end American made Functional Glass Art showroom! We collect and showcase some of the latest functional glass art pieces on the market and have close relationships with famous glass artists such as Scoz, Salt, Chaka, Phil Siegle, Dreamlabs, Rone, Sherbet, Chad Lacy, Wicked, etc. We frequently have collectors fly in from around the US just to see and purchase the glass art in our gallery.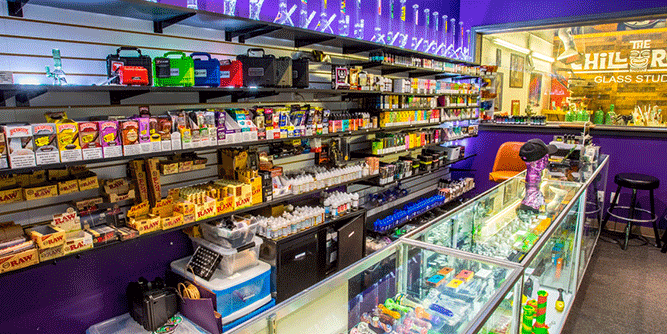 Along with our high-end glass gallery we have our own glass blowing studio on property. It's not very often you walk into a retail store and see live glass blowing on a daily basis. In addition to the local glass artists that rent space in our studio, we host quarterly glass blowing shows featuring many of the above named glass artists.
We also offer glass blowing classes to anyone wanting to learn the age-old art of lampworking. Our classes are taught by our in-house instructors and available weekly by appointment only. The Glass Blowing Studio is an optional component of our Franchise Opportunity.