Synthetic grass has come a long way since its inception in the 60s. It's now possible to install artificial grass without the fake grass look. With water conservation concerns on the rise, a growing awareness of the environmental impact, and health issues associated with the fertilizers and pesticides that natural turf lawns require, it's easy to see why more people are receptive to swapping their turf grass for synthetic grass. Keep reading for the main benefits of artificial grass.
1. No Need To Water
We all try to save money whenever we can. Depending on the region, water bills differ, but rates are at an all-time high. One way to reduce these costs is to stop using irrigation hoses. If you water weekly, during the dry summer months, the cost of water will is substantial! If we consider a water sprinkler that works almost continuously, then the amount will increase significantly. Unlike sod or natural grass, artificial turf requires no watering to maintain its beautiful green appearance. This benefit is especially relevant for areas subject to a ban on watering private household plots during periods of drought, such as many counties in Los Angeles. A lack of moisture can cause natural grass to dry out gradually, leading to balding and brown spots. If you don't want to deal with unsightly grass, but care about the water that goes into a lush lawn, artificial turf is the ideal way to go.
2. Relax Your Ass with Artificial Grass
Less time working and more time to relax! One of the best things about artificial turf is its low-maintenance nature. It offers the perfect solution for people who don't enjoy gardening! Who has time to think about weeds, shrubs, and overgrown grass anyway? Artificial grass allows you to focus more on the things you enjoy doing in your yard, like hosting parties, barbecues, and spending time with your family, without getting your hands dirty!
3. Dogs Love It
There is no doubt dogs love to play outside on the lawn, but sometimes dogs aren't kind to our lawns. Whether they're digging holes or using the same patch of grass to go, causing discoloration, our lawns pay the price. With artificial grass, most dogs cannot dig, and yellow grass is in the past! Any mess left behind from your dog can be cleaned off with some water and a pet deodorizer. A bonus for the humans is no more dirt and mud tracking through the home. The sub-layer required to install artificial grass acts as a barrier for ground soil, making it impossible for muddy puddles to congregate on your lawn.
4. The Grass That Really Is Always Greener
Grass and sod will go into a dormant stage in the winter and turn brown and unsightly. If you live in an arid area, you may be experiencing this as the widespread drought continues to devastate certain areas. Synthetic grass will remain the same color year-round and look good no matter which season it is.
In the winter, lackluster grass will be a thing of the past – artificial grass looks full of life all year round! Plus, you won't have to worry about bad weather causing muddy and unsightly bald patches. Do you live in an area where your grass freezes for several months out of the year? Artificial grass won't wither and die, leaving you with a lush lawn to go with your holiday decorations.
In spring, while everybody else is tending to weeds and moss that have built up over the winter, you can rest assured that the weed-preventing membrane underneath your artificial turf will have taken care of this.
In summer, you can spend precious time enjoying the garden with loved ones, rather than constantly mowing the lawn! The grass won't be damaged by children and pets playing on it, either.
In autumn, you won't have to worry about applying fertilizer to your grass, nor will you need to think about the efficiency of its drainage as the rainier months approach. While your neighbor's lawns will start to wither, yours will stay looking fresh!
Artificial lawns can withstand all weather conditions. Extreme frost or scorching summers will no longer wreak havoc on your lawn. Quick-drying and weather-proof, artificial grass will not prevent you from enjoying your outdoor space!
5. Keep Your Wallet Green, Just Like Your Lawn
So many people absolutely despise seeding, mowing, weeding, fertilizing, and the list goes on. It's a necessary burden when you have a natural lawn. With an artificial lawn, no mower will ever be needed. Plastic grass will never grow, so you can spend all your extra time playing on your lawn with friends, family, and pets.
Maintaining a natural lawn can be costly, especially when you consider the costs of a weed wacker, lawn mower, rake, hand aerator, hand weeder, lawn shovel, trimmer, lawn shears, hose, and sprinkler. Not to mention the ongoing costs of replacing knives, blades, electricity, re-seeding, fertilizing, and water consumption. Even paying a landscaper to do all the work for you is costly. Artificial grass may come with an initial cost, but this more than justifies its worth when you consider the long-term costs of maintaining natural turf.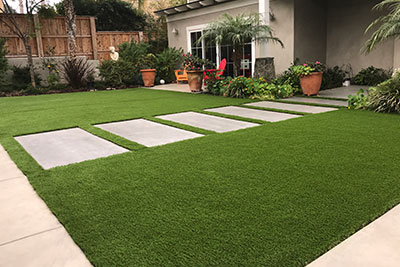 6. Safe For Children
Because synthetic grass does not need weed killers, fertilizers, pesticides, or many other chemicals, it's totally safe for any child to play on while providing a cushioned landing for those little trips and falls. Many cities are opting to use artificial lawns in place of natural grass in public spaces for these reasons.
7. Say Goodbye To Creepy Crawlies
Unlike real grass, synthetic grass stays looking green and lush without any chemical help. And because the material does not provide food or living area for bugs, pest problems are virtually eliminated. Since water drains away quickly, there is no source of standing water for mosquitoes to breed. The lack of pesticides and fertilizers is good for the environment too. Plus, it's saving you more money.
8.The Feel of Artificial Grass
Artificial grass not only looks like natural grass, but has the same feel as well. While it may feel slightly different to the touch, it is extremely difficult to tell which is artificial and which real if you are walking or running across it. The blades of artificial grass are manufactured to be a consistent height, like that of natural grass. A filler is also used that not only keeps the grass upright, but also gives the feel of walking on soil. Children who play on lawns made of artificial grass often cannot tell the difference. As they run across the lawn, roll on the ground, or play, the blades of grass bounce back up, just as natural blades do. A perfect example of how artificial turf reacts is their use in backyard putting greens. Amateur and pro-golfers alike use artificial turf for their personal practice greens, because they mimic the movement and feel of the natural grass. In most cases, the only way to tell the difference between artificial turf and natural grass is to look at it as closely as possible.
Get Grass Today
Ready to see what artificial grass can do for you and your lawn? Schedule a design consultation today or give us a call with any questions. We can't wait to see how artificial turf can do for you!