Overview
By the end of 2008, The Wine Loft will strive to have open or under development at least 29 locations nationwide! This includes 15 new Franchise locations alongside 14 Corporate stores! These Wine Loft locations will span from Baton Rouge, Houston & Dallas to Denver, across Kansas City to Raleigh-Durham, down through Atlanta and Orange Beach, FL, to just name a FEW of the next Wine Loft Developments!

We currently offer two types of Franchise Programs: A Franchise Agreement for a single location, and a Development Agreement for multiple locations in an area or region. These two programs offer everyone a chance to be a part of what is now becoming the most exciting trend in the hottest franchise market today.
Products & Services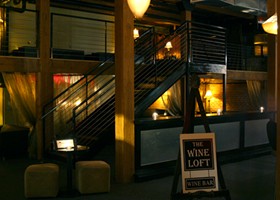 WE BELIEVE WE DO IT THE BEST!
"The Wine Loft was probably the first real wine bar in the city, and definitely the first to gain some national press attention (a mention in The Wall Street Journal for one). And, there is no doubt that the Wine Loft is ultra-sexy. The interior looks like it belongs in San Francisco or Manhattan rather than the weathered Big Easy; its cosmopolitan and slick. The subtle house and trance music being played on the stereo system adds to the sex appeal, and beautiful cocktail waitresses tie the whole thing together. As I sat back in my chair, I had to unbutton one button from my collared shirt. It just felt like the thing to do." 5/03 Sexy- The Wine Loft NOLA.com

"The Wine Loft's menu and relaxed, urban-chic atmosphere have been integral to its success as well. Because it was conceived as a before- or after-dinner destination, it offers a selection of hors d'oeuvres and desserts that pair well with its various wines. Each of the appetizers on the menu, which includes delicacies such as baked oysters topped with Brie, mushroom, artichoke and tasso ham sauce, is listed with a suggested wine." 12/03 Lee Cutrone "Shop Talk"

The Wine Loft was created after having spent years in full service restaurants and understanding that as the restaurant business became more competitive, profitability was shrinking, headaches associated with low-skilled labor were growing, and it was becoming increasingly more difficult to recruit competent upper-level management.

With the first location opened in March of 2003, the business model has been refined and has been proven in several markets. The Wine Loft Wine Bar capitalizes on the Wine Bar craze sweeping through North America by offering a first class franchise program.
Training & Support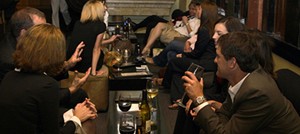 Grand Opening Assistance
After your doors open and the kinks have been smoothed out. we recommend a grand opening event to officially announce the opening of The Wine Loft. We have four different Grand Opening Event formats to choose from and The Franchise fee includes our managing the execution of your event by our in-house event planner.

Management-Selection Assistance
Some Franchisees will elect to source local management. We are happy to assist our Franchisees through the interview process and qualification of competent management.

Initial Training
As a franchisee you will be required to complete four weeks of training. Two weeks of training is to be conducted in one of our training stores and Two weeks of training will be conducted at your location by our Certified Trainer. The Franchise fee includes the Cost of our Trainers; however, you will need to cover your own transportation and lodging costs.

On-Line University Staff-Training Program
One of the biggest challenges any franchisee will encounter is training its line staff. The Doyle Restaurant Group Franchise Company has a comprehensive four step Training Program that provides its Franchisees' Service staff to receive an on-line certification. The University Program also has several Advanced Training Portals for the Franchisees to challenge its staff to further develop wine knowledge.

Comprehensive Intranet and Web Page
All documents, procedures, systems, recipes, and other instruments that franchisees will need to properly operate their franchise are stored on our company intranet. Each Franchisee will have a web page on our wineloft.net website whereby they can upload their own calendar of events and keep their customers up to date on current promotions and contact information. Access for the franchisees to the intranet is through a secure portal on their webpage.
Why The Wine Loft?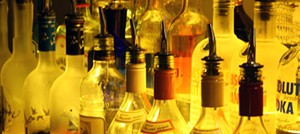 No Retail- we believe the idea of combining retail with a wine bar experience is as bad as drinking wine from a box. Enjoying wine in a wine bar encompasses all senses and as much thought has gone into our music selection, our ambience, appearance of our team, style of wine glasses, our furniture, as has in the construction of our Wine List and Food Menu. This can't be done in a retail experience. Additionally, having drilled deep into wine retailing, lower inventory turnover rates combined with lower margins just do not make sense financially.

Efficient Operation – A Traditional Wine Loft Wine Bar operates with 1 Operator (manager or franchisee), 1 Chef, and a service staff of less than 20 persons. We encourage most of our Service Staff to work part-time as this keeps them more motivated about their jobs. We are also closed on Sunday in most markets, which is a huge incentive.

Low Start Up Costs – Unlike a traditional restaurant, most States do not require The Wine Loft Kitchens to include exhaust hoods and below ground grease traps. Additionally, our desired locations are down-town urban settings where we can implement with a unique so-sheik design capitalizing on the natural architectural aesthetics.

Promotion – We offer several promotions including Three Major Marketing Events and a serious of In-house Promotional Events. We don't believe in live music poetry nights, etc Our Patrons love the Wine Loft because we create a relaxed atmosphere for them to socialize and enjoy our offerings. Additionally, The Wine Loft Wine Bar is the perfect destination for private events and we provide all the necessary sales collateral to successfully execute Private Events.
Are You a Good Fit for The Wine Loft?
We've come up with THREE "Ranges of Total Investment & Liquidity Amounts", Levels A, B, and C, which represent three price ranges high, medium and low across the country. These are our "estimates" of price fluctuations regarding the Total Investment for The Wine Loft. The Total Investment RANGES and the Liquidity RANGES will vary, depending upon WHERE in the country The Wine Loft is located. Thus, we have created these 3 Levels to give you an idea of what to expect as far as Total Investment in The Wine Loft, and also what to expect as far as the CASH required for each Level.

Level A: Liquidity Range $165-215K+ / Total Investment Range $500-650K+
Level B: Liquidity Range $120-165K / Total Investment Range $350-500K
Level C: Liquidity Range $75-120K / Total Investment Range $200-350K