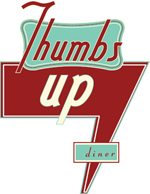 OVERVIEW
NOT SO LONG AGO, NEIGHBORHOODS HAD THEIR OWN DINERS WHERE FRIENDS AND FAMILY WOULD GATHER. IT WAS COMFORTABLE, IT WAS FRIENDLY, AND IT WAS A PART OF A COMMUNITY'S FABRIC. SO, STEP BACK TO A BY-GONE ERA AND LET OUR THUMBS UP DINER FAMILY HELP YOU BRING THE URBAN DINER EXPERIENCE TO YOUR COMMUNITY.
We are so excited that you have downloaded our Franchise Kit and we hope that you will gain a greater understanding of the resurgence of the neighborhood diner-the hottest meal segment in today's marketplace. Our little neighborhood meeting place is serving up great food at reasonable prices. Here is what some of our fans are saying:
"No one in Atlanta does the diner gig the way these guys do."
- Atlanta Journal Constitution
"Nom nom nom!!! This place is DEELISH and the food comes out quickly!"
"I could have eaten breakfast here everyday that I was in Atlanta."
"Holy moly, compared to every diner I've ever been to, this is absolutely the best!"
Our clientele is diverse, but they come in looking for the same thing: a good meal that's priced right and an atmosphere that can best be described as "groovy." It's part of what you feel when the front-of-the-house staff greets you by name or with a genuine big hug. Our model is set up for owners who want to be part of their community and establish a gathering place in their neighborhood.
THIS BREAKFAST SEGMENT IS ON A FAST-GROWING PACE AND IS CONSIDERED BY MANY IN THE RESTAURANT INDUSTRY AS A LIFESTYLE BUSINESS.
Thumbs Up Diner serves up hundreds of breakfasts and lunches-but no dinners-so you are home with your family every night. Priceless.
FAQS
DO I NEED TO HAVE ANY PRIOR EXPERIENCE IN THE RESTAURANT INDUSTRY?
You don't need any prior experience in the restaurant industry, but it would certainly help. We understand that the majority of new franchise owners do not have prior experience and Thumbs Up Diner provides an excellent training program. In addition, we will be standing right next to you as you open your location.
HOW LONG WILL I BE AT TRAINING AND WHAT CAN I EXPECT TO LEARN?
Our initial training program consists of approximately three weeks of classroom and onsite training at a company owned location in Atlanta, Georgia. We request that not only
do you attend training, but that you bring your general manager, kitchen manager, and up to two additional employees to complete our initial training program. In addition, one
of our representatives will be at your site for up to 7 days (to be scheduled around your opening).
Your training program is intensive and includes: Recipes and Prep Procedures, Quality and Service Standards, Inventory Procedures, Equipment and Safety, Brand Compliance, Food Safety, and Sanitation and Health Code Compliance. When you have completed our training program you will be ready to own a restaurant!
WILL YOU ASSIST ME WITH ESTABLISHING MY VENDOR RELATIONSHIPS AND INITIAL INVENTORY PURCHASE?
Yes. Thumbs Up Diner has a preferred vendor program that will provide you with all the products that you will use to operate your restaurant. In addition, we will assist you with your opening inventory purchase.
DOES THE THUMBS UP DINER OFFER FINANCING?
Currently, we do not have a relationship with a third party that will assist you with financing.
DOES THUMBS UP DINER OFFER A MULTIUNIT FRANCHISE OPPORTUNITY?
Absolutely! We understand that you may want the flexibility to open multiple locations and have complete control of your territory. You are provided a protected territory as part of your franchise agreement. We will also provide you a first right of refusal for adjacent territories at the time of your franchise closing.
WHAT ARE THE INITIAL FRANCHISE FEES AND ONGOING ROYALTY FEES?
The initial franchisee fee is $27,500. Currently there is no national advertising fee, but you will pay ongoing royalties of 5% of gross sales up to $800,000, then 4% of gross sales above $800,000. We ask that you spend a minimum of $1,500 a month in local advertising.
WHERE SHOULD I LOCATE MY THUMBS UP DINER RESTAURANT?
We have been successful in both urban and suburban locations, so we will work directly with your local real estate professional to help select the best location available. In general, we are looking for significant community activity, including:
• Mixed Medical Complexes and Offices
• Schools and Recreational Areas
• YMCA's or Large Fitness Related Centers
• Theaters and Other Social Gathering Spots
Ideally, we would like to see you in approximately 2,400 square feet of space and have outdoor seating available. It is not necessary for you to have a strong anchor tenant; however, visibility and signage is very important.
HOW LONG WILL IT TAKE ME TO OPEN MY RESTAURANT ONCE I HAVE SIGNED A FRANCHISE AGREEMENT?
Your first location will generally open within 6–9 months of signing your agreement. If your location has already been identified, the time to open can be reduced considerably.
WILL YOU HELP ME WITH MY INITIAL MARKETING STRATEGY AND GRAND OPENING?
Yes. We will assist you with all aspects of your opening and we will be in attendance.