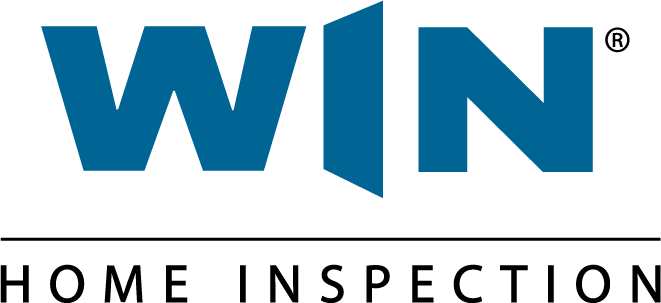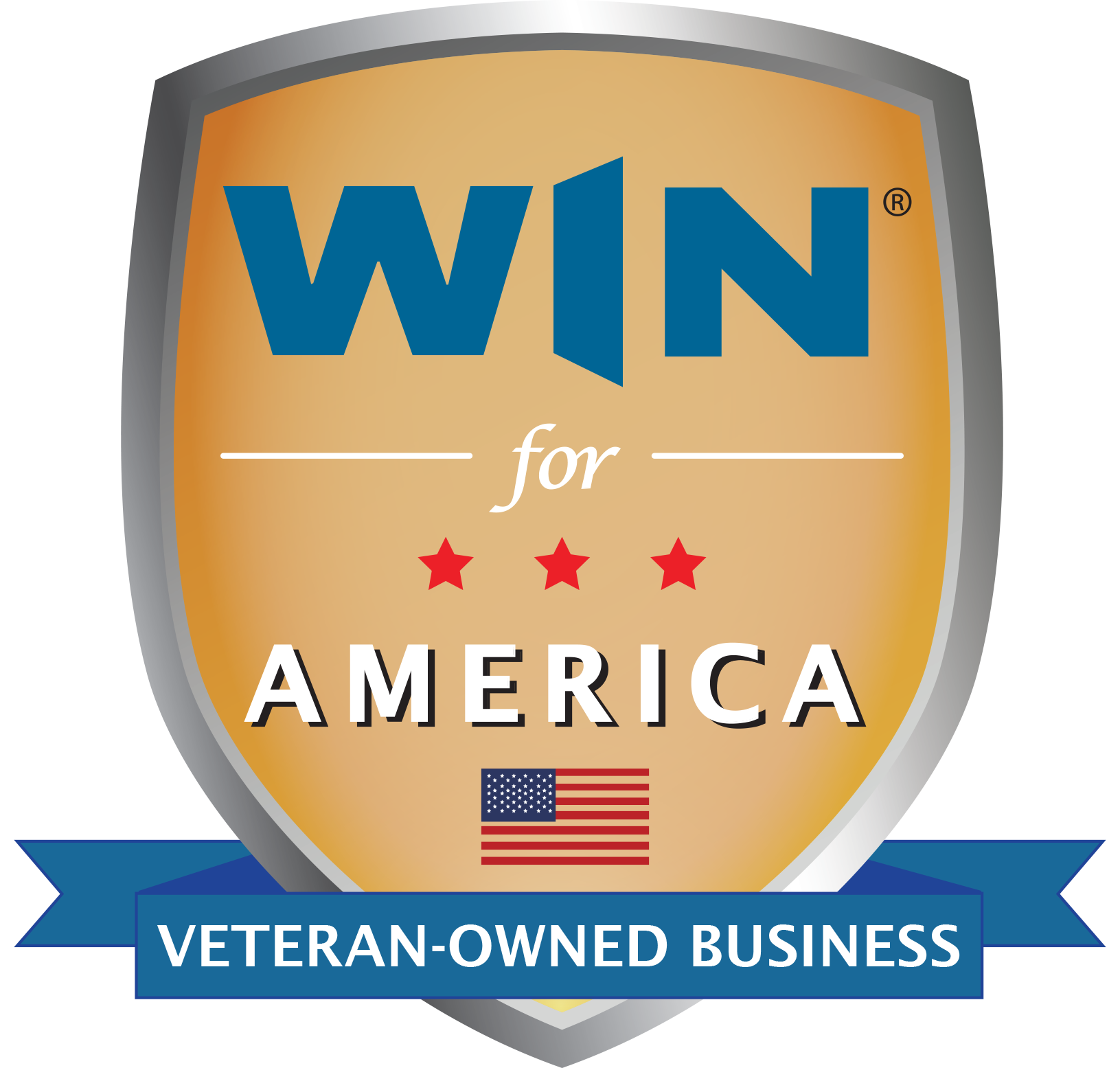 WIN Home Inspection is Ranked Among the Best Franchisors
WIN Home Inspection is the lowest cost franchise in the evergreen, multibillion dollar home inspection industry, with numerous awards and accolades:
Entrepreneur Best Franchises For Veterans
Entrepreneur Best Low Cost Franchises
Entrepreneur Top 500 Franchises
America's Best Franchises: Best of the Best

Why Veterans Choose WIN Home Inspection
Veterans have leadership qualities, teamwork mindset and strong work ethic which help them assimilate into the WIN way. Taking ownership and leading by example are among the leadership qualities that help them grow and expand their WIN business.
Nearly one-third of our franchise owners are veterans. Here are a few reasons why Veterans Choose to partner with WIN.
Unique foundation to drive your success: To help you thrive, we offer rigorous and ongoing training, cutting-edge marketing support, and business advice and critical systems.

Lowest startup cost: Moreover, we offer 25% discount to our veterans off the initial franchise fee. You also have financing options available.
Attractive territories available all across the US: We are a national brand with attractive territories available nationwide to help you in your goals for growth and personal fulfillment.
Why the Home Inspection Industry?
High margin industry with no storefront and no merchandising inventory
Evergreen, multibillion-dollar industry that is highly recession resistant
Flexible options for growth as a sole entrepreneur or by building a team

What You Gain by Partnering with WIN
The most comprehensive training programs to help prepare you for success. Our franchise owners have no prior industry experience. You receive classroom training, field training, and mentorship to develop technical, business, financial, HR, and marketing and sales skills.

The most innovative marketing programs to help you grow. You benefit from a best-in-class digital marketing program that is search engine optimized (SEO) and integrated with online scheduling software. You receive a personalized website to advertise your business. Our print marketing collateral is the most innovative in the industry. You have access to a vast library of marketing products to help you shine in your local market.
A community built on mutual respect, integrity, and caring. We continually vet new and innovative products and services, and maintain state-of-the-art infrastructure,. You learn best practices from our system as well as like-minded business owners. You stay connected with the WIN community through classes, emails, training webinars, conferences, and online forums.

Ideal Candidates Share Key Traits
We are the best fit for entrepreneurs who are interested in the following:
Building a thriving business while helping others
Learning new skills that help with professional and personal growth
Long-term involvement in a stable, recession resistant industry
Meeting new people and solving problems without getting tied to the same office every day

In Summary, Here's Why Entrepreneurs Join WIN
Partner with the most well regarded brand in the home inspection industry
Build a thriving business while helping others
Lowest startup cost with high earning potential
Receive ongoing support that far exceeds industry standards
Rigorous training and proven marketing support
Highly attractive, multibillion and evergreen home inspection industry
Our Strategic Partners in their own words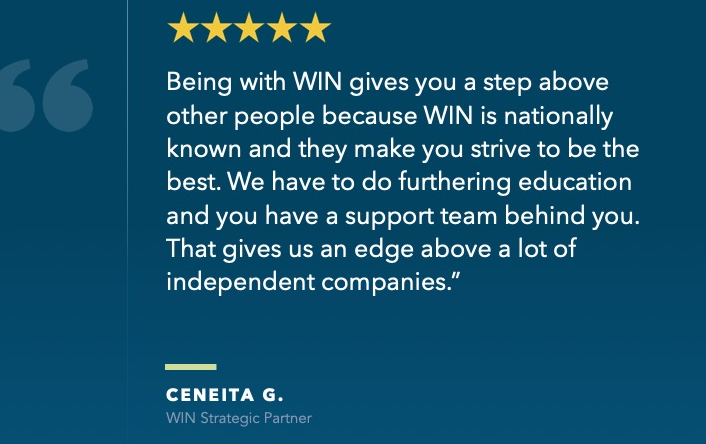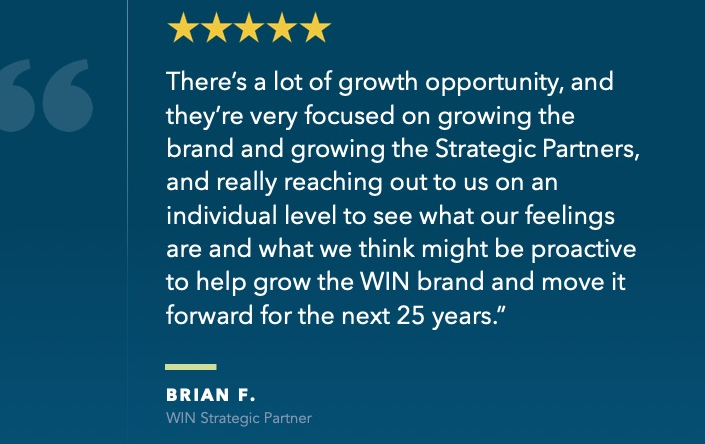 Financials & More
Initial Investment: $27,425 - $39,985
Liquid Cash: $35,000
Inital Franchising Fee: $22,900
Ongoing Royality Fee: 7%
Ad Royality Fee: 4%
Veteran Incentive: 25%
States In: 32
Units: 240
On the Job Training: 10 hours
Classroom Training: 124 hours
©2019 World Inspection Network International LLC. All rights reserved. The information provided herein is for informational purposes only and is not intended as an offer to sell, or the solicitation of an offer to buy, a franchise; nor is it directed to the residents of any particular jurisdiction within the U.S. or elsewhere. The following states currently regulate the offer and sale of franchises: CA, HI, IL, IN, MD, MI, MN, NY, ND, RI, SD, VA, WA, and WI. If you are a resident of one of these states, or of a jurisdiction that has similar requirements, we will not offer you a franchise until we have completed the applicable registration or obtained the exemption from registration, and completed the applicable disclosure requirements. Regardless of what state you reside in, an offering can only be made by a franchise disclosure document.