Own the World's Leading Internet Marketing Services Franchise
WSI has been in business since 1995 and franchising since 1996.
WSI is currently accepting applications from motivated, entrepreneurial minded individuals for new franchise openings in high-growth markets.
What WSI Franchisees are saying:

"The systems established by WSI and the power of the e-Marketplace provide me the confidence and support necessary to deliver world class business solutions to small and medium sized businesses. Given my leverage as a knowledgeable business consultant, I can sell high profit solutions and establish profitable recurring revenue, while providing effective business solutions that deliver results." – Ron Packer, California, USA

"Nothing feels better than going to bed every night knowing that recurring revenue is working for me. And that's just one part of the wide variety of multiple revenue streams that my WSI business has the privilege of having. At the end of the tunnel, this equals high profit and high return on investment." – Isaac Olowolafe, Ontario, Canada
Our Proven Business Model
Often referred to as the "White Collar Franchise," WSI Consultants deliver Internet Marketing Solutions to small and medium–sized businesses (SMEs) worldwide by leveraging our exclusive, patent-pending Lifecycle system – our blueprint for developing effective solutions.
Become a Professional Consultant
Whether your background is in general business or sales and marketing, if you follow WSI's proven system you will build and expand your client base and achieve recurring revenue streams. WSI's successful business, marketing and Internet solutions are driven by proprietary tools, methodologies, products and comprehensive operational and marketing support.
WSI's Limitless Opportunity
As an Internet Marketing Consultant within WSI's global network, you will have the personal and professional independence, freedom and control that you want and deserve. You will build a scalable, flexible and profitable business connected back through to our proprietary e-Marketplace, using a proven business model and a definitive formula for success. You will secure long-term business growth and successful client relationships by identifying and delivering the right Internet solutions, driving qualified traffic to your clients' websites and converting visitors into paying customers. The resulting predictable, scalable income will enable you to accomplish the lifestyle you want, for yourself and your family.
Home or Office Based/No Experience Required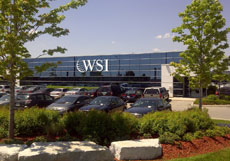 No specific business experience is required for the WSI Internet Consulting franchise business. WSI Internet Consulting offers its franchises "one of the most complete and comprehensive Training & Certification Programs available among franchise companies today." Also, the dynamic on-going WSI Internet Franchise Support Program is custom tailored with a Success Coach to meet the unique and individual needs of each new WSI franchisee.
Unique Benefits
For your all-inclusive franchise fee of $49,700 US, you will receive world-class on-site training; ongoing operational and marketing support; your own customized presence on our company's domain; and a lucrative position within WSI's ever-evolving e-Marketplace.
Become a part of the network of men and women of all backgrounds who have taken their entrepreneurial spirit, managerial skills and business development capabilities to a place of amazing profit, professional freedom and personal success.
The WSI INTERNET formula is simple:
Successful WSI Franchisees + Successful WSI Clients
= Successful Franchise Opportunity

We invite you to Discover WSI today!