Join the market leader in technology integration into the Water Vending Industry and be the catalyst that provides reliable, clean, mineral based water to your community.
WaterStation Technology is revolutionizing water vending machines.
We are growing rapidly across the US with demand coming from major retailers nation-wide.
Key Differentiators:
Remote System Monitoring:

Real-time data isn't available on any competitor's machines resulting in inefficient and costly management efforts. WST-700 is equipped with telemetry providing real-time data including filter status, cash-on-hand, volume of water sold, etc. Thousands of machines can be monitored and managed from a single computer.

Cashless (Credit Cards and Mobile Wallet):

WST-700 accept Visa™, MasterCard™, Discover™, American Express™, Apple Pay™, Google Wallet™, Samsung Pay™, and Android Pay™. USA Technologies™, the industry leader in cashless payment, recently reported an average increase of 22% in gross revenue when a vending machine is equipped with a cashless reader.

Advertising Monitor: Protected Technology:

WST-700 revenues can quickly surpass the national revenue average by as much as $500/month (per machine) by selling advertising through the standard equipped, patent-pending 15" LCD monitor system.
Our WST700 is capable of alkaline processing; with alkaline mineralized water commanding a higher vend-price per gallon. Water filtered through our proprietary system will have spring water quality with higher pH, higher mineral content, and lower ORP (Oxidation-Reduction Potential).
Benefits of Joining our team:
Enjoy a passive investment with the ability to monitor your assets in real-time with our remote monitoring systems

Provided the cleanest water available to consumer (we can prove it) in your communities

Grow your business through reinvesting cash flow

We will run operations for your machines and make sure they are fully functional, producing great water for consumers and revenue for you.

Keep your day job and utilize our opportunity as an investment vehicle, producing returns you cannot get from real estate, stocks or bonds.

Or, become an owner operator and benefit from our extensive product line—providing a machine for every vertical
The possibilities are many and the scalability is endless. Please reach out if you are interested in learning more about our great product and investment opportunity as a Business Alliance Owner.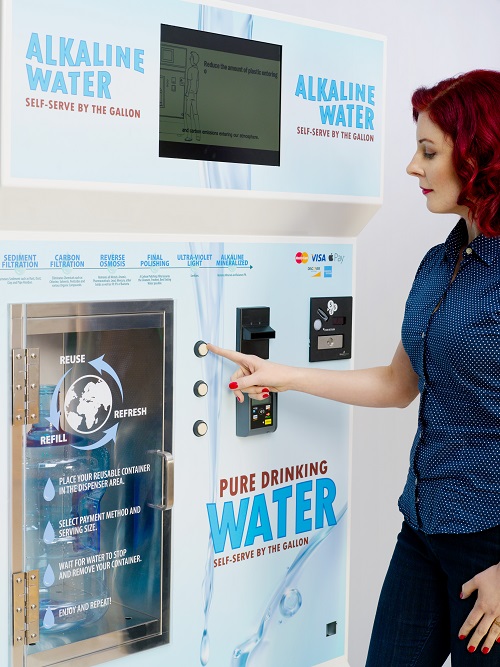 Passive Business Ownership Opportunity
Alkaline Water. The fastest-growing segment in ALL grocery sales. Eco-Friendly. Eliminates plastic bottle pollution and recycling costs. COVID-19 and recession resistant. Only traditional or water vending machine offering multiple revenue streams per unit with water and advertising sales (up to seven revenues). Uniqueness allows market share placement opportunities for investor.
Looks for a totally passive, investment model, achieving control over lifestyle.

Appreciates zero labor management, no brick & mortar facility, utility costs, or inventory

Desires financial portfolio diversification by leveraging your asset

Interested in potential tax depreciation or Section 179 tax deduction

Appreciates fixed monthly return on investment, seeks planet-friendly, human-healthy business values a low-risk return

Business Advantages Recession resistant – abundant, healthy drinking water is essential for life in every economy No sales experience required – business alliance in place to manage investment

Forward thinking – new market segments and products in the year ahead

Multiple streams of revenue – water sales and future advertising salesFixed

Monthly Revenue – 1% monthly return on total purchase pricePatent-pending backed technology – proven benefits of filtration system and healthy outcomesOne-time

Investment – initial investment brings ongoing profitabilityConsumer friendly – upcoming frequent buyer reward program fosters brand loyaltyGuaranteed Revenue! - calculate

Revenue for the life of the agreement STEPS to Ownership Concept Call with WaterStation Technology Market DeveloperReceive and Sign NDA and Send Personal Finance

Statement to WSTAnalyze and review on our website with a customizable calculatorDiscuss funding options, questions, and agreementsSign ownership agreement and wire funds
STEPS to Ownership
Concept Call with WaterStation Technology Market Developer
Receive and Sign NDA and Send Personal Finance Statement to WST
Analyze and review on our website with a customizable calculator
Discuss funding options, questions, and agreements
Sign ownership agreement and wire funds