In 2004, our founder created the first winery franchise in California. It was a new concept with all the functionality of a traditional winery, but without the vineyards.

We purchase high-quality grape must (crushed grapes) from one of the largest wine making companies in the world. We then craft each wine carefully and bottle it right at our location. The winery was built to satisfy consumer demand for wine by the bottle and by the glass, but still kept the element of allowing customers to bottle their own custom vintage. Now we are opening urban wineries across the United States under our brand "Waters Edge Wineries." If you've ever dreamed of owning your own winery…it may be in reach.



The Atmosphere
Imagine going to a place where you cross over a flowing brook and enter a new, relaxing world. The Waters Edge WinerySM follows a theme inside and out of flowing water, creating a relaxing and appealing environment. Outside, guests traverse a bridge crossing over a flowing brook to enter the winery to signify they are leaving the world behind. Once inside, our guests find dynamic artwork incorporated with flowing water on the walls and in the bar area. A wine bar appears to have a flowing river under the clear top – a unique feature that creates a conversation piece.
Our Wines
Today, we produce over 50 different types of wines, including traditional wines such as Chardonnay, Merlot, Cabernet Sauvignon, Pinot Grigio, and Sauvignon Blanc using grapes grown in California, France, New Zealand, Australia, Italy, Spain and other locales. We offer several wines that can only be found at our winery locations. Many people have never discovered a wine they really enjoy, so we created a lineup of wines that are easy to drink for the novice consumer and introduce them to the pleasure of wine. Some examples of these wines include a Blackberry Merlot, Cranberry Chianti and Green Apple Gewurztraminer.Unlike most traditional wineries, we are not limited to grapes grown regionally. We are able to import the grape must (crushed grapes) using modern technology from virtually any prime growing region in the world.
What makes a Waters Edge Winery franchise different from the other wine franchises?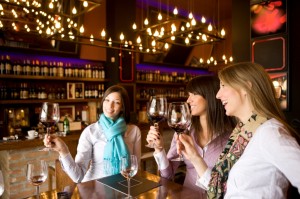 Each Waters Edge franchise is a fully operational winery equipped with our exclusive, state-of-the-art winery systems. We make exceptional wines continually throughout the year using the finest ingredients with far less cost, time and risk than traditional wineries. We bring the vineyard to the people!
How much is the initial investment and how much working capital do I need?
A Waters Edge Winery estimated investment range is between $137,945 and $508,515. We recommend that you have a net worth of at least $100,000 and have access through loans or other resources to raise the balance.
How much can I expect to earn from my Waters Edge Winery franchise?
We have a winery model that has grown throughout the United States in a variety of markets. The ingredients for success include our training and support system, matched with your enthusiasm and desire to succeed. We believe that our success is the sum total of our franchisee's success – and want to see you become as profitable as possible. Unfortunately, as in any other business venture, there are no guarantees. Your success and profitability will depend on your commitment, your location, your business sense and retail abilities combined with the market conditions. Investing in a Waters Edge Winery franchise is an attractive alternative to starting your own independent business. It gives you the freedom to exercise your skills and abilities in the running of your own business while reducing much of the risk involved.