Learn About Zippy Shell Franchise Opportunities
Learn About Zippy Shell Franchise Opportunities
Zippy Shells combines both a patent pending technology and operating system, with a cost efficient model designed to serve the Mobile Self Storage market. We offer a low investment and competitive entry into the market!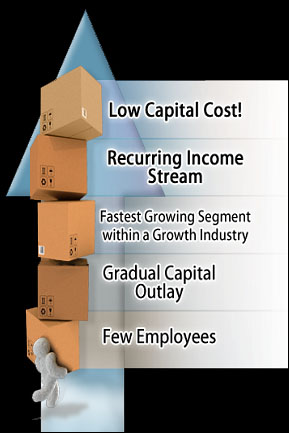 LOWER CAPITAL REQUIREMENTS!
Storage containers can amount to over 80% of the capital investment in a mobile self storage business. The low cost of the Zippy Shell container, may provide up to a 50% savings versus our competition.
Superior Delivery System Our patent pending Zippy Shell Unit allows you to deliver storage containers to customers without a specialized vehicle. Because it is a registered vehicle it can be parked in many places that do not permit typical storage containers. The Zippy Shell Unit also acts as a tremendous advertising tool.
PROPRIETARY DISTRIBUTION CHANNEL!
Over 50% of all customers who go into self storage do so at the point of a real estate transaction. Our unique distribution channel of Partnering with real estate companies gives us unparalleled access to these customers.
Self Storage Industry Quick Facts
The market is large: there are over 48,000 self storage facilities in the US, accounting for over 20 million storage units
This amounts to 7.31 square feet for every person in the country.
The top five operators control less than 10% of the market, with the top 50 controlling less than 15%.
The average self storage facility has approximately 400 units and generally services a market area within a three mile radius.
15% of all storage customers are commercial; approximately 2% military.
Mobile self storage is growing rapidly as a percent of total self storage: the largest mobile self storage operator is PODS, which has grown to the sixth largest storage operator by units in just ten years.
Get your piece of the dynamic storage market with an innovative mobile storage solution: Zippy Shell!