What is Send Me A Trainer
Send Me a Trainer is the first marketplace technology franchise that is disrupting the franchising
industry.
We are in the business of CONNECTIVITY.
We just happened to start with personal trainers. We also connect clients with fitness instructors, and
sports specific coaches. This includes yoga, zumba, tennis, golf pros, soccer, swimming, and many
other sports specialties.
You can also add ANY category that you want to offer over time. Want to add tutors and home
health professionals? Sure thing!
Why limit yourself to just one category? The benefit of a marketplace technology franchise is scale,
and with Send Me a Trainer, your Total Addressable Market continues to grow.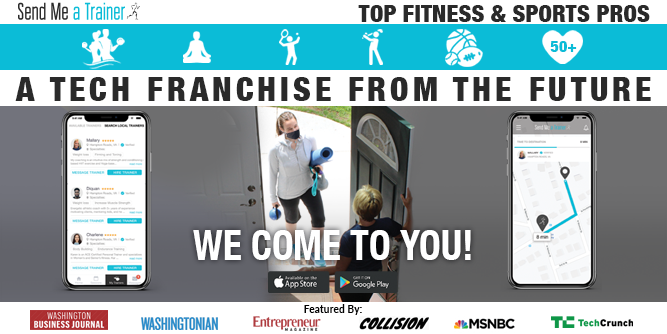 What We Accomplished
Over the course of a decade, Bounce Fitness became the leading provider of in-home personal training in the Washington D.C. Metro area offering clients the convenience of working out from their home, apartment gym, work gym and even outside parks. We established a large network of trainers and completed over 100,000 in-home personal training sessions and group fitness classes. We also established a location halfway across the world in Doha, Qatar and became the leading provider of in-home training there too.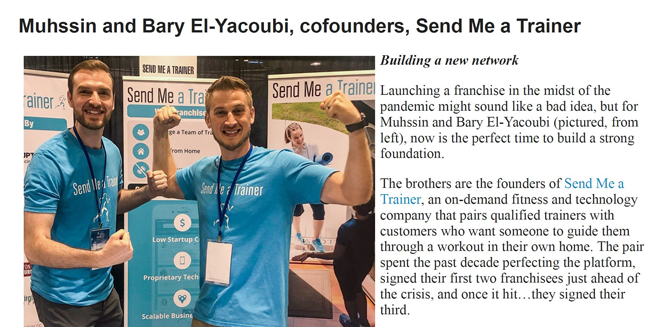 Transformation To A Technology Company
With all the feedback that we had collected from clients and trainers over the course of a decade, along with our in-depth operational experience running the business, we knew exactly what we needed to build to allow us to scale the business efficiently. We had it all mapped out in our minds and now it was time to build it.
Launching Send Me A Trainer
Once we were ready to launch the beta of our new technology product, we wanted to ensure we had the right branding and name. When we would tell our personal training clients "Bounce Fitness", we would always hear the question "oh, where is your gym located?" We would constantly reply with, "we are not a gym". We felt that with the launch of our mobile apps, it was an appropriate time to adopt a more impactful brand that represented what we actually did, and Send Me a Trainer was born.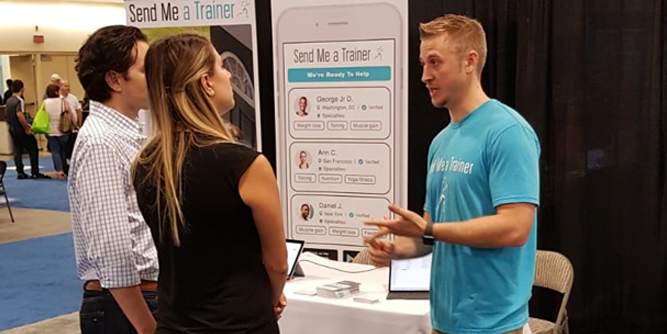 Becoming The Franchise Of The Future
Franchisees are attracted to our technology driven, home based business model with low overhead and no physical location required. The modern business owner can now own a technology enabled on-demand marketplace business as a franchise. Send Me a Trainer is bringing technology and Silicon Valley to the franchising world.